Michael Rosen headlines Peterborough Literary Festival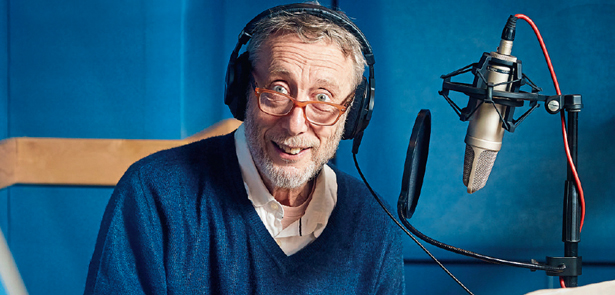 For book lovers everywhere – the University Centre Peterborough Literary Festival is a celebration of established and emerging writers from around the UK. From crime-writers to novelists and poets to award-winning children's authors, there's something for everyone this year to enjoy
Celebrated children's writer and broadcaster Michael Rosen headlines the line-up of eight acclaimed writers who will be speaking at the event which runs from October 2017 to May 2018. Readings are free of charge for students and members of the public to attend and each event lasts one hour from 7pm to 8pm. Michael Rosen is a familiar voice to BBC Radio 4 listeners as currently he presents 'Word of Mouth' and is one of the best-known figures in the children's book world writing children's favourite We're Going On A Bear Hunt.
TS Eliot prize winning poet George Szirtes launched the series of Literary Festival events on Thursday 19 October 2017, which takes place in the main lecture theatre at University Centre Peterborough. George Szirtes was born in Hungary and emigrated to England with his parents – survivors of concentration and labour camps – after the 1956 Budapest uprising. His first book, The Slant Door (1979), won the Faber Memorial Prize. Bridge Passages (1991) was shortlisted for the Whitbread Poetry Prize. 'Reel' (2004) won the TS Eliot Prize, and his New and Collected Poems was published by Bloodaxe in 2008. His latest collection is Bad Machine (2013).
Other writers confirmed for the Literary Festival award-winning poets Peter Daniels and John Greening, authors Kiran Millwood Hargrave and Daisy Johnson and popular crime novelist Henry Sutton. University Centre Peterborough run an established BA (Hons) English Literature degree from their campus in the heart of the city and supports literature and writing at local and national level as well as providing opportunities for undergraduate students to assist with these popular events.
Thursday 22 February 2018, 7pm to 8pm
Peter Daniels & John Greening
Peter Daniels published his second collection, A Season in Eden, with Gatehouse Press in 2016. His first collection Counting Eggs was with Mulfran Press in 2012, and he has had pamphlets from HappenStance, Vennel Press, and Smith/Doorstop as twice a winner of the Poetry Business competition. He has also won the Arvon, Ledbury, TLS and Ver poetry competitions. His translations of Vladislav Khodasevich from Russian (Angel Classics, 2013) were shortlisted for several awards, and as Queer Writer in Residence at London Metropolitan Archives he wrote the obscene Ballad of Captain Rigby (Personal Pronoun, 2013). John Greening has published more than a dozen collections (notably To the War Poets, Carcanet, 2013), and several studies of poetry and poets. His edition of Edmund Blunden's Undertones of War (OUP) appeared in 2015, along with a classical music anthology, Accompanied Voices. Recent books include Heath (Nine Arches, with Penelope Shuttle), an edition of Geoffrey Grigson and his Egyptian memoir, Threading a Dream (Gatehouse). His collected essays appear from Eyewear in 2018. TLS reviewer, Eric Gregory judge, and RLF Writing Fellow at Cambridge, his awards include the Bridport and a Cholmondeley.
● Suitable for 14+ years.
Thursday 22 March 2018, 7pm to 8pm
Kiran Millwood Hargrave & Daisy Johnson
Kiran Millwood Hargrave is a poet, playwright and novelist. She was born in London, and started writing for publication in 2009. In 2014, her debut novel The Girl Of Ink and Stars was bought as part of a six-figure, twobook deal by Knopf Random House (US), and Chicken House Scholastic (rest-of-world). It was published in May 2016 in the UK, where it was Waterstones Children's Book of the Month and an instant bestseller. Daisy Johnson was born in 1990 and currently lives in Oxford. Her short fiction has appeared in The Boston Review and The Warwick Review, among others. In 2014, she was the recipient of the 2014 AM Heath prize. Her first book Fen was a Foyles Fiction Book of the Year 2016 and shortlisted for The Edge Hill Short Story Prize 2017.
● Suitable for 11+ years.
Thursday 26 April 2018, 7pm to 8pm
Henry Sutton
Henry Sutton is the author of ten novels, including Time to Win (under the pseudonym Harry Brett), My Criminal World and Get Me Out Of Here. He also co-authored the DS Jack Frost novel, First Frost, under the pseudonym James Henry. He teaches Creative Writing at the University of East Anglia, where he is a Senior Lecturer and the co-director of the MA Prose Fiction course. He is also the director of the new Creative Writing MA Crime Fiction, and the founder of the NOIRwich Crime Writing Festival.
● Suitable for 14+ years.
Thursday 24 May 2018, 7pm to 8pm
Michael Rosen
Michael Rosen is one of the best-known figures in the children's book world, and renowned for his work as a poet, performer, broadcaster and scriptwriter. As an author and by selecting other writers' works for anthologies he has been involved with over 140 books. He lectures and teaches in universities on children's literature, reading and writing. Michael is a familiar voice to BBC Radio 4 listeners and is currently presenting Word of Mouth that looks at the English language and the way we use it. He visits schools with his one-man show to enthuse children with his passion for books and poetry.
● Suitable for 8+ years.
All events take place in the lecture theatre at University Centre Peterborough. They are free to attend, but advance booking is required to guarantee your place.
For further information, please visit www.ucp.ac.uk/events
Leave a Reply