Mask Theatre: the Scottish play…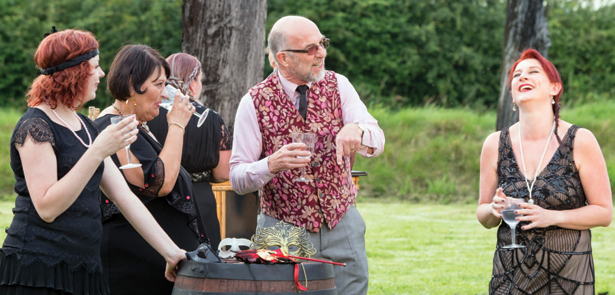 As an opportunity to direct presents itself again to Peterborough Mask Theatre's Emma Goldberg, she explains the excitement that the forthcoming production brings
"Is this a play which I see before me, its script towards my hand?"
Sorry to misuse this quote from what is cryptically known as 'The Scottish Play' among superstitious 'thesps' but it seemed appropriate in describing Peterborough Mask Theatre's next venture. Every year since I joined, and a few more before that, Mask have been doing 'Shakespeare in the Park'. I think we're justifiably proud of the feedback we've had from our productions: many people tell us that they understood Shakespeare for the first time, that they were surprised at how funny it was, and that they followed the story. That's what it's about for us: we love the Bard, and we enjoy getting our tongues around the often archaic but always beautifully crafted words.
But that's not enough. We're telling you a story. This year brings two key differences: one is that we're doing Macbeth (no, no, it's OK, as long as you're not reading this aloud in a theatre). Anyway, the thing about Macbeth is that it's generally not regarded as one of Shakespeare's funnier plays, where we've tended to focus our previous efforts. The second thing is, I'm directing it. As a child, I loved a story book by Geoffrey Trease called Cue for Treason which was set in Shakespearean times, and involved a band of travelling actors, going from town to town, performing Shakespeare's plays in taverns, squares and occasionally fields.
I loved the notion, and when Mask's motley crew traipses out to Central Park in summer, and we know we're offering a quality play to ordinary folk, the same as it was performed in Shakespeare's day, it moves me. I think our whole group get excited about our annual outdoor performance, perhaps each for our own reason. That's mine. Directing Shakespeare is both a fun and a challenging prospect: you need to be on top of the script, as much as you can; you need to understand the characters, and figure out a bit of 'blocking' – that's working out the entrances and exits, and where the characters will act on stage (this bit will adapt as the play develops). Within Mask, the director generally has brilliant ideas and then the cast have even better ones, and they aren't backward in coming forward – oh no!
Meanwhile, working with brilliant people in costume and props, to develop the right atmosphere with outfits to set the scene, and a minimal set (because we're outside) but again, enough to give a flavour of the goings-on, the switch between scenes, the time and space. Then there is organising the run. This year, we'll be performing in our spiritual home for Shakespeare in the Park – Central Park, Peterborough – but we're also going on tour to Moonhenge, near to Wood Walton, and Crowland Abbey. Excitingly, we are extending our reach even further this year, as we have been invited to Bourges (twinned with Peterborough). It will be the first time for some years that Mask Theatre has travelled to far flung reaches. And finally, here's one of our favourite Macbeth quotes: "Life's but a walking shadow, a poor player that struts and frets his hour upon the stage and then is heard no more: it is a tale told by an idiot, full of sound and fury, signifying nothing."
Macbeth – Performance Dates ■ Central Park 11-15 July ■ Crowland Abbey 18 July ■ Moonhenge 19 July ■ Bourges 22-23 July www.masktheatre.co.uk Follow on Facebook at the Peterborough Mask Theatre page or on twitter @mask_theatre
Leave a Reply