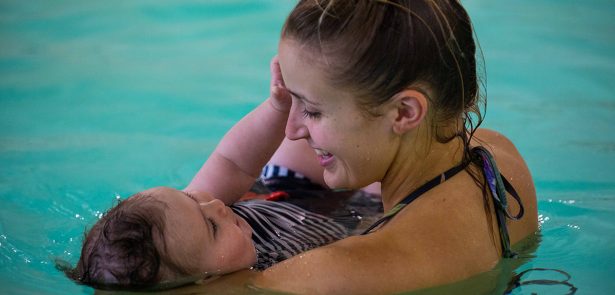 Are you looking to find a fun activity for your little one in the New Year? Would you like to get active, teach your child a new skill, and build their confidence? Then swimming lessons could be the right choice for you.
Swimming is one of the most popular activities for families in the UK. But how do you spark a life-long love of swimming and build your child's confidence in the water?
Rather than seeing swimming as something daunting, it might make you feel more confident to remember that babies often have a real affinity for water. After nine months spent in the womb, floating in warm water can actually feel rather lovely to them! Plus, it enables children to explore a freedom of movement that they otherwise wouldn't be able to at such a young age.
Instead of going it alone, baby and toddler swimming lessons can be a great way to get started. Classes provide extra advice and support in a relaxed environment, with no pressure to meet certain criteria. Many sessions include elements like water play, rhymes, and songs. Children interact with each other, you, and the instructor – all of which helps build their social skills.
Plus, how often do you take the time to do something one-on-one with your child and give them your undivided attention? Swimming classes can be a fantastic way to relax and have fun together. It can also be a great regular activity for other family members, such as grandparents, to use as bonding time with a child.
There are physical benefits too. Taking part in swimming lessons can enhance your child's balance and coordination. Swimming can also develop the brain by supporting the progression from involuntary to controlled movements. Learning a new skill will give your little one a boost of confidence and you will see them taking pride in how well they're doing.
When should you start?
There's no pressure at all to take a child swimming by a certain age. But there can be lots of benefits to splashing around in the water – and, don't forget, it's great fun for both children and adults! Many swimming lessons can start when your child is around three to four months old, just check with the class provider prior to booking. Take time to find a class that will give you the experience that you want too.
What do you need?
Swim nappies are an absolute must for any child that isn't potty trained. To avoid accidents, babies should wear a swim nappy (either disposable or reusable) and a secure outer layer (such as trunks, a swimming costume, or nappy cover). If you're attending a class, they can advise you on any specific requirements.
Make sure you have packed everything you need before you leave the house. For example, it's recommended to take a spare change of clothes, towels and nappies (swim and regular). To save time, some parents wear their swimming costume under their clothes when heading to the pool – just don't forget to pack underwear for the journey home!
If you're taking a newborn baby swimming, a large towel with a hood is useful. Older toddlers may prefer a dressing gown or poncho towel. The added benefit is that these are less likely to be shrugged off as they wriggle around.
Small babies will have a better experience of swimming if they're fed, rested and in good health at the time of the class. But that's often easier said than done, and you won't always get all of these things to align perfectly for every session in the water.
Calmababy
Calmababy specialises in early years swimming and teaches a bit differently from what you might expect a swimming class to be. Its programme concentrates on whole-child development in water – not the technicalities of swimming strokes! Because, before a child can swim any strokes, a considerable amount of development needs to occur in their brain and body. Calmababy helps integrate reflexes and supports the child's balance, alignment and postural strength. Sessions assist sensory integration and the development of movement patterns: gross and fine motor skills, spatial awareness and hand-eye coordination. Most importantly, Calmababy does this in a fun, playful manner.
Location: Peterborough
Class sizes: maximum 8 parent and child pairs per 30-minute swimming class
Ages catered for: 4 months to 5 years
Cost of classes: £145 per child for each 10-week term Contact details: 01733 707808 or www.calmababy.com
Billie's Fins Swim School
Billie's Fins Swim School understands that children learn best when they feel happy and comfortable, and so the lessons are filled with a variety of fun activities that help them progress on
their swim journey. The instructors teach in the water with an assistant. Many of the Level 6 swimmers that graduate filter into the City of Peterborough Swimming club to continue their swimming journey to a high standard.
Location: Pinchbeck and Eye
Class sizes: 7 maximum
Ages catered for: From 3 months to children and adults
Cost of classes: Prices vary depending on location
Contact details: 01775 828878 or www.billiesfins.com
Infant Aquatics
Infant Aquatics has been an established swim school since 2008, running lessons in Rutland and Northamptonshire. The activities are adapted to suit your baby's age, experience and development stage. The half-hour lessons are playful and stress- free, always focusing on the baby and encouraging them to progress at their own pace. Infant Aquatics are specialists in baby, toddler and pre-school swimming, priding themselves on creating positive experiences and building strong relationships in the water.
Location: Kettering, Wellingborough, Wollaston and Oakham
Class sizes: 7 or 8 maximum
Ages catered for: 3 months to 5 years
Cost of classes: £115 for a 10-week term
Contact details: 07876 366063 or www.infantaquatics.co.uk
Vivacity Swim Academy
Vivacity's lessons are perfect for babies, toddlers and pre-school children who are new to swimming. Not only are lessons brilliant for your little one's development, they're also a great place to bond with your baby and build their confidence. Vivacity Swim Academy is there to support your child at every stage of their swimming experience.
Location: Various locations in Peterborough
Class sizes: This varies according to the stages. Non-Swimmer is 8, Beginner is 10, Improver is 12
Ages catered for: From 6 months to adults
Cost of classes: £35-£41
Contact details: or vivacity.org/things-to-do/swim-academy
Leave a Reply