The Choral Pilgrimage 2023: A Watchful Gaze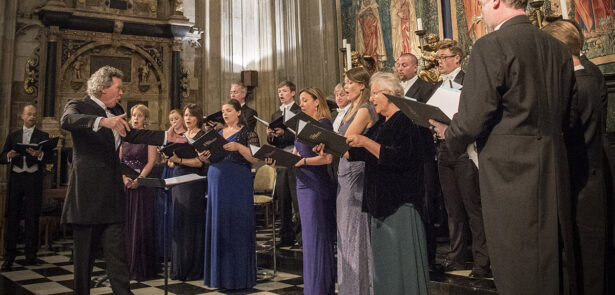 The Sixteen will visit 27 locations across the UK, beginning at Christ Church Cathedral, Oxford, arriving at Peterborough Cathedral on Saturday 13 May, and concluding the tour at Kings Place, London (26 October).
In what has become a staple of The Sixteen's touring programme, this season marks the 22nd year of the ensemble's Choral Pilgrimage. The 2023 tour is inspired by the influence of William Byrd, presenting a programme exploring his life, works and pervading faith. His legacy is marked by the commission of two new compositions by Dobrinka Tabakova, bringing his musical heritage firmly into the modern day. The two premieres, Arise Lord into thy rest and Turn our captivity, highlight Byrd's influence of modern polyphony and showcase The Sixteen in a new light. The programme also features works by Van Wilder, de Monte, Clemens Non Papa and Byrd himself.
The Sixteen's Founder and Conductor Harry Christophers says of the tour: 'Today we have television, radio, the world wide web, email and social media spreading new ideas and keeping us up to date with things at the drop of a hat. So it is a constant source of amazement to me how centuries ago there was none of that; yet doctrines, ideas and the word spread. Four hundred years ago one of the greatest composers of the Renaissance died. William Byrd was widely admired in his own time, both at home and abroad, and the influence he had on future generations was immense.
'Here we look at his influences, his colleagues and his pervading faith, how his music spread impassioned messages and how it is influencing composers today, as it did in the 16th century. We take you from the Flemish composer Clemens non Papa whose sombre text and general plan for his setting of Tristitia et anxietas Byrd borrowed to write his own setting, to another Flemish composer, Philip van Wilder's secular madrigal O doux regard which Byrd openly borrowed for his sacred motet Ne irascaris.
'I have long been an admirer of the works of Dobrinka Tabakova, and I was drawn to her by
something the broadcaster and writer, Tobias Fischer, said about her: "The term 'avantgarde' is changing and Dobrinka is one of those lending it a new meaning. Her credo….consists of a simple basic idea: that something new can always be found, even in the most familiar places". As a result, I commissioned Dobrinka to write settings to two texts Byrd had used all those centuries ago. By her own admission she said that providing partner settings carries a set of advantages and challenges. I can safely say that Dobrinka was up for that challenge and has produced for us two exceptional works which will delight listeners for years to come and bring solace to many.
'William Byrd sought solace through his music. He lived his life under constant threat of religious persecution – a devout Catholic and moreover a practising Catholic in a country where only the Anglican faith could be celebrated. While he spent many years facing adversity and persecution, de Monte was enjoying a lifetime of freedom to express his faith. Settings of verses from Psalm 137 represent one of the most amazing exchanges in history. As a member of Philip of Spain's private chapel choir, de Monte visited England in 1554 for the marriage of Philip to Queen Mary. Some thirty years later, he sent Byrd a setting of the opening verses of Psalm 117 – Super flumina Babylonis, illic sedimus et flevimus / By the waters of Babylon, we sat down and wept – sympathising profoundly with his religious beliefs. Byrd responded with the next few verses from that very same psalm – Quomodo cantibimus canticum Domini in terra aliena / How shall we sing the Lord's song in a strange land. While de Monte's setting is wonderfully eloquent, beautifully shaped and highly effective, Byrd's response is all that and more. It is quite radically defiant and when performed together, as they are here, the result is incredibly powerful.
'Our concert closes with Byrd's brilliantly evocative motet Vigilate. It's the source of the title of this year's Choral Pilgrimage. This and all the other works featured will resound around our glorious cathedrals and abbeys. Now it is time for you to sit back and allow the sounds and sentiments to resonate with you.'
Saturday 13 May 2023, 7.30pm
Peterborough Cathedral
Tickets can be bought at thesixteen.com
Leave a Reply