King of Pop – The Legend Continues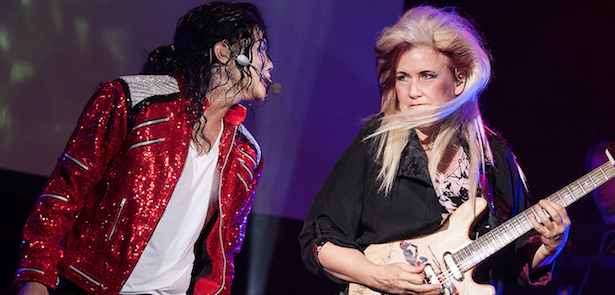 The Cresset, 19 May, 7.30pm
Get ready to moonwalk the night away at the Cresset with the world's number one Michael Jackson tribute artist who is joined by Michael Jackson's own iconic guitarist – Jennifer Batten!
King Of Pop – The Legend Continues stars Navi who was hired by Michael Jackson himself as the stars official body double. Navi is widely regarded as the leading and most successful Michael Jackson tribute artist on the planet – a claim that is backed up by an incredible list of achievements chalked up in a career spanning three decades.
As well as working for Michael as his official body double, the star booked Navi to perform at two of his lavish birthday parties in New York and Los Angeles, and went on to give him a standing ovation (captured live on film by local news crew).
Jennifer Batten performed with the Michael across the globe on all three of his record-breaking world tours. She was initially hand-picked to play on the Bad Tour but Michael was so impressed that she joined him on the road for the next 10 years, playing on his Dangerous and History tours to more than 4.5 million fans worldwide. She also featured heavily in the iconic Super bowl half-time show (USA) – regarded by many as Jackson's most spectacular performance.
With an incredible live band and dancers, the production features all of Jackson's mega-hits in a fast-paced, two-hour show that will have you dancing in the aisles and singing along all night to the likes of Thriller, Billie Jean and Smooth Criminal.
Don't miss this special concert featuring all the greatest hits performed by Navi and a live band led by the legendary Jennifer Batten, for a great night of entertainment for the whole family. An absolute must see for MJ fans worldwide.
Leave a Reply