More than just horses for courses…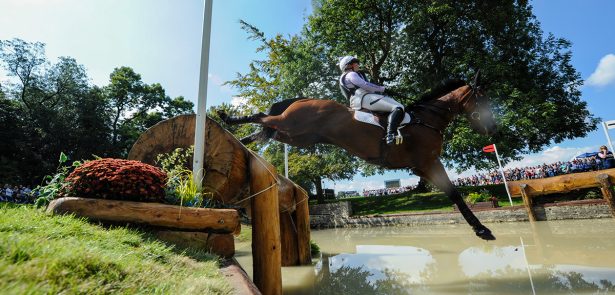 In 1961, a planned three-day at Harewood, in Yorkshire, was unexpectedly cancelled due to an outbreak of Foot and Mouth disease. Hearing of it, the Marquess of Exeter, a keen equestrian, invited the British Horse Society to transfer the event, to his estate near Stamford. There were just 19 competitors, and 12,000 visitors – but Burghley Horse Trials was born. The five-star event now known as Land Rover Burghley Horse Trials, has grown considerably since that first year, now attracting 80 of the world's greatest riders, over 170,000 visitors and featuring more than 600 tradestands – all of it built in the space of four weeks in the historic grounds of Burghley House. The Moment talked to Sophie Attwood, Assistant Event Director, to find out how it all comes together.
I know, like many, you had to cancel the event in 2020 and 2021. Is it good to be back?
We are absolutely delighted to be back! One of the really sad things about having to cancel was the impact it had on the sport. If, as an athlete, you're at the peak of your game and you have a horse also at the peak of their game, being denied the opportunity for two years, at that top level, is really hard. So, it's great for them – but also all our spectators, and for Stamford and the local economy. To date ticket sales have gone very well, and from the competitors and our sponsors there's a huge appetite to come back.
A crowd of 12,000 seems quite a respectable turnout for that first event in 1961 – but it's grown in all sorts of ways since then, hasn't it?
It's grown in every way. The sport itself has gone through major change – it's become a professional sport, and there's an international governing body. You don't get people who are hobby riders who happen to be very good as you did in those early days; there are now very stringent criteria that they have to meet, and they have to qualify by going through various levels of competition. Obviously the spectator element has grown too – and because of that, the infrastructure side of it has had to grow and develop considerably to be able to support that number of people coming to the event.
It's also much more than a sporting event these days, isn't it?
Primarily, we are a sporting competition, but as you quite rightly say there's an awful lot that sits around that over the four days. So firstly, we have our shopping village, for which we have over 600 exhibitors in terms of a retail offer, so that's huge. And that undoubtedly draws people who perhaps only have a passing interest in the equestrian events, so Burghley Horse Trials has absolutely become a shopping destination as well, in its own right. Then alongside that there is the social aspect. Where we fall in the calendar is at the end of summer, normally around that last weekend before children go back to school. So it is sort of the last hurrah of the summer, before everyone gets back into that school or work routine – that last summer jolly, if you like! And then there are all sorts of other events going on alongside the main one, so we have other subsidiary competitions that take place, and various demonstrations, as well as the shopping and the social side.
You mentioned how the expansion of the shopping village has broadened the spectrum of visitors and made it a shopping destination. What can we expect to find there?
That broad spectrum of visitors is reflected in the variety of tradestands. So, yes, there are those equestrian-specific stands, so if you want to buy something for your horse or some riding kit, you can absolutely go and do that. But equally, there's homeware, fashion, garden furniture, art and things for children. And then we also have our famous food walk as well, showcasing lots of local independent produce providers. So we have a real breadth of traders.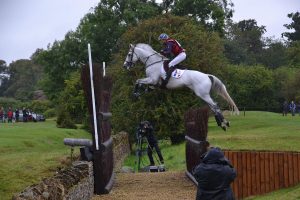 Clearly, getting this all together is an immense task… Tell me a bit about what goes on behind the scenes and how it all comes together.
People are always quite surprised when they ask what I do, and I tell them my job. They ask, 'How does that take a year?' But it really does! The planning process is literally a 12-month cycle. So, as soon as one event finishes, we then go into a debriefing period, which is really from the end of the event in September up until Christmas. We go through a really in-depth debrief, whether that's with the police, traffic, catering. We have a tradestand committee, so we'll meet with them, and we'll talk about how it's worked for them. We have a competition working group as well, so we'll meet and talk with them. With every aspect of the event we really go into the fine detail about what's worked, what hasn't worked, what needs changing, how we can improve. That takes us up until Christmas. And then when we come back after our Christmas break, we switch into delivering that year's event. So then we start putting all of our plans in place, placing all of our orders for all of the kit – tentage, loos, grandstand etc. And then there is the actual build period. People often turn up at Burghley for the event and just assume it's always like that, but if you were to come here right now there's nothing there.
So, we have a four-week build period, taking it from a totally greenfield site where there's nothing, to creating that village, the course, the facilities, all the infrastructure. Then we have the event week, and then we have two weeks to take it all down and return the park to how it was before we were there. And hopefully, if we do our job correctly, and the weather has been kind to us, nobody should know we've been there. That's the aim!
Of course, this isn't just an empty field we're talking about – it's a historic house and grounds. That in itself must present challenges…
It's a very historic parkland, yes. And there's a lot of historic trees, some of which have been in since Capability Brown's time, so we have to be very respectful and very mindful of that. As you say, it's not just a flat field where you can come in and do what you like. So, we take a huge amount of care and consideration over the park to make sure that what we do doesn't leave a footprint.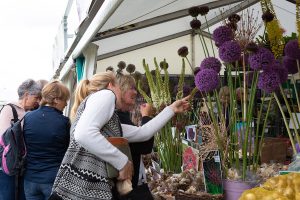 How many people are involved in the physical build?
If you took it from the very beginning all the way through, looking at all the contractors, subcontractors and other people that come in and do the work, you would probably be looking at around 1,500 people. That's partly because we have that four-week window. If we had eight weeks it might be different, but for those four weeks it's all hands on deck! It's literally like a massive jigsaw, and you've got to make sure that you get the pieces in the right order to take it from that greenfield site to what people see when they come in the gate from the first day. So it is a massive team effort.
Tell me a bit about the design of the course itself… Obviously it needs to adhere to certain standards as well as presenting a challenge for horse and rider, but anyone who has visited or seen TV coverage will know that many of the jumps are often also quite quirky or visually striking, with quite a bit of creativity going on, often based around a theme, such as the water jump that was basically a boat on a trailer…
There is an appointed course designer, and there's a list of course designers approved by the International Federation who can design at that level. It takes years to reach that level of expertise – you have to go up through the ranks and start designing at a much lower level, and then prove yourself and move up. So, you have an approved designer who can design at a five-star level, which is what Burghley is. And then there's a set of rules and regulations in terms of height of fences, width of fences and so on that you have to adhere to, as laid down by the international governing body. But then, as you say, there's also the creative side, where the designer can put their creative stamp on it. I remember coming as a child, and I can still remember some of the fences that I saw 20-25 years ago – they do stick in your mind! At Burghley we take a huge amount of care and time creating the props and that feeling that goes into it, so it's not just a physical jump – it's what sits around it that really makes it interesting and memorable.
I imagine this wasn't so much the case back in 1961…
You would probably describe it as being very 'rustic' back then – just timber rails, hedges… You certainly wouldn't have seen any sort of additional props or dressing; it would have been very much what was there in the landscape.
And, presumably, one of the other major changes has been ensuring safety, because this is potentially a highly dangerous sport, isn't it?
It is, and again, it's something that the sport and the International Equestrian Federation of Sport has worked on massively over the last 25-30 years. There's a huge amount of testing that goes on. They do an enormous amount of research, and gather a lot of statistics to make it safe. It's something that they take, obviously, very seriously and things have come on hugely in recent years.
Burghley has always drawn attention through its royal connections, with Princess Anne and Captain Mark Phillips…
Yes, Captain Mark Phillips was a regular competitor – and a very successful one, having won it in 1973 riding Maid Marion. And then, when his riding career came to an end, he moved on to course designing. Mark was here for a number of years as course designer and is still very much involved with the board. Those royal connections have continued with Zara Tindall [daughter of Princess Anne and Mark Phillips] as a regular competitor at the event. I think it's undeniable that when Zara is competing, she takes the sport from the back pages to the front pages of the newspapers. That's had a very positive effect on the sport and has helped to publicise it, which is no bad thing.
How is this event regarded by riders?
There are only seven five-star events in the world, of which two run in the UK, and Burghley is undoubtedly viewed as one of the toughest tests and the pinnacle of the sport by the riders. They love coming here, and it is a true five-star challenge.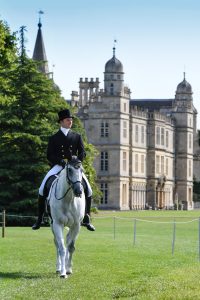 Land Rover have sponsored the event for several years now but also have their own 'Land Rover Experience' at the event. What does that involve?
Land Rover have been the main sponsor for a long time – 2005 was the first year – so it's a really long- running sponsorship, which is great. They're great to work with, they're really enthusiastic, they love the event. And as you say, they bring the Land Rover Experience, which is incredibly popular. It's basically an obstacle course. You then sit in the vehicle, and one of the professional drivers takes it around the various obstacles in quite hair-raising fashion! Obviously it's a showcase for what their vehicles can do, but it's also just an incredibly fun and exciting thing to do.
Sort of the equivalent of what the horses are doing on the course..?
It's exactly that – the car equivalent!
Tell me a bit about how long you've been organising the event and how you came to be involved…
This sort of job is something that I have always done; I've always worked in major sporting events. I started at Burghley in 2014. That was my first event. Prior to that I'd worked for Royal Windsor Horse Show, and also the London 2012 Olympic Games. I did the equestrian part of the games in Greenwich Park. I worked on that for two and a half years, and then obviously that came to an end, so I did some freelancing, and then somebody at Burghley was going on maternity leave and Elizabeth Inman, who was then Event Director, asked me if I'd like to come and cover it. It's quite
a niche role, doing this! You know, if you have an accountant who goes on maternity leave it's quite
easy to find somebody else to take on the role, but organising outdoor sporting events, and events on this scale, it's pretty niche. So she gave me a call, and I said yes, and I ended up staying.
What have been your favourite memories so far?
It is always special when we get royal visits. We've had the Countess of Wessex here twice and that always brings a level of excitement, which is nice. Andrew Nicholson winning his third Burghley on Avebury was also a really big moment. To win the title just once is pretty impressive, but to win three times, and also on the same horse, is an outstanding achievement. And, you know, it may well be something that's never repeated. But also it's wonderful just to see the reactions of people who are not necessarily full-on equestrian fans – especially children who perhaps don't ride or have horses in their lives. It's great when they get to see what those horses and riders can do.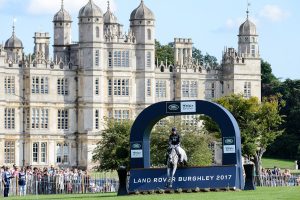 What's it like for you being at the event? Are you able to enjoy it, or do you walk around worrying about the cabling and the tents?
Yes, you do! Because first of all, you know, that is your job. That's what you're here to do. So, you
will always be thinking, 'Are the bins overflowing? Are the loos OK? Is the car park full? Are the food stands coping with the crowd?' That will always be what you worry about. But I always find it quite important to just try and find five minutes to stand back and take it in, because it is your year's work there in front of you. So I always try and take a moment, to appreciate really what everybody's achieved in putting it on. And that really is a huge team effort. That's the team we have in the office,
our huge army of officials and volunteers who come along on the event, and all our contractors. And we have a very loyal bunch of stewards and officials and volunteers who come back year after year – some of whom have been involved almost from the very beginning, so it's something that's very special to them, and has a very special place in their heart. Without everybody playing their part, something like this just would not be able to happen.
LAND ROVER BURGHLEY HORSE TRIALS – FASCINATING FACTS
Andrew Nicholson and Avebury are the first partnership ever to win the event three years in succession
More than 100 acres and 14,000 miles of rope are used to designate the car parks
More than 600 tradestand exhibitors are accommodated in an exclusive camping area, known as the Deer Leap Park during the event
22,277 square meters of tentage is used to create structures such as the Main Arena Grandstand and the tradestands – that's enough to cover 919 tennis courts
450 horses will grace the Burghley fields over the weekend
1.5 tonnes of ice is used on Saturday by the competition department alone, not including that used by the catering outlets, members and hospitality
The Land Rover Burghley Horse Trials has won L'Anne Hippique Best Event of the Year (Eventing) Award seven times! More than any other international Three Day Event in the world
More than 50 medical officers are on duty during the course of the event; covering both the public and the competition
It takes more than 800 officials and volunteers to run cross country day alone
The winning prize money at the first event in 1961 was £150. Today the winner will take home £100k
The Queen last attended Burghley Horse Trials in 1971 – the year in which her daughter HRH Princess Anne and Doublet became European Champions
More than 3,000 riders from 38 different countries have started the event since its inception in 1961
There are more than 2,000 signs that have to be positioned and erected for the horse trials weekend, that includes those you see within the showground and the external traffic signs
In 1961 there were just 66 tradestands at the event. Today there are more than 600
The first Burghley Horse Trials in 1961 welcomed 12,000 visitors. In 2019 we welcomed 170,000 visitors over the four days
It takes 6,500 man hours to erect and dismantle more than a mile of tradestands, plus stables, flooring, seating and fencing. The company has been a supplier to the Horse Trials since 1962
The highest number of cross country penalties ever recorded was 579.0
Zara Phillips came second at her Burghley debut in 2003 and 10th in 2011 on her Olympic mount High Kingdom
LAND ROVER BURGHLEY HORSE TRIALS
Thursday 1 – Sunday 4 September 2022
Burghley House, Stamford
www.burghley-horse.co.uk
Leave a Reply