A river runs through it | The River Nene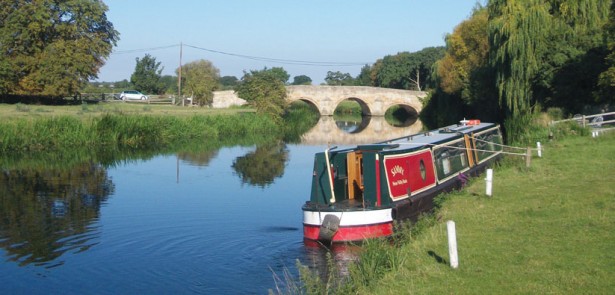 The River Nene rises in Northamptonshire and winds its way right through the county to Peterborough and beyond. But few local people have taken the time to explore it and see the region they live in from an entirely different perspective. The Moment discovers a truly life-affirming experience.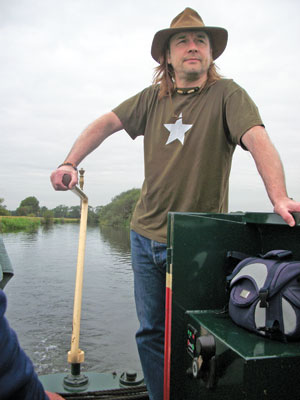 I hate alarm clocks. Intrusive, shrill, harsh-sounding beasts, they make me feel like a laboratory rat or a Pavlovian dog, trained to perform tricks in response to basic stimuli. But this one was different. Very different. It was gentle, soothing, mournful even, and instead of making me want to throw it against the bedroom wall before turning over and going back to sleep, it actually made me want to get up. And if you knew how much I love my sleep, you'd realise how astonishing that is.
It was the sound of sheep bleating. Far enough away to be gentle on the senses, but close enough to wake me and, in the same instant, remind me where I was. And armed with that knowledge, I couldn't wait to start the day. I leapt out of bed, pulled back the dainty little curtains and gazed through the porthole onto the most idyllic scene I've ever witnessed from a bedroom window. There wasn't a cloud in the sky, the sheep were grazing peacefully along the banks of the River Nene, and the river itself sparkled like a jewel in the early morning sunlight. If there is a heaven, I for one wouldn't argue if it was like this.
The Nene is the tenth longest river in England. It rises from three sources in Northamptonshire and winds its way to The Wash in slow, lazy loops through some of the most beautiful scenery in the country. Like most people living in Northamptonshire, I've seen the Nene countless times, crossed it on various ancient stone bridges, and even sat by its banks watching pleasure boats lazily navigating its graceful curves. But I had never actually been on the River Nene. Here was a river that runs right through the county in which I live and I had never been on it? For someone as naturally curious as myself, that's simply not good enough.
Crossing the 18th century stone bridge at Fotheringhay en route to Peterborough one perfect summer's morning, the scene that confronted me was so idyllic that I had to stop and photograph it with my mobile phone. Three narrow boats were moored up under the mound that once elevated Fotheringhay Castle high above the strategic river crossing. The magnificently majestic Church of St Mary and All Saints obligingly provided a backdrop for the scene, and an elegant weeping willow trailed its branches in the slow-moving water as if to refresh itself.
When I uploaded the picture onto Facebook, a friend in California saw it and posted a response. This friend owns an absolutely stunning ranch in the foothills of the Sierra Nevada, so he's no stranger to gorgeous scenery. But his reply really struck a chord. He simply said: 'You lucky dog.' Am I? Living in Northamptonshire while he skies in the morning and swims in the afternoon? I had to get out on that river to find out. I had to see my home county from a different perspective – one where no roads could take me. I had to get a boat.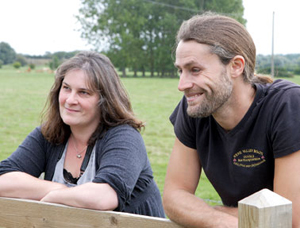 Dan and Carol MacIntyre-Jones set up Nene Valley Boats five years ago, renting out two narrow boats (a 57-footer named Sammy, and the 44-foot Sumo-No) as well as a 13-foot day boat called Isca. All three are based at Barnwell Moorings just outside of Oundle, and the small family firm kindly agreed to provide me with the transport needed to re-discover Northamptonshire and find out just how much of a lucky dog I really am.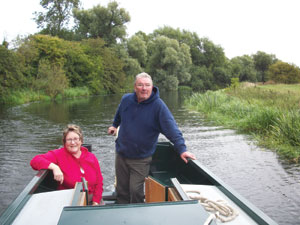 So all I needed was a crew. While speaking to my mum, Josie, on the phone, I was surprised to learn that my father Jim – a keen fisherman – had always longed to experience a narrow boat trip. Sorted. I told them to pack their bags and they made the 720-mile round trip from Scotland to join me. I had my crew. And their names sounded so close to Rosie and Jim (the puppets who live on a narrow boat in children's TV land) that it seemed a good omen. What could possibly go wrong? The only problem was, our combined experience of boating was nil. And we would be passing through a total of 18 locks on our round trip from Oundle to Wansford. Gulp.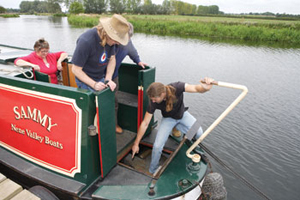 Dan MacIntyre-Jones put our minds at rest slightly when he told us he'd come out on the boat for a couple of hours to show us the ropes. That personal one-to-one instruction is one of the major advantages of hiring from a small family company. I've known mates who rented boats from bigger holiday firms and received no instruction whatsoever before being let loose in a 17-ton boat with no brakes and no reverse steering. Not a good recipe.
After Dan took us through the first lock at Oundle Mill I was still utterly bewildered. There seemed to be so much to remember and I could tell by my father's expression that he was envisioning his dream rapidly turning into a nightmare. For practical folks, the locks would present no significant problem, but me and my dad struggle to wire a plug between us. Practical men we are not. So this was going to be a challenge.
Dan offered to take us through the next lock too, just to get the routine straight in my mind, but I still couldn't get my head round it. Then I had the best idea of the entire trip. I got out my notebook and pen and asked Dan to tell me the exact procedure, in stages, of going through a lock (see separate story). Those step-by-step notes became my bible over the next three days and I simply don't know what we'd have done without them.
After the second lock, Dan and Carol waved us goodbye and we were on our own; me, my mum, and my dad all looking at each other as if we'd just been put in charge of the space shuttle – and it had already taken off. Sheeeyit.
Mercifully, there were no further locks for a while and we could at least get used to steering the good ship Sammy. This proved easy enough, for me at least. Push the hand throttle forward a little until we were making about 1,200rpm, and simply turn the tiller right to go left, and left to go right. Seeemples. My dad found it was seeemples too. My mum? Well, not so much. I had to wrestle control of the vessel back from her just in time to save us beaching ourselves on the riverbank before we'd even lost sight of Oundle. As penance, Josie was sent below decks to the kitchen, sorry, galley, to rustle up some lunch.
And then it all made sense. Putting along at around 4mph, munching some sandwiches and, once we'd lost sight of Oundle's church spire, utterly lost in another world. A world that isn't troubled by traffic jams and fast food outlets, by garish neon signs and advertisements, by drunken yobs arguing on the street corner. This was a world of wildlife and woodland, of grey leg geese, of herons, otters and swans; of dragonflies lazily buzzing the boat and swallows playing skittishly around it. It's a world lush with greenery and trees bearing sloe berries, elderberries, horse chestnuts, and crab apples. By the riverside are hops, sunflowers, thistles, and enough reeds to thatch every house in England.
Within minutes, the stress of learning the locks is forgotten and a kind of Zen Riverboat Buddhism descends upon us. We're not going anywhere in particular, we're certainly not in a hurry, and we're not doing anything in particular either, we're just existing and absorbing everything that's going on around us. It's truly serene and I'm surprised to find that I'm not bored or frustrated by the lack of pace. I usually like to get where I'm going as quickly as possible, I like to be occupied, I like to be doing things. But here and now, for once, I'm utterly content just to be. It's an odd, and very welcome sensation.
But it's not too last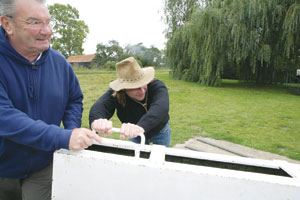 Just two locks in and we've already learned to dread the sight of the towering green guillotines that loom up out of the landscape signalling the approach of another. And this time we're entirely on our own. But then comes the next surprise: we're not really on our own. This is the first of many encounters with fellow boaters at a set of locks and there can be no more helpful group of people anywhere on earth. Unlike car drivers, who get all arrogant and self-obsessed once they've passed their test, the boat people seem to remember that they were once new to this game too, and they seem super keen to lend a hand to novices like us.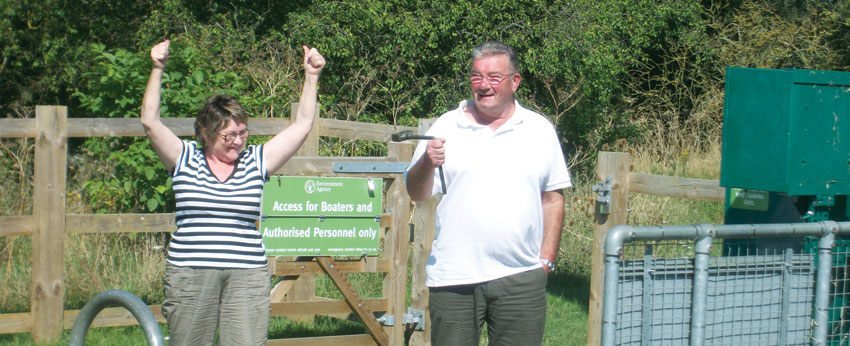 So with a bit of guidance and a helping hand from the crew of a cruiser, we make it through our first lock and feel like we've conquered Everest. Sure, there was a bit of shouting and swearing, tempers fraying because of the sudden rush of activity after such a peaceful interlude, and the fact that I couldn't hear a word my mother was shouting at me over the noise of the 44bhp engine, but we're still speaking to each other and within a few minutes of being back at cruising pace, we're once more transported into the surreal world of the mystic river.
We're heading downstream; that is, north, in the direction of The Wash, where the Nene eventually lets herself out to sea. But our own destination is somewhat closer. Fotheringhay is only a few miles from Oundle and, by road, you could reach it in a matter of minutes. But by river, it feels like an epic Michael Palin voyage. Not only are we travelling at walking pace, but the river wasn't built by Romans and consequently never thinks to follow a straight line. It loops and winds and ambles back on itself as if to emphasise that it's not in any hurry to get anywhere. 'You wanna ride on me? Then we do it my way. By my rules. And that means slowly, buddy. So just relax and I'll show you how to travel. Properly.'
Okay river, you're in charge. Lead on
The highway code of the river differs from that of the road. For starters, you stick to the right, not the left. We manage this for the best part and my dad only gets shouted at once for almost clipping the apex on a left-hander and getting too close to an ill-mannered fellow in a floppy hat coming the other way. 'You're supposed to stay on the right' he shouts at us. Okay mate, we're trying. Keep yer floppy hat on.
But he's the only misery we encounter on the whole trip. Everyone else waves, shouts something funny, offers advice, and is genuinely friendly in one way or another. Oh, apart from fishermen. We soon realise that us boat people are their natural born enemies – what, with us daring to pass by every hour or so and spoiling that massive catch they were just about to land. News: you don't own the waterways fellas, live and let live and all that. We'll soon be out of your hair and you'll have to think of another excuse for not catching anything. At least we gave you an excuse.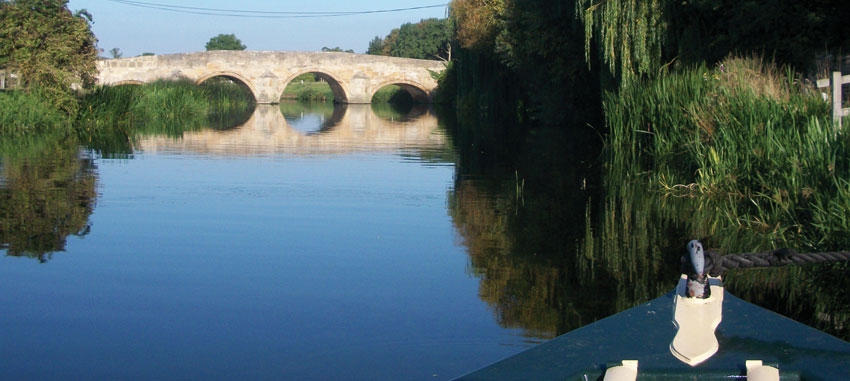 Some three hours and five locks after setting off, we reach Fotheringhay, our mooring point for the night, and it's a peach of a one at that. At £4 it's a bargain for there can hardly be a more idyllic spot on the entire river to spend a night. Hard by the castle mound and within easy walking distance of the impossibly romantic old stone village and the outstanding Falcon Inn, it's a perfect location, particularly for a family with as much interest in Scottish history as mine. The name on the village sign was straight out of our school text books as we learned, repeatedly, about the beheading of Mary, Queen of Scots.
Today, it's hard to imagine such drama and violence taking place just feet from where we're moored up as my dad casts some sweet corn over the side of the boat in pursuit of pike, roach, carp or tench. In the end he catches nothing, mostly due to the fact that he's eaten all the bait, having nibbled at the sweetcorn until there was nothing left. Still, he seemed to enjoy it more than the fish did….
Josie is thriving in the well-appointed galley, shutters opened onto the river and the late evening sun pouring through onto the gas cooker. It's amazing how much room there is on a narrow boat. Because so much of it is under water, it looks low and cramped from the riverbank but inside it's like a Tardis. I'm six foot and can stand up easily without having to worry about bumping my head, and with two double beds and two singles, you could share the price of hire between six people, although three is more comfortable.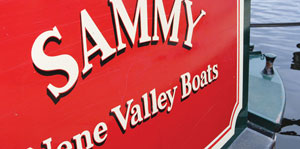 The whole boat is remarkably well appointed and ridiculously cute; like a floating Bag End from The Lord of the Rings. I have honestly stayed in hotel rooms with more cramped toilets/showers. There's a TV, a DVD player, a stereo, and a well-stocked library should you feel the need, but we're too busy just enjoying the novelty of living on a boat. I brought books, an ipod, a guitar, and other entertainments with me thinking there would be lots of downtime to be filled, but there wasn't a dull moment. I simply had no need for them.
The kitchen has everything you need, from a fridge to an oven, and it's not too cramped too cook in. There's any amount of cupboard and wardrobe space throughout the boat and the table and seating arrangement in the lounge/saloon area can be cleverly converted into a double bed at night. All bedding is supplied too. Dan and Carol even add homely little touches like supplying fresh farm eggs, tea, coffee and biscuits. And eating one of those fresh eggs in a bap while sat in the bow of the boat on a perfectly still, blue-sky morning, is as good a way to have breakfast as I've ever known.
Day two saw us heading downstream again towards Wansford where we planned to moor up and have lunch before turning around. Unlike a canal, the river Nene is wide enough in many places to do a three-point turn (though it was more like a nine-point turn in my case) and head back should you be running out of time. But be warned: while it's easy enough to steer a narrow boat whilst going forward, you have no left/right control while reversing so you need to get things lined up properly before you stick it in reverse.
We faced a total of eight guillotines on day two and still felt only marginally less scared than if we'd been facing the real thing. There seemed to be a recurrent beheading theme running throughout this trip, though I'm sure Mary, Queen of Scots would have preferred to face any number of these guillotines instead of the axe that so cruelly ended her life.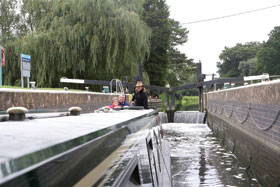 It seemed that at every new lock we came to something different would go wrong – there would be a boat in the way, or I'd struggle to moor up close enough to let my parents disembark. Any number of things. But we always managed, either with the help of others or by sheer good luck. Then the unthinkable happened. We got one right. Every step in the sequence went perfectly and we sailed through like River Gods – masters and commanders of our watery environment. It was a great feeling and changed the trip entirely. Now, instead of fearing the green giants, I actually began looking forward to them to see how smoothly we could tackle them, and I must say that after we got one right, we never had another problem. It was like learning to ride a bike. Once you've found your balance and know what does what, you're up and running and you'll never look back.
We reached Wansford about three hours after leaving Fotheringhay but, in the absence of anywhere to moor up, I was forced to perform my nine-point turn and head back upstream. This highlighted one of the only downsides of river travel: there's not enough places to moor up. Maybe if we'd been more experienced we could have hauled the old girl into the river bank and hammered in a stake to moor ourselves to (they're supplied on board) but the lie of the land forbids this in many cases. A consequence of this is that the 'official' places to moor up (places like Yarwell Mill) are over-crowded, making it difficult to find a mooring. So it was back to Fotheringhay for a second night but no-one was complaining as we considered it to be the best spot on the entire stretch that we travelled. History, scenery, a fantastic country pub, easy mooring, the splendid sheep alarm clock. What's not to like?
On our return on day three, the river and the locks no longer held any fear for us. It was an absolute breeze and, as a consequence, the journey was even more relaxing. The weather was perfect (a good job too because someone needs to be standing outside at all times to operate the boat, so make sure you take waterproofs) and we all realised that this was an experience we would talk about and look back on with fondness for the rest of our lives. As my dad said, why would anyone need to go to a shrink when they could just rent a narrow boat for a few days? Cruising on a narrow boat really does force you to recalibrate your brain and get in direct touch with a slower pace of life away from laptops, supermarket queues, and mobile phones. It truly is the best therapy for the stresses and strains of modern life you could ever hope to find.
And yes, I am a lucky dog.
How to Master Locks
Downstream (ie, north, heading towards The Wash)
1. Moor the boat at the jetty just before the lock to allow your lock crew (or mum and dad) to disembark
2. Close the guillotine at the far end of the lock (using the key supplied on board)
3. Raise the paddles at the end of the lock nearest to you (using the windlasses supplied on board)
4. Allow the lock to fill with water
5. Push open the gates
6. Close the paddles (with the windlasses)
7. Sail boat into lock and secure with ropes
8. Close the gates
9. Open the guillotine
10. Empty the lock
11. Go
Upstream (ie, south, heading towards Northampton)
1. Moor the boat at jetty to allow your lock crew to disembark
2. Sail the boat into the lock and secure with ropes
3. Close the guillotine
4. Open the paddles at the far end of the lock (using the windlasses)
5. Allow the lock to fill with water
6. Open the gate
7. Close the paddles
8. Sail the boat out and moor up to allow crew back on board
9. Close the gate
10. Open the guillotine
Nene Valley Boats: Narrow Boat Hire
If you want to experience the very meaning of tranquillity, you can hire a narrow boat from Nene Valley Boats for as little as £450 for a three-night weekend or four nights during the week. Weekly hire prices start at £690 outside of peak season.
Call 01832-272585, email or visit www.nenevalleyboatholidays.com to book.
Tales From the Riverbank
Josie's Verdict
'I loved the camaraderie of it all. We didn't pass a single person without them either waving or saying hello. Everyone's been so friendly and helpful. It's a marvellous, quiet way of life that takes you back to how we lived before the hustle and bustle of the present day. You're close to the wildlife, there's peace and serenity, and mooring up at Fotheringhay was extra special for me. Initially I was worried about the locks but there was always someone there to help or give advice. If you were completely stuck I've no doubt someone would jump aboard and guide your boat through the lock. But once we got the hang of it I felt quite elated because I really felt I had achieved something; it's one more thing that I can now do. It's just been an absolutely wonderful experience.'
Jim's Verdict
'It's been so peaceful and quiet. There's no need to get therapy for stress – just hire a narrow boat for a few days and you'll soon be sorted out. I've had many weekend trips over the years but if I knew I was going to do this again I would look forward to it more than any weekend away I've ever had. When you're driving a car you're too busy watching the road and changing gears to actually see the countryside. At narrow boat pace, you really see the countryside in a way you never have done before.'
Leave a Reply