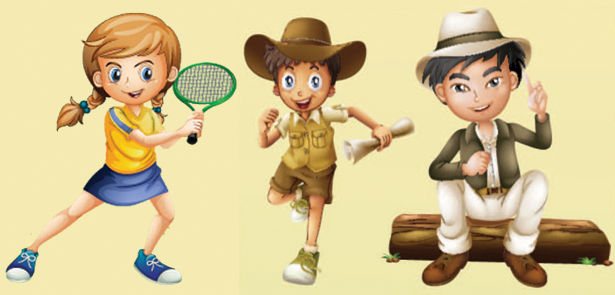 Bring your child's imagination to life this half-term, with Club Viva!  
Monday, 15 – Friday, 19 February 2016
February half-term will be here before you know it, and if like most parents you are beginning to wonder how to keep the kids entertained, then Vivacity could have just the thing to leave everybody smiling!
Club Viva is Vivacity's fun and unique holiday club which takes place at three convenient locations across Peterborough. Each scheme has something special to bring your child's imagination to Each holiday programme offers children the perfect opportunity to try range of activities; from dodgeball roller skating, football to arts & crafts. And in homage to this year's Olympics they even have a day dedicate to track and field events (weather dependant of course). Vivacity understand that as busy parents your needs differ which is why they are giving you the option to book individual sessions, days or even the whole week. This should offer you the flexibility you need to find something to suit both you and your child.
Club Viva at Jack Hunt Pool & Gym
There's plenty of fun to be had at this popular activity club! Your little explorers will love the adventure trails and their imagination will run wild as they search for hidden animals on a safari hunt. Or if sport's more their thing they can try their hand at basketball or shoot arrows at adventure archery! And if your child loves the water they will love the giant swimming inflatables! All activities are specifically planned for children aged 4-11, except swimming where under 8's must be supervised by yourself or another responsible adult.
8.30am – 5.30pm, day, week and hourly rates available.
Club Viva at the Regional Fitness & Swimming Centre
The team at Club Viva welcome all sporting enthusiasts aged 8-12. This club in particular is perfect for those who love being active, keeping fit and having fun in the process! Each day will include a great range of team sports such as football and cricket as well as indoor activities including dodgeball and tag rugby. Club Viva is a fantastic place for your child to make new friends and discover their hidden sporting talents.
8.30am – 5.00pm, day, week and hourly rates available.
Club Viva at Hampton Leisure Centre
The Club Viva crew at Hampton Leisure Centre welcome all 4-11's this half-term for super-sports, animal antics and creative crafts! Their jam-packed timetable is designed to keep the kids on their toes as they hit the footie pitch, join the jungle safari, get messy at the crafty kids session and try their hand at some Olympic themed track and field events.
8.30am – 5.30pm, day, week and hourly rates available.
To book your child's place at Vivacity's Club Viva email call 01733 864 754 or book online using their new online booking system www.vivacity-peterborough.com/booking-path/
Leave a Reply