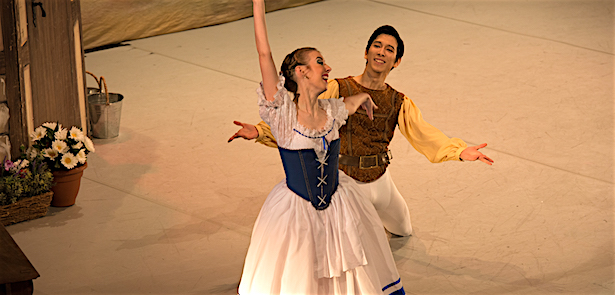 The Cresset, 23 May, 7pm
Classical ballet takes centre stage when Vienna Festival Ballet return to Peterborough with their stunning production of Giselle.
The ultimate romantic ballet, Giselle is a tale of innocence, love, betrayal and madness. With music by one of the 19th century's best composers, Adolphe Adam, and choreography by the late Nicholas Beriosoff, Vienna Festival Ballet's traditional staging of this 1841 masterpiece moves from the sunny optimism of Giselle's idyllic village life to a ghostly, moonlit world of mystery and menace.
Giselle, a young peasant girl, has fallen in love with the handsome Count Albrecht (Dean Rushton), who has told her he is a villager named Loys. When she discovers that he has deceived her the heartbroken Giselle is driven to madness and death. Vengeful spirits of abandoned brides led by Queen Myrtha, Queen of the Wilis (Grace Hume) force Albrecht to dance to his death.
The demanding role of Giselle will be danced by the amazingly talented Rachel Victoria Hernon. Originally from Greater Manchester, Rachel trained in Russia and danced soloist roles with the Romanian National Ballet. She returned home early this year and joined Vienna Festival Ballet in February.
With its irresistible combination of a heart-breaking story and exquisite choreography, Giselle is the perfect way to discover classical ballet.
Peter Mallek founder and Artistic Director says of the production: 'Vienna Festival Ballet are committed to bringing the greatest classical ballets to the widest audience. Whether you are a ballet fan or an interested observer we have something to offer everyone. Exquisite and lavish handmade costumes and beautiful sets, which project colour and vitality. Our productions have all the elegance and extravagance associated with the best of ballet, and of course some of the best ballet dancers from around the world.'
Giselle
Thurs 23 May, 7pm
The Cresset
Tickets: 01733 265705
Leave a Reply