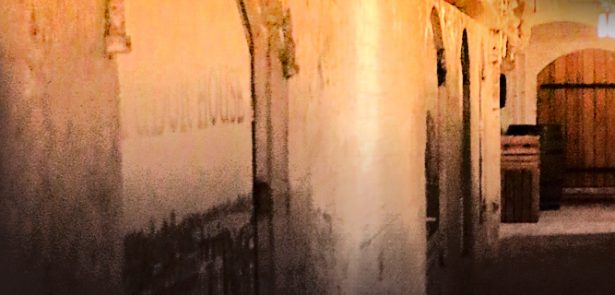 The Priestgate Vaults, deep below the city's most haunted building – Vivacity's Peterborough Museum – are a uniquely spooky historic attraction. But now there's a whole new way to enjoy them... The Moment talks to Tom Owen and Andy Jones of Escape Peterborough who are bringing a thrilling escape room experience to the Vaults
Escape rooms have become hugely popular – but can you explain what they are for those who don't know about them?
Tom: Basically, you and a team have to solve puzzles and clues against the clock to escape a locked room, very much like The Crystal Maze. Each room usually has a theme, so at our Escape Peterborough venue, for example, we have a Sherlock Holmes theme, a wizard theme, a Takenstyle theme, and a bank job theme. Each time you go in knowing what the basic storyline is and have to work your way through the room – and the story – solving the puzzles to hopefully get you out within the time limit! That's usually an hour, though at Priestgate Vaults we have 45 minute and 75-minute rooms to escape.
Andy: It is a relatively new thing here. They've only been in the UK for just over two years now. We'd played them in Europe, on holiday, and just thought they were brilliant, so we opened Escape Peterborough in January 2017. It's since become a bit of a craze – very popular as a team-building thing. We have a lot of corporate clients who come and do it, but also schools, sports clubs or just groups of friends. It's for anyone, really.
How did the escape rooms at Priestgate Vaults come about, and have they brought a different set of challenges?
Tom: We've wanted to do this at the Vaults from the moment it opened. In fact, we made contact with them even before we opened our own escape rooms. It's an historic landmark in Peterborough, and already has ghost stories behind it, so we're really glad that we've been able to do this. The challenges are that we can't put screws into it or cut secret doors, because it's a listed building. But actually, the benefits outweigh the challenges, because it has that history behind it and when you go down there the atmosphere, the feel – it really sets the scene. We put a poster for it on Facebook and it just went crazy. Lots of people said it was exactly what they wanted, and thought it was going to be brilliant!
Andy: Escape Peterborough is number one on Trip Advisor in Peterborough, so we knew we could take this forward successfully with the Museum – and the way we've done it is to base each of the rooms around true stories within the building. It needs to fit in with those surroundings to really work, so all the games need to be written specifically for the existing rooms. That's completely the opposite way around to how we usually work; we normally start with a theme or an idea, and build the room around it – but this means we're not bringing in lots of existing ideas. It's all brand new puzzles and games that tie in with the specific history of that room, the Museum and the surrounding area so people can get immersed within the story of each room. The atmosphere of those surroundings will really heighten that experience. The Vaults is a big technical challenge because there is also not a lot in the rooms themselves, so we're having to do a bit of creative thinking and a bit of building in order to create games that will test people for that period of time.
What can visitors expect to find in the Vaults escape rooms?
Tom: We'll be using four rooms in all – three that are actual game rooms and a fourth for souvenir photographs, key rings and so on – with five players per room. But they're also going to be horror-based and we're going to be doing it on a scare factor. The first room will be in the Tudor House of Humphrey Orme, and that will have a scare factor of one out of five. The puzzles will still be challenging, but it's a less scary one that is OK for everybody. That's a 45-minute room. The middle room – with a three star scare factor – will be the Cellar. It's around 1815, just after a lavish party thrown by Thomas Cooke, the current owner of the house. You have woken up in the cellar and have to work out why you have been locked up in there and what you need to do to escape. Basically, an 1800's version of The Hangover! The Cellar is a 75-minute room. The scariest room – another 45-minute room – will be the Mortuary, which will have a five star scare factor, and we're looking into having live actors in that room. You're locked in the room with a body… But is he dead..?
Is it tempting to just keep making them more and more scary…?
Tom: We actually did one in Poland where at the end we got chased out of the room by a man with a chainsaw! But we won't be going to those extremes… There is a big market for the scarier stuff, but if you do that you cut out families and others who don't like that sort of thing, so we are keeping it varied in the Vaults – and it's much more about the atmosphere. Spook factor rather than jump scares! There are also historic stories that we want to get across. Everything we're making is designed to fit in with the era and look of the room, and is also made so it can be easily taken down and stored away, so the usual Vaults tours can still continue for those who want them.
Can you give us any examples of the kinds of puzzles people might have to solve?
Tom: It could be a simple number puzzle, like you get in a magazine, or it could be four different riddles that you need to solve to get a four digit code that will unlock something. In our rooms we have quite a few technical things as well, where you have to place a certain item in a certain place to make something open, so you have to work out where that object will go, and why. Between me and Andy we've played over 100 games across Europe, so we've learned a lot, and we take note of the puzzles we like so we can adapt them to our rooms.
It's kind of like a computer game, but for real…
Tom: Yes, it is – and in fact it started with escape room apps over here, which went crazy. But when you're doing it in a real room you really get submerged in the theme and forget where you are – and that hour seems like five minutes! People tend to start off quite slow, but as they see the clock ticking down and realise they've still got a few padlocks and doors to open they start to panic! There are also a couple of puzzles we call the 'divorce games' because it takes two people to solve them and you can hear it getting tense through the cameras! But everyone always comes out with a smile on their face.
Andy: It's about the whole experience – not just getting out in the time but having a great time getting there, working together as a team, and rising to the challenge. It would be easy to give lots of clues so people can solve the puzzles, but that way you don't feel like you've achieved something. You've got to come out of the room believing it's a real achievement and that you've done it yourself. Then you have a great, rewarding experience.
I almost hate to ask, but what happens if you don't get out of the room in time…?
Tom: You stay there forever! We've actually got rooms full of failed clients…
Head to www.escape-peterborough.co.uk to register your interest or sign up to the mailing list
Leave a Reply