Eastern Angles: We Are British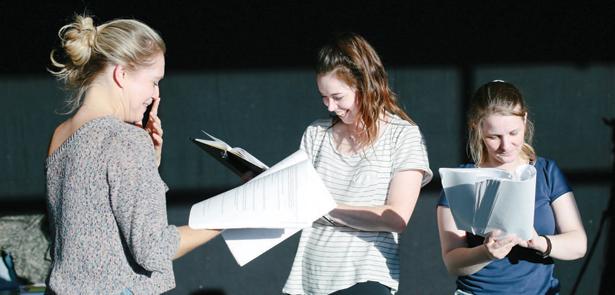 Three emerging playwrights are set to work with students in Peterborough!
Simon Longman (Milked), Dawn King (Salt) and Peterborough-based Aisha Zia (No Guts No Heart No Glory) will be visiting schools throughout the summer term to take part in Eastern Angles' latest engagement project: We Are British. The project pairs each award-winning playwright with a school to explore, with the students, through script writing techniques, what being British means to them. The writer then devises a 30-minute play inspired by the work with the students. Once written, the play goes back into school where students work with a director to stage the play. These plays will be performed back to back in a celebration at The Undercroft on 18th July to an invited audience of family and friends.
The project is working in three schools: Ken Stimpson Community School, Stanground Academy and City of Peterborough Academy. Scott Hurran, Eastern Angles' Artistic Associate, who devised the project said: "I was interested in how we could get all the arts departments in the school working together and a project like this does just that. There are opportunities for students to write, to perform, to create music, to design set, to direct and to get involved in the technical side of staging a play; it's a great way to bring all of the disciplines together".
Other upcoming Eastern Angles projects include Page to Stage which has already engaged students from Ken Stimpson Community School and is set to work with West Town Primary and Stanground Academy; this projects works with students on their own scripts and these are then performed by professional actors. There's also a young writers group which meets once a month and plans are afoot for a summer festival in Hampton this July – more on that in the next issue.
● To find out more about We Are British and Eastern Angles' other engagement work in the city visit the Eastern Angles website on www.easternangles.co.uk
● Also, if you're interested in Eastern Angles working with your school or community group please contact Scott Hurran on
All of these projects have been made possible with funding from Esmée Fairbairn
Leave a Reply