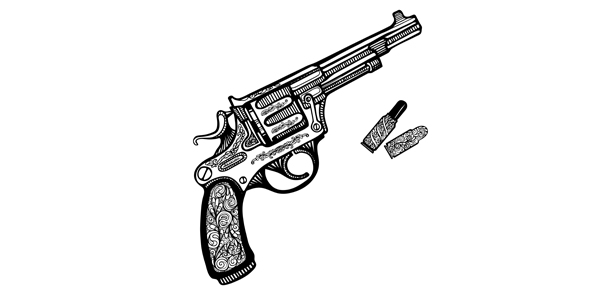 Drama Society hopes that its new production will have you on the edge of your seat and keep you guessing to the very last scene!
From Wednesday 5th to Saturday 8th June Peterborough Playgoers, one of the city's oldest drama groups, is staging Deathtrap by Ira Levin. According to Playgoer's director for this production, Jennie Dighton, it has a plot packed with twists and turns. 'It's the story of a young writer who sends a script for approval to an established playwright who is going through a lean spell – but it's difficult to explain more without revealing spoilers!' Deathtrap is a thriller written in 1978 by Ira Levin and holds the record for the longest running thriller on Broadway (February 1978 until June 1982). It was nominated for four Tony Awards, including Best Play. The play also ran at the Garrick Theatre in London from 1978 to 1981. It was adapted into a film in 1982 starring Michael Caine, Christopher Reeve and Dyan Cannon. A revival opened in August 2010 at London's Noel Coward Theatre starring Simon Russell Beale as Sidney Bruhl, the author going through the lean spell.
The Dictionary defines a thriller as 'a novel, play or film with an exciting plot, typically involving crime or espionage, characterized and defined by the moods they elicit, giving viewers heightened feelings of suspense, excitement, surprise, anticipation and anxiety'. Thrillers generally keep the audience on the edge of their seats as the plot builds towards a climax. The cover-up of important information is a common element, and literary devices such as red herrings, plot twists and cliff-hangers are used extensively. One of the earliest well-known thrillers is The Thirty-Nine Steps, by John Buchan, written in 1915, in which an innocent man becomes the prime suspect in a murder case and finds himself on the run from both the police and enemy spies. It was made into a film by Alfred Hitchcock, who became the undisputed master of the genre. Rear Window, The Birds, North by North-West, Vertigo, Frenzy and Psycho are classic examples of a thriller. The Spy Who Came in from the Cold (1963) by John Le Carre is set in the world of Cold War espionage and helped to usher in an era of thriller fiction based around professional spies and the battle of wits between rival spymasters.
The Bourne Identity from 1980 is one of the first thrillers to be written in the modern style in which a man with a gunshot wound is found floating unconscious in the Mediterranean who wakes up with amnesia and is determined to uncover the secrets of his past. The quest to do so sends him spiralling into a web of violence and deceit – a perfect evening's entertainment! During its 84-year history, Playgoers have performed many thrillers, among them Dangerous Corner by J.B. Priestley in 2006 which was the first play that Jennie directed for the society. In the same year she had the lead part of Gillian Howard in Thriller of the Year, a play written by Glyn Jones about a thriller writer who is being targeted by a killer at the same time as being nominated for writing the 'thriller of the year'.
Other thrillers produced by the society include The Ghost Train and Black Widow 2 in 2015, Out of Sight, Out of Murder in 2002, A Murder is Announced in 2004, Dark Lucy in 2005 and in 2007. It is obvious that this genre has played a big part in the history of the society and its ability to shock, surprise and keep an audience gripped with anticipation on the edge of their seat is the reason why. Come along and see whether Deathtrap lives up to this definition at the Key Studio in June!
DEATHTRAP
5-8 June
Key Theatre Studio
Evening performances are at 7.45pm and there is a Saturday matinee at 2.30pm.
All tickets are £14.
Image: www.freepik.com/free-photos-vectors/vintage
Vintage vector created by macrovector_official
Leave a Reply