CUBED: A Short Play Festival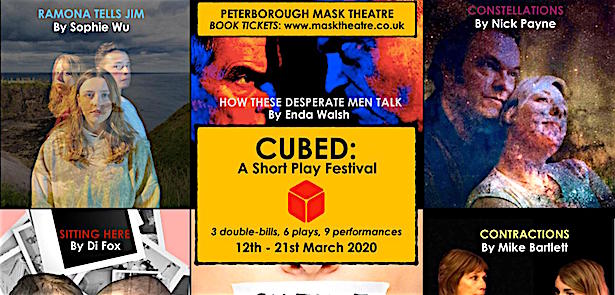 Peterborough Mask Theatre brings you their first ever short play festival, featuring 6 one-act plays, presented as 3 double-bills over 9 performances at the Undercroft Theatre, Serpentine Green, Hampton in March 2020
Well known in the city for producing high quality plays – from last year's gentle but moving sellout performances of Alan Bennett's Lady in the Van, to the hugely successful, rip-roaring farce that was One Man Two Guvnors – Peterborough Mask Theatre is extremely proud to present their first ever short play festival.
CUBED: A Short Play Festival brings you six, modern, one-act plays, performed in pairs. Each double-bill will be performed 3 times, over the course of 9 performances, including one matinee. MASK is giving audiences the chance to take advantage of a special multi-buy offer to see all 6 plays for an amazing £9.99
So why 'CUBED'? The name of the festival came from the design instruction that was given to the directors – that each play should have its set made up of cubes, and only cubes. They could be different sizes, but the shape must be CUBED. The six directors have risen to the challenge and have come up with very creative and ingenious ways of doing this.
The plays being performed are: Constellations by Nick Payne which is paired with Contractions by Mike Bartlett; How These Desperate Men Talk by Enda Walsh paired with Lemons Lemons Lemons Lemons Lemons by Sam Steiner and Ramona Tells Jim by Sophie Wu paired with Sitting Here written by MASK member Di Fox.
The one-act plays, each lasting between 30 and 70 minutes, cover a range of genres and themes that will have you thinking and talking long after you've left the theatre. There's a dystopian future where words have been limited by law, and a workplace where contractual obligations cross into life. Watch two men having a conversation to find the truth… but whose truth? Explore infinite universes, possibilities and outcomes, and choices made that come back to haunt. Experience love and regret and forgiveness.
Written in the 21st century and performed all over the world, these six plays have a range of astonishing accolades. MASK Theatre is thoroughly excited to bring them to a Peterborough audience. Performed in an intimate setting, at the Undercroft, Serpentine Green, you can get close to the heart of the action and become invested in the characters in front of you.
Tim Bold, director of Constellations says: 'Directing a one act, two-hander is very different. Working so closely with the two actors we are able to explore every intention, every emotion and every nuance in depth. It is emotionally intense, but hugely satisfying…'
Matt Clift, director of How These Desperate Men Talk adds: 'Just having two actors, hardly any set and such an ambiguous play as How These Desperate Men Talk… reminds you why creating theatre is incredibly rewarding…."
Taking place between 12th March and 21st March, MASK is hoping that the variety of plays, along with the value for money multibuy offer, will attract not just regular theatre lovers, but bring in a new audience who want a taster of quality theatre, at an affordable price, in a great local venue.
Evening performances are 7.30pm with one matinee performance at 2.30pm on Saturday 21st March. Tickets are priced at £5 for 1 double-bill, £8 for 2 double-bills and an incredible offer of £9.99 for all 3 double-bills.
Visit www.masktheatre.co.uk for an event planner and to book tickets.
Seats are limited so early booking is advised to avoid disappointment.
Leave a Reply