Christmas with Calan at Stamford Arts Centre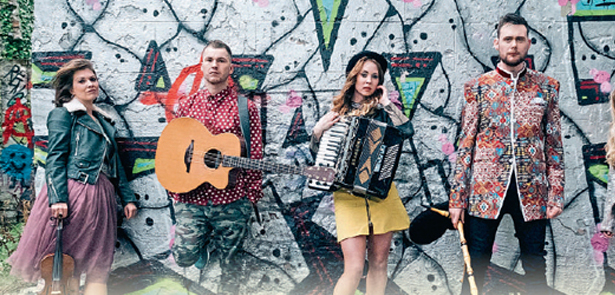 Celebrate the yuletide season at Stamford Arts Centre with bagpipes, fiddles and step dancing
This international award winning band from Wales are back on the road with their infectious rhythms and high energy routines to celebrate the yuletide season. A fresh and vibrant sound with a pounding beat set against the backdrop of old traditions, including traditional Plygain singing; a form of singing popular at Christmas in the chapels of Wales.
The show includes many of the seasonal tunes and songs we all love played on traditional instruments including fiddles, whistles, Welsh bagpipes(!) and step dancing from a champion dancer. Calan bring together the remarkable talents of five young musicians giving a fresh and vibrant sound to traditional Welsh music. With a contemporary and lively approach they breathe new life into the old traditions through their sparkling melodies, foot tapping tunes and spirited and energetic performances of Welsh step dancing. They blast their way through some of the old favourite reels, jigs and hornpipes with fast paced and uplifting arrangements before melting into some of the most beautiful and haunting songs.
The band began by busking in the streets of Cardiff raising money to pay for university fees. Following the release of their debut album, 'Bling' in 2008, which attracted four star responses from the critics, the fivepiece have been playing to big audiences and rave reviews at concerts and festivals around Britain and Europe, including the coveted Cambridge Folk Festival; Celtic Connections, Glasgow; Shrewsbury Folk Festival; Moseley Folk Festival; Derby Folk Festival; Bromyard Folk Festival, Whitby Folk Festival a concert tour of Italy, Austria and Belgium along with a number of performances at the Festival Interceltique de Lorient, Brittany, where they've received the award for the best group.
In 2015 they performed alongside Bryn Terfel and Sting at the Royal Albert Hall in London as part of Bryn Terfel's 50th birthday party. The group – who've raised some eyebrows with a deliberate policy of eye-catching clothes and presentation, despite the ancient roots of their music – see themselves as a new generation of ambassadors, striving to take their new sound to new audiences, while raising the profile of Welsh traditional music on an international level. They have introduced a new generation of music fans to Welsh traditional music – in Wales and beyond. Audiences in Belgium, Italy and France as well as all over the UK have given them a terrific reception and they are now on their fourth tour of North America.
With their unique instrumental blend of fiddles, whistles, guitar and bagpipes and a traditional reed instrument from Wales called a pibgorn made from a wooden pipe and the horns of a bull they bring fun and a sense of humour to the stage – as well as step dancing from a champion dancer who performs in a style unique to Wales.
CALAN Stamford Arts Centre Wednesday 5 December 7.30pm Tickets £16 (£14) ● Box Office: 01780 763203 ● www.stamfordartscentre.com
Leave a Reply