Science and Spirit – Ann Ardron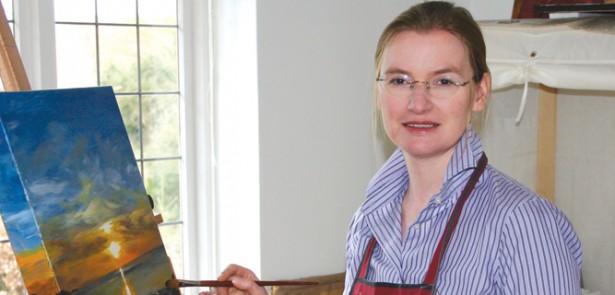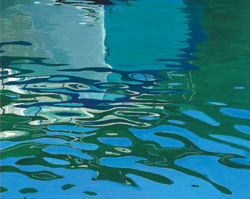 Fine Artist Ann Ardron, has been creating an enviable buzz in art circles for some time. I visited her studio to experience first-hand what all the fuss was about. Truth is, I wanted to analyse for myself why she nearly always sells out at the Peterborough Artists' Open Studios and has been awarded national art prizes and twice been selected to exhibit at the prestigious Mall Galleries, London.
During the guided tour of forest, water, scenery, and portraiture, I was struck by an overwhelming sense of focussed detail, charged with high levels of drama and mood. Admirers of her work delight in its intricacy, but simultaneously are drawn by its aura and spirit. Ann explains that she is not documenting a snapshot but rendering something altogether more eternal: forests imbued with light and shadow, water reflections which invite the observer to look through into the depths.
The studio visit raised another interesting question. How could one artist draw and paint such diverse subject matter with equal skill? Ann had been a scientist after graduating from Oxford and arguably her artistic representations are products of intellect and the enquiring mind; an almost scientific methodology, fused with a spiritual insight and a passion for natural beauty. She calls it 'modern representational painting.' Her training in photography also taught her 'not to assume the scene is interesting in itself but to focus more on the composition and the mood it can create' she adds.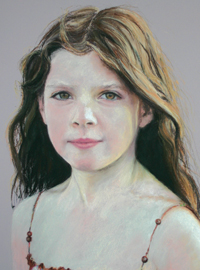 Apart from producing paintings, limited edition prints and cards, Ann has a mission to demystify the process of commissioning art. She explains that for inexperienced clients, commissioning can sound 'a very exclusive affair, when in fact it needn't be at all.' It's merely a case of 'discussing what you would like, be it portrait or memorable scene, and then taking advice on the medium and process.' She always gives a price before work commences and commissioning is explained fully on her web site.
Primarily in watercolour and acrylic, a selection of coastal and pastoral scenes, forests and water is readily available at her home studio, but can also be viewed at Stamford Gallery, Stamford Artists Gallery, Northborough Framing and Harriet's Art Gallery in Harriet's Café and Tearooms, Cathedral Square Peterborough.
| www.annardron.com 07951 587725
Leave a Reply