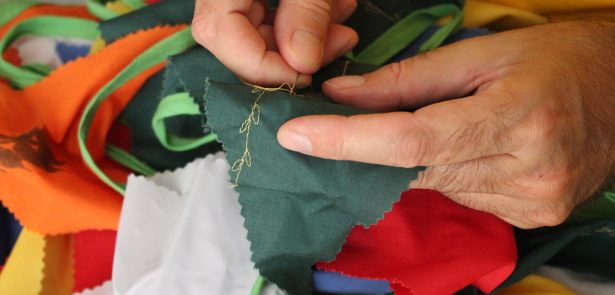 A week of activities exploring sustainable fashion: 15th-22nd September 2022.
'Fashion is political. From the red carpets of the Met Gala to online fast fashion, clothes tell a story of inequality, racism and climate crisis'

Tansy E Hoskins – The Anti-Capitalist Book Of Fashion
The environmental crisis is a pressing concern for us all. Individuals are wanting to learn more and educate themselves about how they can proactively change their own consumption. Although there are multiple factors for the rise in climate change, the fashion industry has a large part to play with a carbon footprint accounting for over 10% of the global greenhouse gas emissions. There is a demand for change and more awareness towards sustainable fashion and how individuals and the industry can take an active role in making change.
So what is sustainable fashion? A term describing products, processes, activities, and policymakers, brands, consumers, aiming to achieve a carbon-neutral fashion industry, built on equality, social justice, animal welfare, and ecological integrity. (https://thevou.com/fashion/sustainable-fashion/#what-is-sustainable-fashion)
In partnership with Shado, Metal will be running a week-long series of activities, from 15– 22 September with a range of events to learn more about sustainable fashion, have discussions and build new skills to proactively move towards a more sustainable future. Shado (See. Hear. Act. Do.) is an online and print magazine, led by a community of artists, activists and journalists united in the fight for social justice, who curate collaborative events to engage wider communities.
The program is inspired by the launch of Tansy E. Hoskins' book The Anti-Capitalist Book of Fashion, published by Pluto Press and coincides with London Fashion Week.
During the week there will be a pop-up Mend, Make and Repair cafe for textiles and fashion, where each day an experienced textile artist and specialist will be present to help advise, from fixing items to demonstrating how to use a sewing machine. A great opportunity to make, chat, have some cake and share your own skills. There will also be film screenings, workshops in repurposing clothes and using natural dyes, as well as profiling sustainable fashion and creative businesses throughout the week.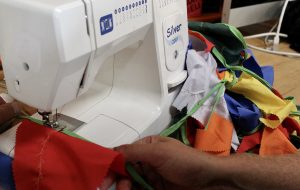 We'll also be running a reading group discussing The Anti-Capitalist Book of Fashion on Tuesday 20th September. The reading group is part of The Left Book Club and is free to attend and open to all. We'll be using the book as a launch pad to discuss the general themes explored around environmentalism, identity politics and inequality. So don't worry if you don't get a chance to read the book before then! But if you'd like to you can buy a copy at – www.plutobooks.com.
In the book Hoskins 'unpicks the threads of capitalist industry to reveal the truth about our clothes. Fashion brands entice us to consume more by manipulating us to feel ugly, poor and worthless, sentiments that line the pockets of billionaires exploiting colonial supply chains. Garment workers
on poverty pay risk their lives in dangerous factories, animals are tortured, fossil fuels extracted, and toxic chemicals spread just to keep this season's collections fresh.
The Anti-Capitalist Book of Fashion goes beyond ethical fashion and consumer responsibility showing that if we want to feel comfortable in our clothes, we need to reshape the system and ensure this is not our last season.
If you'd like to donate any items to the Café or have your own sustainable fashion business, then we'd love to hear from you, please get in touch by contacting
Keep an eye on our social media @ MetalPeterborough or register to receive our newsletter, via the email above, to see the full program.
Leave a Reply