£1m of artworks by Ivon Hitchens found in a woodcutter's cottage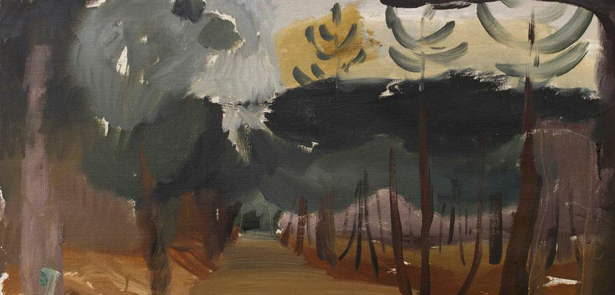 There is to be a major exhibition of ten previously unseen oil paintings by important British artist Ivon Hitchens (1893-1979)
A woodcutter's chance encounter with the painter in 1956 has ultimately led to the exhibition in Uppingham at Goldmark Gallery. The exhibition will also feature drawings and a watercolour.
Following their meeting, Ted Floate the woodcutter and Ivon Hitchens became close companions until the artist's death in 1979. Ted worked for Hitchens on the artist's estate and also helped with framing of the paintings and even technical advice.
Hitchens regularly gave his friend paintings and drawings, which even in those days was a considerable gift, filling Ted's cottage with an amazing collection of Modern British Romantic art. At 85, Ted has now decided to sell.
Ted's story of his work and friendship with Hitchens brings a deep insight into the artist's life. Peter Khoroche, the world's leading authority on Hitchens, has now written an essay on Ted's paintings and the friendship, which will be in the catalogue of the exhibition.
The exhibition catalogue will also include interviews on DVD with Ted Floate and Peter Khoroche.
Jay Goldmark of the Goldmark Gallery said, 'With a few strokes of the brush, Hitchens was able to capture the essence of the English landscape.
'We consider ourselves fortunate to be able to show works that were specifically by Hitchens to be given to a close friend and are now coming to the market for a first time.'
Jeremy Green of the Canon Gallery said, 'Hitchens is considered a major contemporary British artist because of his groundbreaking interpretation of our British landscape. He was a stand-alone figure in landscape painting, working in situ and capturing the moods and colours of the scene before him.
'No one else was working in this manner, some artists were working in a more realistic manner, but Hitchens was not trying to be realistic, he was trying to capture a vision of his own. His influence on British painting was enormous and can still be felt today, when his work is more sought after than ever before. Ivon Hitchens is due a major retrospective exhibition.
'There has never been an exhibition of so many Hitchens which have come from one owner, especially an owner who had such a close affinity to Hitchens. That is relevant to the whole country, not only Rutland.
'These are very fine works by Hitchens which are priced in line with market expectations. His paintings have fetched more than £180,000 at auction. One recently fetched £250,000 at auction.'
Interest in Hitchens continues to strengthen. Recently an Ivon Hitchens oil painting sold at Christie's for a world record price of just over £250,000.
The exhibition in Uppingham opens on Saturday, 15 March and will run for three weeks. Works, essay and films will be available to view on www.goldmarkart.com
Prices: £80,000 – £180,000
Leave a Reply