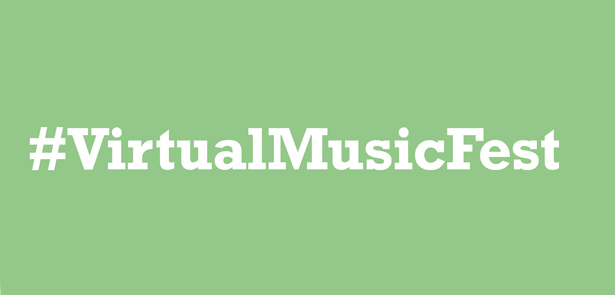 Songwriter, musician, comedian and self-effacing national treasure Neil Innes sadly passed away on 29 December 2019. Co-founder of the legendary Bonzo Dog Doo-Dah Band and part-time member of the Monty Python team (for whom he wrote many of the songs) he was also songwriter and co-creator of the the greatest band that (almost) never existed: The Rutles. Moment editor Toby Venables was lucky enough to have talked to him back in 2001, ahead of a 'Rutles Unrugged' show at Cambridge Corn Exchange. Here's that interview.
One evening in the opening seconds of the decade known as the 1960s, four unknown, moptopped Scousers took to the stage at the Cavern and changed the history of music forever. By 1970, as suddenly as they appeared – only more predictably, and not as quickly – they disappeared, riven by internal disputes, victims of their own popularity. That band, of course, was The Rutles. By now household names, years of tea abuse and playing loud music had nonetheless taken a toll that not even the Surrey mystic Arthur Sultan could resolve.
Then, years later, in a shock revelation, it emerged that the entire Rutles phenomenon had in fact been dreamed up some time in 1977 by musician Neil Innes with a bit of help from comedian Eric Idle, and that he had written all their songs in just three months. Worse was to come. At the time The Rutles were supposed to have been performing at The Cavern, Innes was nothing more than a schoolboy studying for art college in Essex, and drummer Barry Wom was later revealed to be one John Halsey, current landlord of The Castle, a Cambridge pub. Rutles fans – especially those who had formed elaborate memories of events that, it turned out, had never actually happened – were devastated.
So what is the legend behind the lunchtime? Who are The Rutles really? And what do we really mean when we say 'really'?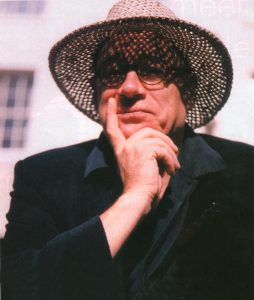 'The Rutles actually came about out of Rutland Weekend Television,' says Innes, sipping his tea gingerly. 'It was the smallest television station in the UK, and therefore had the smallest budgets, so every joke was a cheap joke…' In fact RWTV was a station within a station, created by Python Eric Idle as an extraordinarily cheap comedy vehicle on BBC 2. (Innes once overheard a BBC 2 executive saying 'Do you know the whole series of Rutland Weekend Television cost less than one Lulu show?') Founder member of the Bonzo Dog Doo-Dah Band, Innes had worked with the members of Monty Python (before they were Monty Python) on a surreal show called Do Not Adjust Your Set. When the Bonzo's split, Innes became more closely involved with Python – you may recall him as the prancing minstrel in Monty Python And The Holy Grail – ultimately performing How Sweet To Be An Idiot during their epic performance at Hollywood Bowl, before an audience of between a few and several million (estimates vary).
Meanwhile, back at Rutland Weekend Television, Innes had at some point suggested that it 'might be fun to do a parody of A Hard Day's Night'. Eric Idle coined the name The Rutles, and added in a sketch about a documentary maker who was so boring that the camera ran away from him. Et voila, at a cost of thruppence the first Rutles sketch was made, with Innes in the role of the Lennon figure, Ron Nasty.
But it was an event across the Atlantic that was to finally launch the Prefab Four into the big time. 'At the time in New York early '77,' explains Innes, 'somebody was offering 20 million dollars for anyone who could get the Beatles together – even for 20 minutes. Saturday Night Live – the show with Dan Aykroyd, John Belushi and Bill Murray – were running with this gag, except that they were offering 3,000 dollars. And they got George Harrison to come on, and Lorne Michaels stood there with a wad of bills saying "All this could be yours, George, if you get the boys back together again…" George says "What, all this for me?" And Lorne goes "No!" snatching the money back. "You have to share it with the others – but you needn't tell Ringo!"' It so happened that they'd also asked Eric Idle to guest host Saturday Night Live. 'They claimed they only chose him because he'd said he would get the Beatles together for 300 dollars, but it must have been a bad telephone line or something, because it turned out he'd got the Rutles…' Naturally, Idle showed the Rutles clip. 'The mail bag and the calls went crazy. Everyone wanted to get in on the joke. They were sending in albums with 'Beatles' crossed out and 'Rutles' written on…'
It was at that point that they went downstairs to NBC and got the money to make the film All You Need Is Cash, a biopic of the band, complete with songs, psychedelic animations, Innes and Idle in the Lennon/McCartney roles and big names such as Mick Jagger, Paul Simon, and Bianca Jagger, as well as Dan Aykroyd, Belushi and Murray. Plus someone called George Harrison. 'George was very keen on defusing the whole pressure of the band getting back together again, so this was a really good, tongue in cheek way of telling the story. The Beatles lent us archive footage to cut into it. And pretty much they all approved of it. Except Paul…' But why not Paul? 'He didn't much care for Eric's impersonation of his character…' If you've seen the bit where Eric Idle is trying to compose a love song for Bianca Jagger, you might understand why. But you'll probably still laugh.
Of course, a band – even a made up band – needs songs. With 'a lot of money' and some major names secured, the pressure was now all on Innes. 'All of a sudden they're looking around at me saying "Can you write 20 more Rutles songs by next Thursday lunchtime?" And I said "Well, I'll try…" We rehearsed for two weeks, it took me about three months to write the songs, and we finished the album in ten days.' Working also as producer, Innes lovingly recreated the distinct sounds of specific Beatles songs – in fact, he did it so well that when you listen to them the first time you're sure you've heard them before, and can't quite work out why this familiar tune is coming out… Well, different… Songs like Ouch! Love Life, Piggy In The Middle and the psychedelic classic Cheese And Onions, as featured in the Rutles animated film Yellow Submarine Sandwich. 'I didn't listen to any Beatles songs as I was writing the Rutles songs,' says Innes. 'I knew I'd be too overwhelmed.' His approach was respectful; he was determined to poke fun, but not to trivialise – and not be like the name of his character (ie Nasty). A member of the Viv Stanshall fan club once wrote of Innes 'He never puts the boot in, but he's deadly accurate with the pom-pom slipper'.
Attention to detail was just as scrupulous with the visual side of the production – which turned out to be every bit as successful in its merging of real and fake as Forrest Gump. 'Hats off to Gary Weiss, who was Eric's co-director. He shot pretty much the whole thing on his shoulder, and it was his attention to detail that got the labs to make his stuff work absolutely with the stuff we got given from Apple.' And then there was the clip from Yellow Submarine Sandwich, which was alarmingly close in both style and quality to the original Yellow Submarine. The reason? 'A friend of mine, called Tony White, was an animator, and like every other animator in town worked on Yellow Submarine.' So, basically, they just got a Yellow Submarine animator to do the job.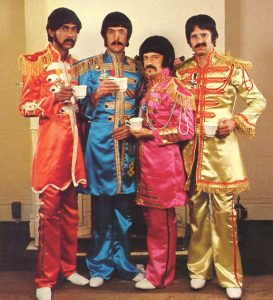 And it's here that the question of who's copying who and what's a copy and what's real starts to get complicated… It turns out, for example, that Innes' song I'm The Urban Spaceman – a big hit for the Bonzo's in 1968 – was produced by Mr Paul McCartney under the pseudonym Apollo C Vermouth. George Harrison was in the Rutles film, of course, but according to other sources, the Bonzo's also performed in the Beatles own TV film, Magical Mystery Tour. Naturally, the Beatles influenced every subsequent band in the Western world, but did that influence go both ways? 'Well, I think John got his moustache off me,' says Innes matter-of-factly, as if unaware of the bombshell he's dropping. 'Because I had my moustache in the Bonzo's long before he had his moustache on Sgt Pepper.' But Innes denies that they spent the whole of the 60s hob-nobbing with Lennon & Co (coincidentally, he's eating a Hob-Nob whilst saying this). 'No, I was very shy. Though there was this one party at Apple at Christmas… My eldest son was three and had wandered off, and I thought he was in the Santa Claus room, but I found him in another room with a load of Hell's Angel's, sitting on this big Hell's Angel's knee and being fed beer. And on the floor there's John and Yoko. And he looks up and says "Hello there!"' Innes was suddenly torn between parental responsibility and a chat with a living rock'n'roll legend. 'I thought, now's not the time for a chat on the floor. So I said "All right!" And that was that.'
Somebody once stopped John Lennon in the street and asked what he thought of the Rutles. He responded by singing Cheese And Onions. But did he really not mind that in the film the Yoko character was a Nazi? 'No!' says Innes, waving his biscuit dismissively. 'John wouldn't mind that. You've got to remember that The Beatles were funny guys. There's one TV clip of them, in which, because they're miming, Ringo isn't on the drums, but on an exercise bike. Well, as far as I'm concerned this is pure Bonzo's… George summed it up in his book, saying that what should have happened was that The Beatles and The Bonzo's got together with the Pythons and The Rutles and all had a good time…'
In a way, in Neil Innes, I suppose they have.
Even though they barely existed and have hardly ever performed, the Rutles now have such a following that there are Rutles tribute bands, and in 1996 a second album, Archaeology, was produced. 'Some of the songs on there aren't really related to any particular Beatles songs, but they're done in a Rutles style. I took some to George Harrison and after a couple he's going "Hang on – these are your songs!" Eine Kleine Middle Klasse Musik is my song, but it doesn't matter if you do it in a kind of Rutles style.' He smiles at the thought of world-wide ruttling, Beatles doing Rutles, Rutles doing Beatles, Beatles tributes doing Rutles tributes and vice versa. 'Then it all starts to get blurred again… Blurred, Pulped and Oasised!'
Which, of course, begs the inevitable Oasis question.
'I gather Noel is quite a Rutles fan. He's got a Rutles badge. They nearly came to a Rutles video but apparently they all had a fight beforehand and left New York. But the late Douglas Adams summed it up in one way. Someone asked him "Is Oasis as good as The Beatles?" and he said "Oasis isn't even as good as The Rutles…" But it wasn't me that said that…'
Before heading off to see Barry Wom at The Castle, Innes is keen to point out that they will not be dressing up as actual Rutles for their Cambridge gig. 'That's partly why we've called it unrugged,' he says. 'We've just got a really good bunch of musicians and we're going to have fun with the songs. But you can bring flasks of tea and biscuits if you want…' He's still debating whether to do Cool Britannia and other Bonzo's stuff. 'Barry Wom wants an inflatable dandelion den,' he adds. 'But whatever we come up with, it'll be interesting.' While reiterating that it's all about having fun – and, clearly, pretty much anything could happen – he also stresses that it's a bunch of serious musicians. And that's one of the nicest things about him – the (very polite) refusal to accept that 'fun' has to mean 'low quality' or 'serious' has to mean 'po-faced'. It's a refusal to be categorised that to him seems entirely natural. 'Shakespeare was allowed to do comedy and tragedy and it didn't shake any foundations, and it was quite reasonable to think that a person might want to have a good laugh and be moved. So when people ask "How do describe your work?" I say, rather facetiously "It's like Shakespeare, but with better songs…"
Ah yes, I can see my headline now: INNES CLAIMS BETTER THAN SHAKESPEARE!
Leave a Reply