PCYM – where music matters for all young people!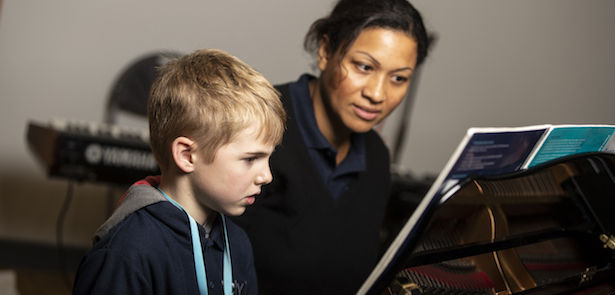 In association with the Guildhall School of Music and Drama, The Peterborough Centre for Young Musicians is an exciting music centre for the region's talented young players aged 5-18 years
PCYM takes places on Saturday mornings during term time at Ormiston Bushfield Academy and has packages suited to all ages, abilities and instruments allowing young musicians to progress on their musical journey. Substantial bursaries and free instrument loans are available. All are welcome to drop in and visit any Saturday for a free trial of the sessions.
Since opening in October 2016 PCYM has risen from 24 to 82 students. The aim of PCYM is that no child is denied access because of their financial background. 95% of students are from State-funded schools including academies and Free Schools with 81% of students from Peterborough Schools. Around 40% of these students receive some kind of financial support to enable them to take part in these activities.
Provision includes instrumental tuition in strings, brass, wind, guitar, percussion and singing as well as composition. There are now two beginner sessions for 5-7 year olds, five musicianship classes, two singing groups and 15 ensembles (Beginner, Junior and Senior levels in piano, strings, percussion, wind, brass, guitars and a jazz ensemble). Young people spend a full morning taking part in a bespoke timetable of sessions allowing them to develop their musical skills in a broad and varied way.
Students are also able to take exams on their instruments and musicianship, and ensembles regularly enter local competitions such as Peterborough Music Festival. Performances include end of term concerts, weekly sharing performances for soloists, performances at mayoral events and participation in larger scale, citywide events. Last year singers took part in 'Nene' by Benjamin Till, a new massed ensemble performance for choir and orchestra representing the journey of the river. The Senior Percussion ensemble performed a world premiere of 'Reeds Sway at Waters Edge' by PCYM tutor, Martin Bright. In October, all PCYM students also came together at the Museum of the Moon installation at Peterborough Cathedral for a massed performance in space themed concert under the atmospheric backdrop of the moon. A strong partnership with The Guildhall School of Music and Drama means that our students benefit from a varied array of regular residencies and workshops with conservatoire ensembles and renowned musicians across the genres.
Looking ahead, PCYM aims to increase the number of students able to embrace this exciting opportunity. PCYM Manager Kirsten Goldthorp says: 'It has been an exciting couple of years watching PCYM develop and grow from its initial roots. We have young people from all walks of life coming together to make music, develop skills and, most importantly have fun. It is so exciting to see the creativity and imagination students are able to explore through music making in small groups. Music is such an important part of a young persons life, allowing them to develop musical skills as well as gaining wider educational benefits including improved literacy, confidence, creative thinking, focus, resilience… The list is endless. It is widely known that regular playing music and singing have huge benefits to wellbeing and mental health. Regular musical activity such as PCYM also gives young people a sense of identity and belonging outside of their school environment. As well as lots of things that make it "good for you" students simply have a lot of fun and create friendships in the process. It is lovely to see this develop over time alongside their musical journeys.'
---
"My daughter is 9 and has been attending PCYM for a year. She plays guitar and has improved tenfold since starting. She says her teachers are awesome, has become a confident singer and always sings at home. She has also formed friendships with children older and younger than her and looks forward to break time so she can catch up with them. Kirsten and her team are always available to chat to parents and the communication is fantastic. I would highly recommend PCYM to any parent."
For further information and to register your interest in PCYM, email: or visit www.pcym.org.uk
Leave a Reply