Will YOU dare take to the skies for a good cause?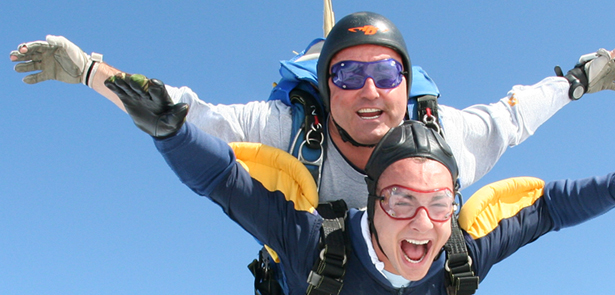 A local children's charity is calling on people to take on a skydive to raise funds for local life-threatened children.
East Anglia's Children's Hospices (EACH) support families and care for children and young people with life-threatening conditions across Cambridgeshire, Essex, Norfolk and Suffolk. Fundraisers for the hospices are encouraging people to sign up to the Team EACH skydive where it's hoped more than 30 participants will skydive for the charity on the same day.
The Team EACH skydive will take place on Saturday 21 September at Sibson Airfield, near Peterborough. If participants raise £300 in sponsorship the cost of the jump is covered, otherwise it costs £200 to take part so participants are encouraged to raise as much sponsorship as possible.
Beccy Turner, EACH Fundraiser, says, "We would love to continue the success of last year's Team EACH Skydive where 18 people took part and raised over £7,000. This is a fantastic opportunity to take on the challenge of a lifetime. You'll experience free-fall from 12,000ft, reaching speeds of 120 mph before your instructor opens the parachute and glides you back down to the airfield! Anyone who takes on this challenge will be making a huge difference to local children and families."
EACH relies on voluntary donations for the majority of their income and need to raise almost £6 million to deliver our services this year – £16,000 a day, every day of the year.
Places are limited so register your interest as soon as possible to avoid disappointment. To register or for more information please contact Beccy on 01223 205198 or email
The Team EACH skydive also takes place on the same day at Ellough Airfield in Beccles.
Leave a Reply