Nene Park: a greener park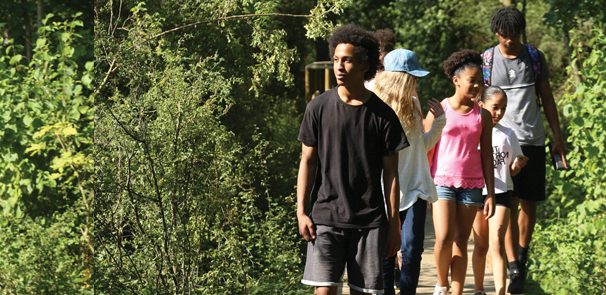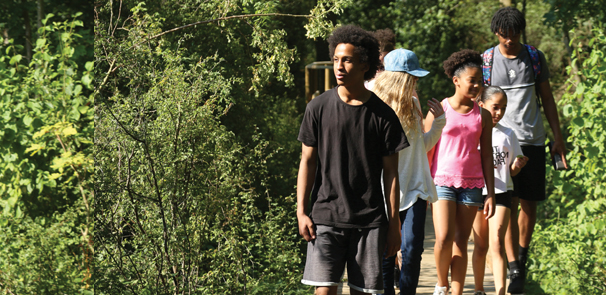 The natural world is under assault, with alarming consequences for wildlife only exacerbated by the climate emergency. Solutions need to come from all levels. Nene Park is playing its part, with plans in place to both reduce the environmental impact of its activities and significantly boost biodiversity within the park. Chief Executive Matthew Bradbury tells us what they're doing
Climate change no longer seems like something far off, to worry about tomorrow. It's happening now.
That is precisely why this year we are beginning our programme of climate action in earnest, though howmuch we achieve in this first year will be dependent on how disruptive the coronavirus crisis ends up being. Of course, as an organisation we've been looking at climate change and environmental issues for a very long time, so this isn't new to us. But what we are doing is spending more time identifying what actions we can take to benefit not just the environment of the park, but the wider environment. As a charity we also have an opportunity to help others understand what they can do, and to demonstrate best practice. This is a broad program of action and education based on a long-term strategy and building on an ambitious masterplan that we put in place for the park four years ago.
Have you set any targets and what sorts of measures are being put in place to achieve them?
At this early stage we are following government and other organisations in committing to reaching net zero carbon from our operations by 2050. We will review the timescale as we develop a greater understanding of our impact and the benefits of mitigation and behavioural change. If we can achieve net zero without carbon offsetting outside of our own landholding we will. Of course, we have a significant landholding, so we are able to plant trees within the park to at least help offset our own emissions. We are also keen to use our influence to encourage and support businesses, partners, stakeholders, suppliers – generally everybody we can – to dramatically reduce their carbon emissions too. For example, we expect to get to the point where our procurement policy dictates that we won't buy goods and services that can't meet our standards.
Is there a standout reason that the Trust has been compelled to take action?
Our charitable objective is to provide a park for the people of Peterborough and beyond. We are here to offer opportunities for recreation, but also to look after the environment within the park. So while it isn't directly part of our mission, as an environmentally based organisation we see climate action as very relevant to what we are about, both now and in the long-term. As well as working within the park, we are trying to increase awareness within our communities. Many people visit the park, but it can be hard to reach for some. So we want to play a local and regional part in promoting best practice. That means putting climate considerations at the centre of everything we do – in all our policies, activities, communications and events. It is a golden thread running through the core of our charitable business.
What about waste?
Approximately 85% of the waste generated in the park is recycled, with the remaining 15% burned at the energy recovery facility. The impressive recycling rate – significantly higher than the Peterborough average – is down to a number of reasons, as Park Manager Greg Higby explains: 'We spend a lot of money removing waste, so we wanted to up our recycling rate. We began by changing our waste partner to Viridor, who have a zero waste to landfill policy.

'However, the main obstacle to recycling seemed to be the size of the bins – people just couldn't get enough stuff into them. So we replaced them with much larger bins for both recycling and general waste. People now recycle more and our recycling rate has almost doubled.'
Alongside targets to address your climate impact, you've set some pretty bold ambitions for wildlife too. What's happening there?
That's right, we've committed to doubling nature across our landholding. We will do this by continuing to improve the way we manage the land with biodiversity gains very much in mind. That translates into big changes, particularly on our agricultural estate beyond the more formal areas of the park. We are moving to partnership-based share farming agreements and as part of that process we are looking at developing more sustainable methods of farming. For example, tree planting will be part of our plans, as well ensuring livestock are grazed outdoors rather than being fed indoors on processed food.
But what does 'doubling nature' mean: the number of species found on your landholding or, for example, the area considered rich in wildlife?
It means doubling nature in as many different ways as we can. One example is our recently completed wetland meadow restoration project, Bringing Nature Closer. That has been hugely successful in improving biodiversity, especially for birds and invertebrates. Then as part of the farming program there's our plan to create more diverse habitats, including wetland, woodland and heathland. Then there are the very simple actions we can take, such as making sure we have wildlife margins around arable fields, or cutting hedges in a three to five-year rotation in order to give different ages of growth that support different species including butterflies and birds.
Most of these measures will have been put into place by 2025. So in five years' time we hope to have established the sustainable farming operation and have the wider restoration of wildlife habitats well underway. The park provides a lot of ecosystem regulation services, which are also affected by climate change and therefore we are keen to better understand. For example, Nene Park acts to substantially reduce the city's flood risk. These are hugely valuable attributes, though getting someone else to pay for these services in the future might be challenging!
Electric avenue
A big area of investment is electric mobility. Nene Part Trust now offers two public charging points at the Lakeside Car Park, with plans for more. A Renault Kangoo electric van has entered service, ferrying rangers, volunteers and education staff – as well as all their equipment – around Nene Park. Funding for all of this has come from the Viridor in Peterborough Community Fund.
Creating new wildlife habitat is fantastic, and this will help to offset many of the carbon emissions produced within the park. But what sorts of actions will be taken to reduce emissions in the first place?
We have produced a reduction plan predominantly focussed on addressing our energy use but also on instigating changes in behaviour. So, for example, we are moving from petrol and diesel-powered machinery, equipment and vehicles to electric power. We have joined the Climate Coalition to ensure we learn from and promote best practice. We are reviewing the investment strategy of our investment portfolio, which generates around 40% of the park's income, to take account of impacts on climate change. And we have committed to a renewable energy provider for all of our energy use. Another area under consideration is how we heat our buildings. Routine park maintenance produces a lot of waste, a significant proportion of which is wood – perhaps this could be used as a source of heat. Then there's cutting the impact of the stuff we use and sell. This year we are committing to minimising paper use in our office with the ultimate ambition of eliminating it.
We've embedded a green procurement policy across the Trust too, which is where we can take action against single-use plastic. That means advising our suppliers that we don't want to receive products or sell items wrapped or packed in lots of plastic. We are also sourcing what we sell in our visitor centre as locally as possible, or even make it ourselves. One example is the scheme run by our volunteers to turn wood offcuts from the park into gifts sold through the visitor centre. On the waste side of things our aim is for zero waste to landfill, and we have already made big strides towards that target. We are working closely with our waste partner Viridor, who run Peterborough's waste-to-heat plant. Most of the waste produced is now recycled, with the remainder used to generate energy.
You mentioned changing behaviours too. What do you mean by that?
One example is reducing how much we travel. The current circumstances have certainly accelerated this. Now we are moving across to virtual meetings and making the most of people being able to work from home. Our sustainable transport policy is under review too – not just how our staff and volunteers travel, but how people reach our venues by public transport and sustainable transport, rather than coming by car. Of if they are coming by car then perhaps they can car share. We have already installed electric charging points in Ferry Meadows. Plans are underway to install drinking water refill stations so visitors can refill their water bottles. They will be installed at the visitor centre and our activity centre and then, as we continue to develop resources within the park, throughout the park too.
There's a lot going on then – you seem to have every angle covered!
There is! And it's important to emphasise that every program we put into place is now run in tandem with all of our partners: tenants, licensees and other charities working within the park. This way we can ensure a coordinated and holistic approach so that no one is left behind and everyone benefits.
Tremendous trees!
Young trees are planted every year throughout the park, but from 2020 the number is being dramatically upped. Their impact, including contribution to carbon offsetting, will be closely monitored. Park Manager Greg Higby talks us through one area of planting, Thorpe Meadows. 'We looked at several species for this area but because it is so wet were restricted to what we could plant. Cricket bat willows fit the bill and we worked with a contractor who supplies these trees to plant around 130 trees. Planting finished a few months back.' The cricket bat willow is a fast-growing native that will thrive in the very wet soil found on the meadows. 'At the far end of the Thorpe Meadows, where it's not so wet, we are looking to include a range of species to boost biodiversity.
There will be more willows, including goat willow, as well as common whitebeam, rowan, wild service tree, and some field maple. We are also planting a lot of blackthorn, which add a nice splash of colour in early spring. By mixing up tree species we expect to see a big increase in the number of birds and insects such as bees and butterflies.' Volunteers play a major part in tree planting and care. 'Our volunteers are amazing. They were heavily involved with the planting at Thorpe Meadows,' explains Greg. 'They like to have ownership over the trees, a sense of pride – if they put them in they want to look after them too. That sense of ownership really helps us to secure the future of the trees.'
Leave a Reply