If you're an NVQ Level 3 qualified technician, give Quattro-Tech a shout! Currently recruiting, the firm promises a whole host of benefits to joining the team, including training and apprenticeships, competitive pay and more...
Based just north of Peterborough, Quattro-Tech is a state-of-the-art technical centre for service, repair and maintenance of all Audis, Volkswagens and Skodas. They use only industry-approved parts and equipment but still manage to offer lower costs than most main dealers.
Revo
As well as regular, day-to-day tasks keeping customer's vehicles running smoothly, Quattro-Tech also offers their mechanics the opportunity work with clients on Revo: cutting-edge engine tuning developed for the racetrack – and now available to the public to maximise performance for road-going cars. Software, hardware and combined upgrades are available.
Why Quattro-Tech?
No two days are the same at Quattro-Tech – you could find yourself working on anything, from rare prestige cars to vintage models, from tracking down and fixing a fault to fine-tuning a high-end collector's piece! If you want to formally progress your career with qualifications, Quattro-Tech will support you with a range of training courses and apprenticeships, or if you fancy a complete change you could even go from inspection pit to front desk as a member of the office staff.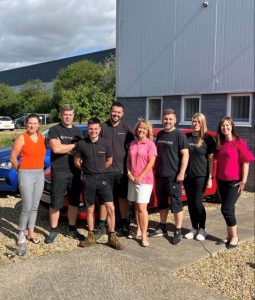 A happy, fulfilled workforce is also an important feature here. "Because we couldn't have Christmas parties for a couple of years due to Covid, the company directors gave us the entire period between Christmas and New Year off instead," explains Donna, the Operations Executive at Quattro-Tech. "It was so popular with staff it's been confirmed again for this year – a rarity in this industry. We're still on the end of a phone if a client needs us, but that time off has become a welcome addition to the working year".
For the summer months, all-day barbecues are hosted and paid for by the directors at Quattro-Tech for staff and their families. "It's all expenses paid, so no one has to pay for any of the food or drink. For the last one, we hired the local football club, put some teams together and had a Quattro-Tech football tournament! There were games and activities for kids, too, like a bouncy castle and giant jenga. It reminds people that we understand that their families and home lives are important, too," says Donna.
A friendly atmosphere where everyone is approachable can also be found at Quattro-Tech, with the directors often popping in to help with clients, and operating an 'open-door' policy so issues and questions can be solved quickly by working together. "It's not like you've got a director that you never see," says Donna. "They will step in, they will work front of house, they don't mind putting
in the hard work as part of the team. Everyone gets on, there's always free flow of conversation, and everyone's really open. It makes all the difference, having a nice environment at work."
If you'd like to see what Quattro-Tech might have in store for your career, get in touch with Donna for an informal chat. It could be the start of a beautiful journey…
QUATTRO-TECH
56 Papyrus Road Peterborough Cambridgeshire PE4 5BH T: 01480 464 869 E:
Leave a Reply