Meet your new business coach…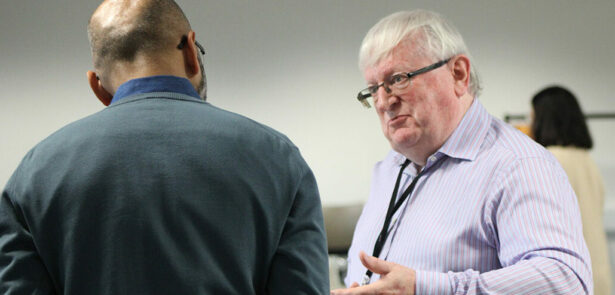 Iain Crighton spent four decades in the motor trade, taking over the family business, Crightons of Peterborough Ltd, in 1997. Since then he has become one of the city's most prominent and dynamic businesspeople, setting up Greenwheel Cycles, Crightons Hydropool and Green City Marketing. He has also been Chairman of Peterborough Chamber of Commerce, President of Cambridgeshire Chamber of Commerce, Chairman of LIVING SPORT Cambridgeshire & Peterborough Sports Partnership, Chairman of Peterborough SportsAid and Chairman of the Peterborough City Centre Executive and the Adult Skills Sector. In 2009, Iain was the recipient of the Peterborough City Council sponsored Contribution to the Community Award, and in 2012 was invited to carry the Olympic Torch in Peterborough. Now, he's using all that experience to help others succeed, as a Business Startup Coach at Allia Future Business Centre. Toby Venables talked to him.
Tell us a bit about what you're doing at Allia…
I actually have a dual role at Allia. Because of my background and connections locally, I am what's known as Strategic Engagement Lead, which is a lovely job, because I chat to people while having coffee with them! It's really about building the awareness of Allia locally. The reason I joined Allia in the first place was because I was asked whether I'd be interested in doing some business coaching. That really appealed to me. Again, it's about sitting down talking to people, but sharing my experiences, the good and the bad.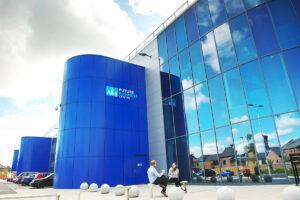 What does that coaching involve?
First of all, I help to run a series of business workshops at different levels of business size and development. To begin with, there's a series called Start Your Business. Somebody says 'I've got this great idea for a business, what do I do?' – and we take them through various workshops, by the end of which they will be better informed and equipped to get started and run a business.
Next is Grow Your Business, which, as the name suggests, is for people who are already in business and, hopefully, already generating revenue. We talk to them about what best practice looks like in running that business, and we can help to fine tune what they're doing and make them more effective.
Then we have a third level, which we call the Accelerator Programme. That's for people who have been in business for a while, but who really want to scale up and grow. We provide ongoing, one-to-one coaching as well – if people want to talk to us, we're here. We're available.
Personal, one-to-one advice has the potential to be the most useful part of all. Does everyone take you up on it?
Some people come in and say, 'Can I sit down and go through this business plan?' So we work closely with them to improve their business processes and prospects. And it does make a measurable difference. Allia have been doing this for over 20 years, and in that time we've worked with somewhere in the region of 2,000 businesses. And with those businesses, the work that we've done has helped to create around 5,000 newjobs. We also help businesses get to a standard where people are prepared to invest in them, and over that same period we have helped to raise somewhere in excess of £100 million for local businesses to enable them to grow and scale up. So 2,000 businesses, 5,000 jobs, £100 million of investment… That's what Allia does, and I'm very proud to be part of that.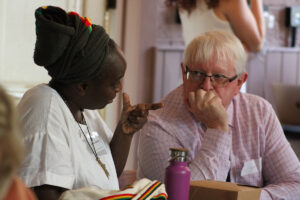 Do you have any current examples you can talk about?
A good example would be this young couple who joined one of our programmes. Their ambition was to open a vegan restaurant, and they started out working from their own kitchen using Deliveroo to get the food out there. Then they moved into an industrial unit in Fengate – and they put a few tables in there so that people in the surrounding businesses could come and have lunch. We talked to them about how they would start their dream restaurant, how they would promote it, and what the business would look like, and we helped them with financial modeling and business planning.
We helped them all the way through. And last week, they opened their restaurant in Queensgate. From my point of view, that's fantastic, because they've now created five more jobs in the city. It's a new business. They were already profitable when we started talking, but it was a huge step from an industrial unit to a restaurant in the city centre. I remember sitting in the Allia cafe and they dropped by for a chat and said, 'We've got the lease, and we've got to sign it…' And this is make or break for them. There's a genuine fear that it is such a huge step, but we try and help them as much as we can.
I've been mentoring a guy who's got what could be a multimillion pound business. Booming, national, huge. But, he's been so focused on what the service is, he's kind of forgotten that he also needs to sell it – as is often the case when someone is wrapped up in a new idea. So, I'm saying to him that he needs to pick up the phone and talk to people, because if you don't talk to people, you're not going to sell anything. So, I've been coaching him on how to open up a conversation. And then he phoned me up on a Saturday night and said, 'Guess what? I visited three people and two of them are going to do business with me. I'm so excited!'
One of the challenges in business is that there is always something that requires your immediate attention, so it can be hard to stop, take stock, and plan. Do you find that is an issue for the people you coach?
I often talk to people about having a focus and having a discipline, because otherwise, you just react to everything going on around you. That's often the biggest problem with entrepreneurs: it's all about the next big shiny thing, and they want to go and do that,but they haven't sorted out where they are. So, I often say to people 'Today doesn't finish until you plan tomorrow' – and you need to allocate perhaps an hour of that day tomorrow to thinking about the future.
Once you start to just break it down into bite-sized pieces, you suddenly find that you become a lot more productive; you achieve a lot more, and you become less reactive and more proactive.
I've had this when I was in business, driving into work, thinking 'I must do this, must do that…' Then you get out of the car, and the phone rings, and before you know it you've had a really busy day and you've not done a single one of the things that you planned to do when you came in. We're all really good at making appointments in our diary for seeing other people, but what you need to do is make an appointment with yourself. You have to put that time aside for yourself, to do what you need to do. And when you start doing that, you'll suddenly find you achieve a lot more. You've become proactive and not just reactive. Sometimes it's those basic conversations.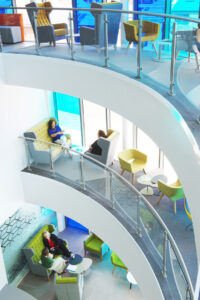 Running your own business is very personal, of course. Do you ever find people are resistant to advice, or don't want to hear what you're telling them?
That's a really good question. And it does happen. But I just say 'Listen to what I've got to say first, because you might find it valuable…'. Quite often, it might be something very simple, like changing the opening statement on a LinkedIn profile.
I also say to people, 'This is about your life. So let's talk about what you want your business to look like in five years' time, but also what you want your life to look like'. You can't separate them when you're running your own business; they're joined at the hip. And there's no wrong answer. If you want to be only working two days a week and turning over a million pounds a year, that's fine. That's your decision. But what do you need to do today to get there in five years' time? After year one, you probably need to be doing £100,000 turnover. So to get to £100,000, in year one, what do you need to do next month to get to that point? That one million turnover may seem totally out of reach, but work back, and break it down, and suddenly it seems achievable.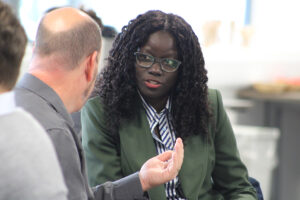 When people are just starting out, they often work from home, and it's tough working from home. You've really got to be disciplined. That's the other thing I say to people about Allia. We've got this fantastic business environment that you can come and use: we've got a nice café where you can sit down amongst other businesspeople in a business environment.
You need to feel that you're part of a business environment, and that's what Allia can give you. One of the straplines that we use a lot is about creating a 'positive impact'. That's a positive impact on people, a positive impact on communities, and a positive impact on the planet. All those things are what we're trying to support. When you're part of the Allia family, it's for life. If you come in and have a chat with us, we're never going to turn you away. I always tell people, I'm really cheap – just buy me a coffee!
About Allia Future Business Centre
Allia Future Business Centre offers flexible workspace and a vibrant community for small businesses who are creating change. Allia Impact runs free business support programmes and innovative funded projects. Together, they are dedicated to supporting businesses to thrive, grow and create jobs, so that they can make a positive impact on their community, as well
as addressing social and environmental local and global challenges. Based at Peterborough United Football Club's stadium, the centre is ideal for growing businesses in the city – with offices, co-working, meeting and event space and virtual offices. The on-site café is great for ad-hoc meetings and coffee.
Future Business Centre Peterborough
ABAX Stadium
London Road
Peterborough
PE2 8AL
01733 666600
futurebusinesscentre.co.uk

Leave a Reply