Taking a closer look at Peterborough's digital revolution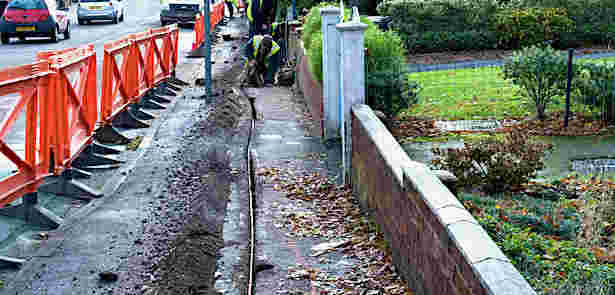 So, what's it like digging up almost every street in Peterborough? Not only is it a mammoth task but it's a project that has the potential to disrupt a significant proportion of the city's 200,000-odd residents. BY REBECCA STEPHENS, CityFibre's City Manager, Peterborough
Installing a brand new full fibre network into an existing, thriving, active city is challenging. Like renovating a house, you can often come across something you didn't expect, regardless of how well planned your approach.
This is why we are grateful for each householder's patience when we are digging outside their front door. We hope they bear with us for those few days as, in the long term, many generations to come will benefit from the future-proof connectivity we are providing in Peterborough.
CityFibre is investing £30million installing a full fibre network in Peterborough. This means almost every home and business will be able to access Gigabit-speed broadband. Residents can't get this on a part-fibre network – it's only when that final stretch of fibre is brought right up to the wall of your home that households can say they've truly got full fibre broadband and can take advantage of all the benefits that brings.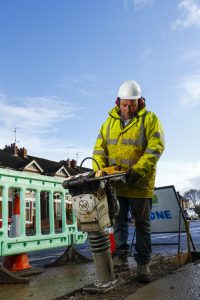 But, as they say, you can't make an omelette without breaking a few eggs. So, we're digging up the streets to make Peterborough one of the best-connected cities in the world. While we are carrying out this work, we can assure you we are trying hard to minimise the disruption. And the good news is, we're halfway through. That means Peterborough is a digital connectivity trailblazer in the UK.
A full fibre network brings economic and social benefits worth millions – from Smart City to Industry 4.0 to business productivity and innovation. The current pandemic has further highlighted the need for a fully functioning digital infrastructure as a basic necessity and as usage multiplies with increasingly data-hungry devices, the requirement for greater broadband speeds and a symmetrical service will only grow.
Of course, CityFibre's Fibre-To-The-Premises (FTTP) rollout also brings more immediate economic benefits in the form of approximately 120-or-so jobs. On any day this week there will be scores of construction workers from our contractor Granemore Group out and about in the city installing the network.
They're usually the ones who take the brunt of residents' frustrations when noisy works are taking place outside their window, the persistent rain has turned the site into a mud-bath or they arrive home to find parking in the street is scarce because trenching is underway. Complaints are taken very seriously, logged via our hotline number 0800 0836160, addressed and monitored for volume, trends and recurrent issues to drive improvements.
But the more positive stories of residents' gratitude for the community spirit shown by workers is heartwarming. There are teams who carry shopping for elderly neighbours, support access and delivery needs, carry wardrobes or just bring a smile to work. Compliments refer to being a "credit to the company", "polite and helpful", "doing an excellent job", "incredibly professional and friendly", and "a breath of fresh air". One Hampton resident even left a note under the windscreen wipers addressed "to the wonderful chaps laying the cables", thanking them for being "absolutely brilliant", helping guide the homeowners out of their driveway, and enclosing £30 to "take your boys out for a drink"!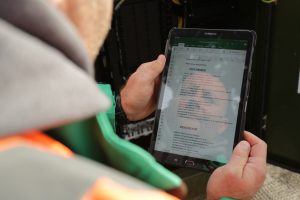 We're installing hundreds of green cabinets around the city so there will inevitably be people who are unhappy with their location. Often, due to other utilities in the footway, requirements around distance to the carriageway, pedestrians and other factors, our placement options are limited. There are also essential technical considerations as well as future access and whether the council approves.
And, of course, we're learning as we go. The second half of the rollout will include more aerial connection, using telephone poles to feed the cable to properties overhead, and PIA (physical infrastructure access) which means using the duct network of other telecoms infrastructure organisations to try to reduce disruption further.
Our communications with residents have changed and developed as we have received feedback to make them more user-friendly and understandable. We launched our postcode tracker www.cityfibre.com/moment to help residents understand when services might be available in their area. Our working practices, signage and even PPE (personal protective equipment) have been transformed due to the coronavirus pandemic as we continue our rollout as key workers, asked by the UK Government to continue to expand the nation's digital capacity given its importance to economic recovery, growth and supporting the population to live and work effectively during this difficult time.
These changes will continue as we learn and grow. Peterborough is one of our trailblazers, but CityFibre has already announced it is bringing Gigabit-speed broadband to eight million homes in more than 60 towns and cities, as well as providing wholesale connectivity to multiple business and consumer service providers, local authorities and mobile operators.
As a resident of Peterborough, I can't wait to get Gigabit-speed broadband in my home, supporting the increasing number of devices we seem to have, enjoying seamless streaming and representing CityFibre on video calls without regularly losing connection. When we dig up my street later this year I'll get the opportunity to find out just how much we've learned for myself – and how far we still have to go.
What is full fibre?
For many, the distinction between 'fibre' and 'full fibre' remains blurry. They're actually very different and when some of the UK's biggest providers talk about fibre what you are settling for is fibre cables used for part of the journey, to carry data to your local cabinet in the street. From there, old fashioned copper wire – which is notoriously slow and unreliable – carries the data to and from your premises.
Full fibre is the real deal. With full fibre, there's no unreliable copper wire involved. Instead, fibre connections are used for the entire length of the journey, right into people's homes. It can mean the difference of downloading the latest movie or video game in minutes, rather than hours. No copper wire, no slowdown in speeds and no drop in quality. Simply put, it's exactly what most people think they're buying when they sign up for 'fibre'.
Full fibre is a game changer for businesses – giving them the ability to handle data-heavy tasks with no server strain. It is also future proof, meaning it can support companies as their data consumption and demand for bandwidth grows. The benefits will be felt by employees too, with full fibre across the city helping people work from home and improve their work/life balance.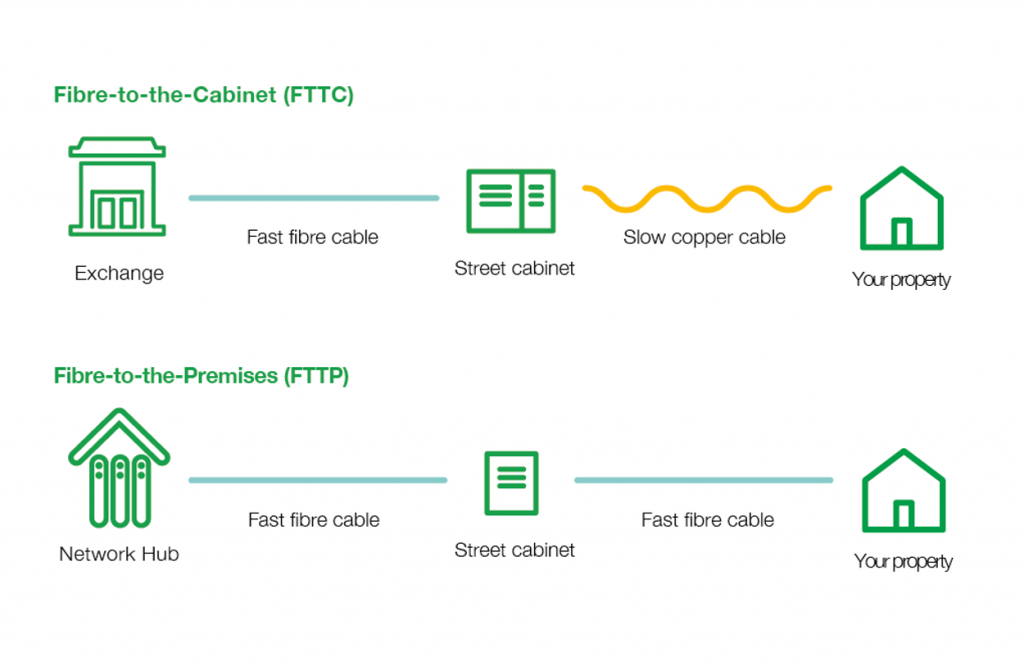 What about my street?
We aim to bring full fibre within reach of almost every home and business in Peterborough. Our dedicated team of planners do everything they can to build to all premises but as you might imagine, it's no easy feat.
We can only construct the network on land where we have access permission. That means if you live on a private road or your street is still owned by housing developers or a residents' association, we're unlikely to be able to connect you during this first phase of the city build. Similarly if your street hasn't yet been adopted by the council, we won't be able to include it in our rollout yet.
Work is ongoing to gain permissions for these parts of the city and we're already working with landlords including Cross Keys Homes, Longhurst Group and former Axiom Housing Association to connect their properties.
If you know you live in one of these areas, one way to bring full fibre closer to you is to encourage the landowner to sign a wayleave document giving us permission to bring the network to you.
For more information contact the city manager Rebecca Stephens:
---
Granemore: Getting Peterborough Gigabit-ready
By Mark Lee, Director at Granemore Group
We're proud to be partnering with CityFibre to deliver their vision for a Gigabit Peterborough. This is a hugely ambitious project and as lead contractor, we are responsible for building the full fibre network across the city.
Our team has ample experience in this area, having worked with CityFibre since 2018 to deliver full fibre connectivity in Milton Keynes. We are also collaborating on further projects in Northampton and Leicester.
Having specialised in full fibre since 2014, Granemore has the expertise needed to deliver complex projects – safely, effectively and first time.
There is a huge national effort to roll out full fibre across the UK, and it's an honour to be playing a key role alongside CityFibre. We're particularly proud to have created numerous local jobs, with Granemore now employing 300 members of staff across the four cities in which we work.
We couldn't be more excited to deliver a Gigabit future for Peterborough.
Leave a Reply