Space to grow at Brightfield Business Hub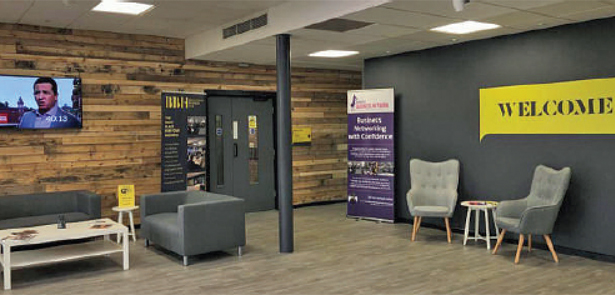 With an onsite gym and café and other amenities poised to launch, plus regular events and even an Entrepreneur in Residence, the shiny new Brightfield Business Hub is just the place to grow yourself and your business
Brightfield Business Hub lunched in March this year offering serviced offices, co-working and meeting space to cater for events from a few people to hundreds. The onsite Courtyard Café provides a relaxing atmosphere for more casual meetings and time away from the office, including a lovely outside space where you can eat your lunch or have a coffee on those warmer, sunny days. In addition to these already impressive facilities, this month sees the launch of The Workout Hub, Brightfield's onsite gym where tenants canmake use of the well-equipped facility free of charge, 24/7. And with plans to open an onsite hairdresser in progress, plus next year an onsite crèche and pool, Brightfield is fast becoming the place for business.
In further news, the team at Brightfield are pleased and excited to welcome Mike Greene as Entrepreneur in Residence, a role in which he'll be offering support to local businesses through one-to-one business mentor sessions hosted at the Hub. Peterborough born and bred, Mike has been a huge supporter of the city and local businesses for many years and through this voluntary appointment is keen to continue working with businesses and individuals looking to grow their business within the Peterborough region. To find out more, please contact Brightfield Business Hub General Manager Michelle Craig (contact details below). Not content with this – and as a part of the team's desire to support businesses and encourage entrepreneurship in Peterborough and the surrounding areas – Brightfield Business Hub will be hosting a brand new event, one they hope will become an annual fixture in the calendar of local businesses…
THE PETERBOROUGH BUSINESS EXPO 2019
The Peterborough Business Expo 2019 – 'Let's grow together' is being launched to provide local businesses, big and small, an opportunity to showcase what they do, increase their brand exposure, network, learn new skills and grow. The expo will combine a mix of exhibition space, engaging presentations and practical workshops. Contact Michelle Craig for further details and how to register. Other regular business support events currently hosted at Brightfield Business Hub include Michelle Craig's Women's Business Network.
The aim of the network is to provide an opportunity for women to meet, inspire, educate and support each other in new business ventures, career advancement, returning to the workplace or any other related topics. The network holds quarterly events, which will provide access to carefully selected subject matter, experts and inspirational speakers, chosen for their ability to deliver on its core promise: to inspire, educate and support. It is their intention to provide women a place to increase their confidence and share ideas and aspirations in an environment designed to support personal development and growth. There will be plenty of other networking opportunities too.
Brightfield Business Hub
Bakewell Road, Orton Southgate, Peterborough PE2 6XU. 01733 595885, www.brightfieldbusinesshub.co.uk
To find out more about the Hub, it's events, book a one-to-one with Mike Greene or attend the Women's Business Network please contact Michelle Craig on 01733 595885.
Leave a Reply