Why YOUR small Peterborough business should think about co-working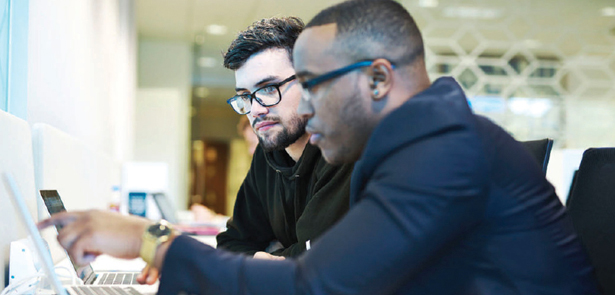 As an entrepreneur, founder, start up or freelancer, co-working offers a flexible way of working within a shared working environment, it offers independence for people who enjoy working for themselves but not always by themselves and thanks to digital, you really can work from anywhere with smart phones, laptops and free Wi-Fi. It's the newest way of working to suit the way people work today
The number of co-working spaces have considerably increased in recent years, Small Business Labs quoted the number of people co-working will grow globally from just under a million in 2016 to nearly 4 million in 2020. There are so many benefits to co-working. Here, Gareth Jones from Allia Future Business Centre Peterborough who offer co-working space in their 'Hatchery', explains why with the top ten benefits:
1 LOW COST
Co-working bridges the gap between home based working and paying for the overhead of an office, bringing the best of both worlds with minimal cost. You don't have to worry about investing in furniture or other equipment, with a shared office, everything is already set, you can just plug in and work.
2 IMPROVES PRODUCTIVITY
Being a member of a co-working space can transform your working day, research shows that people who use co-working spaces are more effective due to the energy and mindset adjustment found in these working environments, if you see everyone hard at work, chances are you will too!
3 SEPARATING WORK FROM HOME
Sometimes there are too many distractions while working at home. It's too easy to get distracted by your TV, chores, the fridge and you end up losing valuable work time. Separating work from home is important for maintaining focus.
4 AVOID LONELINESS
The journey of freelancing or starting out can be quite a lonely one, especially when you're by yourself and keeping your costs tight. Being cooped up in a bedroom office all day can be pretty lonely. Working alone can be isolating and can affect your mood, so what makes co-working spaces great places to work is socialising with other creative and entrepreneurial people which eventually could lead to your innovative breakthrough!
5 NETWORKING OPPORTUNITIES
Co-working spaces will boost your network and in turn connect you with lots of relevant people for your business, from potential clients, suppliers or even business partners. You'll always meet like-minded, talented people in co-working spaces!
6 BEING PART OF A COMMUNITY
Co-working spaces provide sociable, supportive, inspiring working environments where you can become part of a community. People's backgrounds are diverse but you often find them working together chatting, sharing ideas and even making new friends in the process!
7 FLEXIBILITY
The beauty of co-working spaces is that they offer immense flexibility, you can literally work for a few hours, for the day or the full five days a week.
8 FREE REFRESHMENTS
Tea, coffee and water come as standard in co-working spaces, and normally a shared kitchen too! You often save money in a co-working environment because unlike a cafe where your small costs add up without you noticing, a co-working space lets you know what you will pay upfront.
9 VIRTUAL OFFICE BENEFITS
Co-working spaces like Allia Future Business Centre also offer benefits where you can have your mail and phone calls directed to a business address. Depending on your company set up, sometimes it's a good idea to have this combination of co-working spaces with virtual office services, because you're not going to be there all the time to receive your mail and take calls.
10 FREE EVENTS
Many co-working spaces offer free events such as networking, seminars and workshops to help support your business from marketing workshops, accounting and finance for entrepreneurs to WordPress clinics. As a co-worker, you will have access to these opportunities for learning.
THE NEW WAY OF WORKING – AND THE FREELANCER TREND
Trends show co-working spaces are popping up all over the UK. The job market has become increasingly fragmented with start-ups and Small or Medium sized Enterprises (SME) booming over the past decade. Many workers are now escaping the commitments of working for an established company altogether and opting for a freelance career. In the UK, The Association of Independent Professionals estimates that:
● There are 1.4 million British freelancers working across all sectors
● This has grown 14% in the past decade
● The flexibility offered by Britain's freelancers is worth £21 billion to the UK economy in added value
● 78% of the UK public think that freelancing and flexible working help promote a good work/life balance
● 72% think freelancing has a positive effect on family life
CO-WORKING EVENTS AT FUTURE BUSINESS CENTRE PETERBOROUGH
● Try co-working free for a day in the Centre's Hatchery and discover the benefits for yourself, get away from the kitchen table and meet and work alongside other Peterborough entrepreneurs and founders who are getting their businesses off the ground in Peterborough.
● Check the Future Business Centre diary for the next Freelance Fortnight: throughout the year the Centre will open up the Hatchery space for Freelance Fortnight whereby freelancers are invited to go and make themselves at home in the co-working space for free over a two week period!
● You can also attend Peterborough Jelly on the second Friday of every month which is a monthly meet up for freelancers, homeworkers and people running small businesses to connect and work for the day.
● There's no need to register but you can join the conversation on meetup: www.meetup.com/peterboroughjelly
WHAT YOU GET AT ALLIA FUTURE BUSINESS CENTRE
● Prestigious business address – for your mail and corporate stationery
● Desk, chair and lockable storage
● Mailbox and post/parcel handling
● Message-taking and call handling
● Free informal break-out areas for meetings and 20% discount onmeeting room hire
● High-speed wireless internet
● 24/7 Access with your own access card; (only available on 5 days a week service – all other services offer 9am–5pm access Mon-Fri)
● Access to a shared kitchen
● 2 hours free use of meeting rooms each month
● Access to networking events
● Free access to specialist business support services Prices are flexible, helping you to focus on what's really important – growing your business.
Rates
Hourly rate £4/hour; 1 day a week £10.50/week; 2 days a week £19.50/week; 3 days a week £26.50/week; 5 days a week £150/month.
Leave a Reply