PJ Care: award-winning care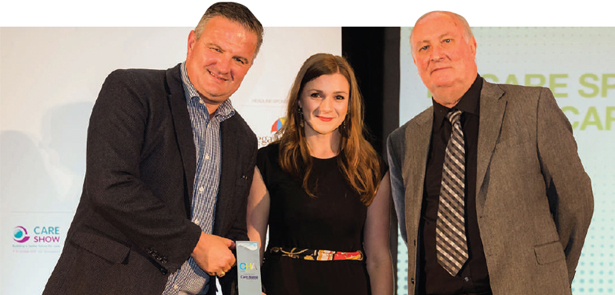 Specialist neurological care provider PJ Care has achieved not one but two accolades at the 2019 Care Home Awards – just recognition for the passion and compassion the team puts into their work
The Care Home Awards celebrate the achievements of those working within the healthcare industry. With awards made across several categories, this year's ceremony took place at the ExCeL exhibition centre in London at the end of June. Among the many industry leaders represented at the awards was PJ Care, local providers of specialist neurological care with a focus on early-onset conditions as well as rehabilitation and complex care.
In a reflection of the exceptional quality of care they provide, PJ Care was shortlisted as a finalist in every category they entered and went on to win two awards. The first accolade, for Best Professional Business or Creative Service Provider, was awarded to the team for its well-rounded approach to care. This is achieved through PJ Care's MDT (multi-disciplinary team), comprehensive training programme and internal safeguarding board. Being nominated for any category in any industry is no mean feat, yet despite tough competition PJ Care went on to win another award at this prestigious event, clinching the accolade for Best Care for Young People.
Neil Russell, Chairman of PJ Care is thrilled with the results: 'We are so very proud to have won not only the award for Best Professional Business or Creative Service Provider, but also Best Care for Young People. Being recognised directly for the specialist care we offer within a significantly under-provided for age group goes a long way in helping those who need our service understand the specialism we have here. 'Winning an award in any industry is amazing, but within healthcare it truly is above and beyond. To know we are making a difference to the lives of our residents every day and living our values of compassion, commitment and care is an honour.'
PJ Care was recognised specifically for its holistic approach to care; from their activity teams who organise bespoke programmes for each resident, including archery and trips to the cinema, to the design of its care centres which include outdoor spaces encouraging freedom and flexibility of living. PJ Care's environments are truly unique and allow every resident access to the best possible quality of life.
PJ CARE
PJ Care is an award-winning care provider with two centres in Milton Keynes and one in Peterborough. They offer specialised care for individuals with degenerative and acquired neurological conditions. For further details please visit www.pjcare.co.uk or call 0330 2020304.
Leave a Reply