Peterborough – the ideal place to work, live and play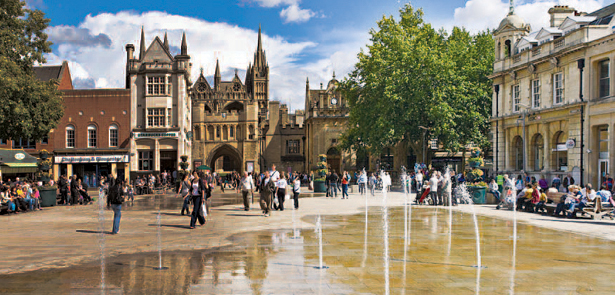 Social workers, teachers and GPs from across Peterborough have joined forces to create a new campaign to attract new talent into the city's large employment sectors of health, education and social work
Peterborough is growing and attracting investment but it still offers great opportunities for companies and individuals to make an impact and be recognised for their successes. Despite its growth, it has maintained its 'small city' charm, appeal and practicality that make it an ideal place to work, live and play in. It is, therefore, no surprise that the city was recently named the UK's best place to live for young families in a Which? study.
Work in Peterborough is a collaborative campaign that brings this to the fore and promotes the city to potential recruits to the city's education, health and social work sectors. The campaign's website brings everything together in one place to help people understand the opportunities the city can offer to them and their families. It also provides all the information about developing a career in these sectors.
Wendi Ogle-Welbourn, Corporate Director of People & Communities at Peterborough City Council, said: 'Peterborough is most definitely a city that is on the up. It has seen hundreds of millions of pounds invested into the city and has already invested significantly in its workforces.
'It remains a small city, but with growing ambition and aspiration. This makes it an affordable place to live, with an excellent house price to earnings ratio, and with exciting regeneration and leisure plans. At the same time it also means it can be very close-knit and innovative.
'In Peterborough, you can be 'someone' – you can make an impact and you can make a name for yourself – perfect for those with ambitious career plans.'
The education sector has already reaped the benefits of working together to attract new teachers to the city. The Teach Peterborough campaign helped all schools across the city fill their vacancies and tackle the problem of increasing advertising fees from national publications. In its first year, the website had attracted more than 12,000 teachers, listed almost 400 job vacancies and received more than 1,200 applications. Julie Taylor, CEO of Thomas Deacon Education Trust, said:
'The recruitment of teachers in Peterborough has always been challenging, particularly when we are competing against London and Cambridge. We are fully staffed as a result of the Teach Peterborough. 'It is clear that Peterborough has a lot to offer, both in terms of lifestyle and career development. It is important that we celebrate this to continue to attract high quality workers and show the city's future generations what is available to them on their doorstep.'
For more information, please visit workinpeterborough.co.uk
Leave a Reply