Peterborough – city on the up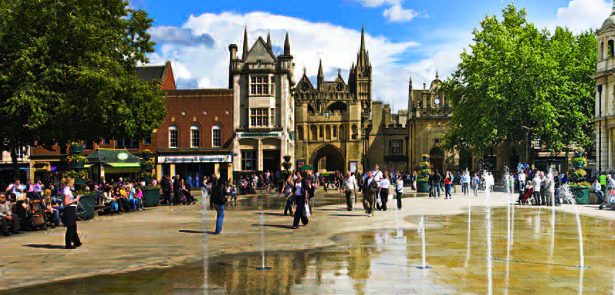 As the year comes to an end, the economic development company for the city, Opportunity Peterborough, examines why businesses and residents have reason to be confident in Peterborough's growing reputation as a city on the rise
What started as a promising year has ended on an economic high note for Peterborough as the latest figures reveal that the city has beaten regional and national trends for jobs growth and Gross Value Added (GVA) – the value of goods and services produced in the area. This is all on top of a very promising start to 2017 when the Centre for Cities Outlook Report, which measures the growth and development of the 60 largest cities and towns in the UK, ranked Peterborough as one of the fastest growing in the country. It also topped the housing growth table, came in fourth for population growth, and seventh for real wages growth; all signs of a flourishing city. This brings with it challenges as well as opportunities, particularly with infrastructure, but growth is important for sustaining the city and Peterborough is working hard to deal with these challenges head on. The future is set to be filled with growth too; the population is expected to grow by 15% between 2018 – 2038. So how do wemake sure the city remains prosperous for businesses and the residents they will employ?
GROW YOUR OWN
Over 8,700 businesses operate across Peterborough and to ensure they can run smoothly in the city is a key part of Opportunity Peterborough's role. In the Greater Peterborough Annual Business Survey by Opportunity Peterborough and accountancy firm Rawlinsons earlier this year, local companies showed cautious optimism ahead of Article 50 being triggered. Over half expected an increased turnover in spite of the vast majority anticipating increased operating costs. With the recent figures, this quiet confidence was well founded. Several projects are helping to shape a local economy which encourages business growth. The LEADER funding pot of £1 million, which was secured in 2015, is still available to any business or other organisations based in rural Peterborough and Rutland. The fund is specifically aimed at providing grants to support a range of projects, from farm diversification and productivity through to boosting rural tourism, and indeed supporting anymicro and small businesses, so long as they are in a rural location in these have been awarded and the team running the programme are keen to award all the funding ahead of the programme closing in March 2019.
Gigabit internet connectivity in Peterborough has also been responsible for the city's continued growth, helping companies to communicate and work at much faster speeds than before. Being the UK's first gigabit city meant Peterborough played host to the government's launch of the Digital Infrastructure Investment Fund which will unlock over £1 billion for full fibre broadband across the country. Peterborough's own gigabit network, installed by CityFibre, has now been extended to 150 businesses in Fengate, and there are clearly great opportunities to be gained from further rollout of the network. To ensure businesses continue to get the support they need from the government, Opportunity Peterborough works with a number of government bodies and local organisations to advise and support positive change.
One example was the company's co-ordination of a response to the government's Industrial Strategy green paper on behalf of Peterborough and Cambridgeshire in April. Calling for better integration of education and enterprise, as well as providing enhanced support for small businesses, the response outlined how these changes could improve attainment, training and skills development, raise the aspirations of young people, retain production development and industry processes in the UK, and support business expansion and export levels.
Steve Bowyer said, 'Whilst the outcomes of the Industrial Strategy are yet to be fully realised, Opportunity Peterborough is keen to remain up to date on any challenges that local companies are facing to see where support can be given. We know the typical challenges facing businesses in the area but we want to stay alert to any emerging problems and new opportunities. Government's national strategy will definitely have a local version, with local priorities, and we want to make sure the local business voice is heard, and that the city is ready to make the most of it. 'We want to keep working with businesses, large and small, urban and rural, to improve infrastructure, ensure relevant support is available, and make the most of opportunities; together addressing the issues so that businesses can achieve their goals and ambitions.'
SKILLS FOR THE FUTURE
A fundamental part of any economy is having a skilled workforce. Opportunity Peterborough's Skills Service focuses on working with businesses to inspire students and create a work-ready talent pool across Peterborough and the surrounding areas, such as Grantham, Stamford, Wisbech, Huntingdon and Rutland. In Peterborough alone, during 2017, there were 57 careers events held at local schools that engaged 3,977 young people, supported by 203 employers. This was in a large part thanks to over 700 employers who volunteered their time to support the students through a variety of activities including mock interviews, CV workshops, enterprise challenges and even providing advice on pursuing specific careers.
It is equally important that companies plan for the development and training of their current workforce to make sure they can meet business growth opportunities with confidence and the right skills sets. Plans for Peterborough's University have also brought a fresh opportunity for businesses to engage with educators across the city to make sure their workforce, current and future, can develop the skills their industry needs. The challenges and opportunities for the city were discussed at Opportunity Peterborough's Bondholder Breakfast in October with talks from University Centre Peterborough and an expert panel discussion on the subject.
'Skills is consistently flagged as an area in need of improvement within Peterborough. Having said that, this year, Peterborough's schools have improved at a higher rate than the national average so there is real potential for change,' says Steve. 'The work of The Skills Service helps underpin this by working with schools and education providers, and the fantastic volunteers from local businesses. The development of the city's own independent university should see higher level skills increase in the Peterborough area. And let's not forget the important role of apprenticeships in this, which will also be offered through the university as Higher Apprenticeships.
'One of my highlights this year, and most years, is the Careers Show run by the Skills Service. This year's was the biggest yet as 6,000 young people aged 14-24 came together at the Peterborough Arena to meet over 230 local businesses and academic institutions. This event continues to be free for both students and exhibitors to attend and the team will soon be planning next year's Show which I'm sure will be just as, if not more, inspiring for students.' If anyone wants to be equally inspired, do take a look at the YouTube video of the event
A MILESTONE YEAR TO COME
With 2017 coming to a close on a high note, 2018 is gearing up to be a truly a landmark year for Peterborough. Heritage will play a central role in activity across the city as Peterborough Cathedral celebrates its 900th anniversary. To mark this celebration the council, businesses, local attractions and community groups will be hosting a huge range of events under the banner 'Peterborough celebrates'.
Giving a final overview of why Peterborough has had such sustained success, Steve Bowyer said, "People often ask 'what is driving Peterborough's success'? It is not just one thing: the city has got all the ingredients for a business to be successful. It is a good place for people to live. It is a welcoming city – there are over 100 different languages spoken here. 'What has changed in recent years, is the sense of confidence. And everything Opportunity Peterborough does aims to inspire this confidence further; whether that's supporting local companies to have the confidence and means to grow and the routes to celebrate their success; marketing the city to new businesses to move into the area; boosting the confidence of young people about their futures, and the confidence of businesses that they will be able to recruit the talent they need to prosper. Or whether it's putting Peterborough onto a new, wide-reaching international map: let's not forget we were World Smart City in 2015, and the work to raise the city's profile in places as diverse as Amsterdam, Belfast and Taipei; building off that achievement we'remaking sure people realise where Peterborough is and just how much it can offer any business.'
AN INTERNATIONAL PLAYER
In recent years, Peterborough's Smart City and Circular Economy programmes have firmly put Peterborough on an international playing field. The programmes are part of the Future Peterborough project which is run jointly by Opportunity Peterborough and Peterborough City Council. Since winning the title of World Smart City in 2015, which was passed to New York in 2016, Peterborough has become an internationally renowned case study of how cities can better integrate and use data, reduce waste, improve the wellbeing of residents and promote more sustainable practices both in the workplace and at home. This year saw the team accept invitations to speak about Future Peterborough's approach at conferences in India, Helsinki, Amsterdam, Taipei and Copenhagen. From the sharing platform, Share Peterborough, that lets businesses find and share their underused resources through to Smart Supper skills work and enhanced use of city data, Peterborough is demonstrating what it means to be 'truly smart' with real impact for local people and businesses.
'Whatever Brexit brings, it has emphasised how much wider we need to spread the net to ensure Peterborough continues to attract investment, jobs and prosperity,' adds Steve. This work has also opened up greater potential for international projects and business opportunities. In the last year Opportunity Peterborough has hosted delegations from the Canadian City of Summerside and Taipei. Both were as a result of the successful Smart City work taking place in Peterborough. Steve says, 'As Opportunity Peterborough accelerates the city's international reputation, there are going to be more opportunities to engage with foreign delegations to explore collaborative ventures around buying, selling and trialling products and services. We're not the only ones doing it either – a brilliant example of international collaboration is City College's work with Foggia in Italy to build a relationship between the two cities for the benefit of students. 'The city is garnering a real international reputation and it has been a privilege to build links with cities in India and Taipei, where we are maintaining on-going relationships. We want the city's businesses to benefit from these connections and would encourage them to let us know directly if they have a product or service for the international market and would like to be contacted about future presenting opportunities.'
INVESTING IN THE FUTURE
Investment in regeneration work at sites like Fletton Quays, continued improvements around the city centre, and major refurbishment of prime office spaces like Northminster House in the city centre and the Pearl Centre in Lynch Wood Business Park have given rise to a renewed optimism. New sites are also offering new and real strategic opportunities for business. Roxhill's 'Peterborough Gateway' site in Hampton next to the A1(M) is receiving considerable interest from investors, offering huge spaces to new and expanding companies.
Staying with property, changes in the calculation of business rates meant over 50% of premises within the city became exempt from rates, which was good news for many operators, and on the flip-side of the investment coin, Peterborough topped a list of prime locations for retail investors in the UK over the summer. Improvements to key infrastructure, like the city's road network, are vital to support this growth and investment, but can unfortunately cause shortterm disruption, which can be very frustrating. Whilst a lot of major work within Peterborough has been completed recently, the improvements to the A14, although it may be inconvenient, should also help unlock additional productivity and access for the region's companies.
CITY OF GROWTH
Peterborough's growth is not to be taken lightly. Whilst there is an air of uncertainty, both at home and abroad, Peterborough continues to attract investment from companies that want to be part of the city's bright future. Steve Bowyer, Chief Executive of Opportunity Peterborough explains further, 'This is clear evidence of just how resilient and confident Peterborough is. To see overall jobs growth higher than national averages during a turbulent time is something the city should be incredibly proud of.
'That's not to say that it's been plain sailing; businesses are facing tough decisions, and greater certainty will always help business growth. What's truly heartening is that a lot of organisations are not only moving to the city, but so many are choosing to stay in Peterborough, like Kiddicare and Travelex.' As Peterborough's economic development company, Opportunity Peterborough markets the city to organisations interested in working in the area. Amongst the growing list of organisations it has helped move to Peterborough are names like the taxi firm Addison Lee, challenger bank Metro Bank, and Smart Garden Products which has opened a warehouse with plans for a trade store in the coming year. Recent announcements for further jobs growth also include 2,500 seasonal jobs at Amazon's distribution hub and 500 jobs being created in Great Haddon by Lidl who will be opening their largest distribution centre in the UK. The city's prosperity has also seen increases in jobs from some of the largest employers like Amazon, insurance giant BGL Group and Thomas Cook. Other brands set to join the city include Hilton Garden Inn at Fletton Quays, Joules and Yankee Candle in Queensgate and Lightbox Café and Bar on Bridge Street.
Leave a Reply