Neil Darwin: new CEO of The Greater Cambridge Greater Peterborough Local Enterprise Partnership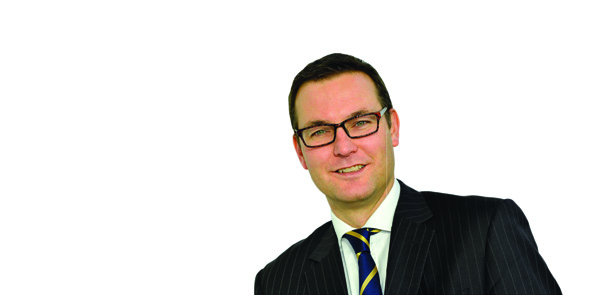 The Greater Cambridge Greater Peterborough Local Enterprise Partnership (LEP) recently announced the appointment of Neil Darwin – former head of Opportunity Peterborough – as their Chief Executive. Neil has been involved with the work of the LEP since the creation of the original proposal to Government, and was formerly a Board Advisor before joining the LEP Team on secondment from Opportunity Peterborough in June 2014. Toby Venables talked to him
TELL US A BIT ABOUT THE LEP… 
The LEPs – Local Enterprise Partnerships – were set up about five years ago. The theory was that the regional model that was in place was not effective enough and should be replaced by something more local. Nevertheless, the Greater Cambridge Greater Peterborough Local Enterprise Partnership covers a broad area: Cambridgeshire, Peterborough, Rutland, West Norfolk, West Suffolk, Uttlesford, and North Hertfordshire. It's business-led. We do have a bit of a mixed economy: we provide the strategic overview to government, and we also supply delivery across the wider area. There are grant schemes that we're delivering, for example. So we're not at arms length; we are delivering on the ground as well. I believe it will play a critical role in defining the future of our local economy by focusing on improving our infrastructure, ensuring we create an appropriately skilled workforce to meet the needs of our businesses, and helping our businesses to access the advice, support and funding they need to grow.
YOU'RE PROBABLY BEST KNOWN IN THE CITY AS THE FORMER CHIEF EXECUTIVE OF OPPORTUNITY PETERBOROUGH. WAS THIS A NATURAL STEP FOR YOU? 
I've been involved with the LEP right from the start – in fact, it was me with a few other key people who were behind the proposal to government. I carried the title of Board Adviser for three and a bit years, and then was in post as the LEP's Interim Chief Executive from October 2014, so it was obvious that I could probably step up and do it! I'd also been at OP for five years, and I think l had done all I could there, so in a sense the timing was perfect.
THIS MEANS GETTING TO GRIPS WITH CAMBRIDGE BUSINESS… 
Yes, and Cambridge is a very different kettle of fish from Peterborough. You've got mutliple stakeholders, multiple communities and basically everyone has a view! Because of that, you've got a more detailed way of working The problems are different, too. Peterborough is historic, but only a small part of Peterborough is historic. Cambridge is a very historic city, with some significant infrastructure issues that don't really marry with 21st century ways of getting around. So, it's actually about coming up with different scenarios to allow Cambridge to perform even better than it does at the moment. Then you've got things like the University of Cambridge, which takes a little understanding, because it doesn't operate like most other universities. It's far more devolved, the colleges are very active, and it is really about getting on with the individual colleges, so you actually have to know a lot more people in Cambridge than you do in Peterborough.
IS IT THE CASE THAT CAMBRIDGE IS MISSING A FEW TRICKS BECAUSE THEY HAVE NO EQUIVALENT OF OPPORTUNITY PETERBOROUGH TO CO-ORDINATE EFFORTS?
Yes – to the point that recently they were looking for someone to lead a promotional agency for Cambridge. Partly this is to do with the fact that they had seen Peterborough doing well with investment, but also, when it comes to investment, Cambridge is on a different plateau from pretty much the whole of the rest of the country. It is also short of space. And the reality is, if a business wants to relocate to Cambridge but can't find a place there, they're not looking to Huntingdon or Peterborough, they're popping up in San Francisco or Shanghai. And so we lose them to the UK. So the question is, how do we expand Cambridge's magic to benefit the wider geography? It's all connected, and we provide a focus for tackling some of those issues.
JOHN BRIDGE, WHO HEADED UP THE LEP BID TO GOVERNMENT, HAS OFTEN SAID THE SECRET IS GETTING TWO CITIES WORKING TOGETHER BETTER…
He's right. And the two cities do complement each other. They're not fighting in terms of sectors, and actually what we need to learn is how to leverage the power of both. What Cambridge is good at, Peterborough isn't, and vice versa. Peterborough's got plenty of space, and Cambridge hasn't. It's partly about infrastructure and better connection and interaction between the two places. At the moment, they do operate in isolation.
HOW IMPORTANT IS A NEW UNIVERSITY IN PETERBOROUGH TO ACHIEVING THESE GOALS?
From my perspective, a university is the biggest single thing that needs to happen in Peterborough. The impact would be very significant. If we were to have a university of, say, 5,000-7,000 students it would change a number of things, including the cultural offer, because people would be encouraged to make bolder investment decisions. You only have to look at Ipswich to see how it has changed around the town centre in the last ten years as a result of having a university there. It impacts on the housing, because students need to find homes, and that then means the property market can move a little bit differently. It means the business community has an on-tap resource. A full-blown university brings with it research as well, which connects absolutely to the business community. To be fair, it is a strong player even as it stands at the moment. Most of it, for me, is accessing money from government for key infrastructure. Peterborough needs to deliver its key sites – South Bank, North Westgate, the rest of the station area – these are the big tickets that need to happen, so it's a question of how we really put our shoulders to the wheel and make those things happen.
WHAT DOES THIS APPOINTMENT MEAN FOR YOU PERSONALLY?
A longer drive to work! No, it's an interesting challenge, and it's dealing with an area I know well. I grew up in King's Lynn, I lived in Huntingdon and I've worked in Peterborough. I want to see it all improving, because it's a great area with a great economy and a fantastic range of businesses. To be honest, I can't think of a better place in the country to be doing what I'm doing.
YOU CAN FIND OUT MORE ABOUT THE WORK OF THE LEP BY VISITING WWW.GCGP.CO.UK
Leave a Reply