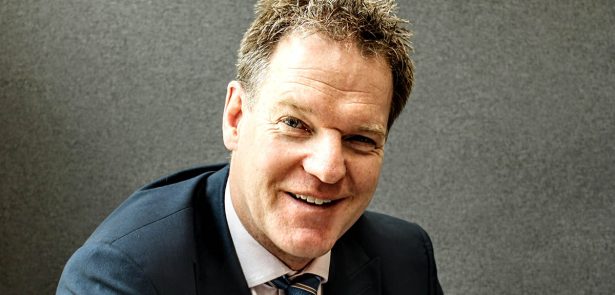 In November 2021, Matt Gladstone was appointed as the new chief executive of Peterborough City Council, following the retirement of Gillian Beasley, who had been with PCC since 1997 (and at Cambridgeshire County Council prior to that). Previously executive director for place at Barnsley Metropolitan Borough Council, Matt is new to Peterborough – but also comes at a uniquely challenging time, with the economic and cultural life of the city deeply affected by COVID and with significant budgetary cuts to manage. The Moment talked to him about the task he faces, the city's potential and the road ahead.
You were appointed in November, and I know you actually started on 31 January. What has it been like so far, and what have your first impressions of Peterborough been?
Whilst I was appointed in November, I was actually in about 60-70 calls with the council in various guises during December and January, about the budget, setting up of the improvement panel, etc. So, it didn't feel completely brand new when I walked in on 31 January!
And my first impressions of the city are very positive. In the local press we see Peterborough talked about as a city of real potential and opportunity, and I think that sums it up quite well. I mean, it's an extremely well connected city. I think it's very cohesive, and there's lots of good outreach into communities. It definitely has scope for improvement, so that 'potential' bit is key, and I think the economy could be a lot stronger. But there's lots of house building going on. It's a rapidly growing city.
The city centre is small, compact, with a beautiful cathedral, a nice square, and it's got a lot of the major players you expect to see in a city centre. I think it'd be good to see a more independent offer coming forward, but, you know, I've regularly used the city centre already, and there's definitely an offer there. Just the other morning I was in Argo Lounge, having coffee with my daughter who had popped up from London – which is just a 45 minute train ride away – and it was a lovely environment, really busy on a Sunday morning. It was really good to see people out and about, bouncing back from COVID, spending money in hospitality and businesses. That's really important because they've been hit really hard. So it didn't feel like it's a city with nothing going on. It's vibrant.
I've been out and about as well, and it's also very green! There's Ferry Meadows, Nene Park, a huge amount of green infrastructure and water and access to countryside. I went for a walk in Nene Park and I saw a kingfisher… That was like, wow! I had to remind myself it was just 2.5 miles from the city centre.
It's good to focus on the positives… What are some of the exciting things you see happening?
There's the Embankment project and Fletton Quays, and some exciting plans in the mix around regeneration and redevelopment. There are approximately 1,300-1,400 homes a year being built in the city, and I know that development can be a sensitive subject, but developers are investing. This isn't the council investing, this is developers putting money in to build better-quality homes, and they are building homes which are more climate change proof etc. People are buying those homes; people are renting those homes – there is demand there.
The Fletton Quays development is filling up very quickly and there's the new Hilton Hotel, with a rooftop bar and the hospitality offer that comes with it, which I think is really exciting. I think it will be fantastic – a real landmark in the city along that beautiful riverbank. It's always great to see more investment and more independent offers coming in.
I think the university is also coming at just the right time, not just from the skills point of view, but bringing in research, business incubation support, and ultimately leading to higher-end, better-quality jobs. One of the key areas for me is around that idea of collaboration – working with a whole range of different players, whether it's private sector, voluntary sector, the community, to try and improve the city as a whole. I think that is really important.
There are definitely areas where I think there's scope for improvement – not least the financial issues we're dealing with as a council. We've made good inroads already and I'm really positive around the direction of travel on that, but there's a lot of work to be done still.
On that subject… You arrived at a time when the council is having to deal with a £27m gap in its budget. Obviously that's a huge challenge to take on.
The budgetary challenge is up there as my number one priority – to get the council on a more sustainable footing. We have an improvement panel made up of ex-directors of finance, ex-chief execs – a very high- calibre panel to help the organisation move forward. We have now set the budget for the new financial year. There is more collective ownership of the issues now, which is really positive. It's about seizing the opportunities, whether it's the university, or the new integrated care system with health partners, and building on those strengths to really deliver change. We are quite a small council, so we have to reach out to others to try and help, whether that's private sector or investment, or government, or organisations like the Combined Authority. You have
to work in collaboration to deliver more change and more improvements. And I think it's also about businesses collaborating and taking the lead, facilitated by the council. I think this is the right way forward. Councils cannot keep taking the lead role in everything, and nor should they.
Your predecessor, Gillian Beasley, was chief executive across both Peterborough City and Cambridgeshire County Councils, but those roles have now been split, so you have responsibility for just the city. Is that advantageous?
Gillian did a great job working across two councils, which is never easy. But there has been external challenges and I think the right thing to do is to have a much stronger focus on the city here. There are synergies and opportunities of working collectively, and some of our services are still joint – things around public health, social care teams etc. That works, so why change it? But there are opportunities to do some things differently, which is why I'm talking about how health and care are increasingly coming together. The pandemic has really forced those organisations to work much more collectively than they ever have done before, through sharing intelligence, targeting the most vulnerable in different ways – that early prevention support. The joint model is right in certain locations, but I think there are elements where we need to be taking more of a specific focus and ownership for the city. Peterborough is quite distinct from Cambridge, for example. We have more socio- economic challenges, and the house prices in Cambridge are going through the roof – which really doesn't help when you're trying to establish a more multicultural mix of workers. Most people just can't afford to live there. So actually, Peterborough is a very attractive place to come and live. It's affordable, it's got housing, it's got growth happening. It's got loads of green space, great learning opportunities for young people and people looking to retrain. I think, if I'm honest, it's
a more exciting place. It's got its challenges, but it's got some real opportunity, and local government is absolutely key to us working collectively to try and realise those ambitions.
We're actually one of the fastest-growing economies, and we have a very high startup rate of businesses, which is fantastic. But I'd like a stronger business base in the city. I want to see better-quality jobs coming through. Getting that more entrepreneurial- type spirit and growth for more middle-sized businesses in the patch is, I think, where the real focus and benefits can lie.
What did you do prior to coming to Peterborough?
I started off my career at the National Audit Office. So worked across different central government departments on various public inquiries, with a very strong ethos around value for money. I was quite inquisitive, and was always interested to know what was happening on the ground in central government. I was involved with the United Nations on some of their peacekeeping work in former Yugoslavia. I worked in Revenue and Customs, in benefit fraud. I actually worked across a number of different government departments, because you got moved every six months into different departments, which was fantastic. I then spent some time with Customs and Excise on investigation work and intelligence work. That was always quite interesting!
I also did a lot of work on benefit fraud, which brought me into contact with local government. That led to me working nationally with a number of different local authorities, some struggling, some exceeding in terms of services. The last nine years have been South Yorkshire, leading on the regeneration of places like the Don Valley – ex coal-mining areas hit hard through the last 30-40 years. It was really exciting to see how they have been rejuvenated from an environmental point of view, but also from a social point of view and employment opportunities. So I've done a lot of work in some nitty-gritty areas, which needed a lot of support. I think that gives me a real cross-section of background and experiences from central and local government to bring to Peterborough.
Every council is in some respect beholden to central government, so does that knowledge and experience of central government help?
I think having an insight into central government workings is important. We've benefitted from the government's Levelling Up Paper by £20 million, for the university, but you need to be constantly banging the drum and influencing government to try and secure more investment through vehicles like the Combined Authority. So that never goes away. But it isn't about whinging about how we've been hard done by, it's about looking at the opportunity and seizing it, and working closely with central and local government. We live in a political system, and we're obviously living in 'interesting times' at the moment, but we need to keep pushing our agendas for the city.
Most people have at least some idea what councillors do, because they elect them, but people might not know quite what the chief executive does. Can you explain what the role involves?
There are really two aspects. Think of the council as being like a business. We are a multi-million pound organisation, employing lots of people, with lots of complex agendas, delivering a range of services to thousands of people across the city. So, there's a leadership role there, but it's also about making sure we are compliant with various regulations standards, and we're compliant with the law. There's a huge amount of legislation for local government. But it's really about that forward direction, that ambition and drive to realise those outcomes in collaboration with the private sector, voluntary sector, and so on.
The second point is that we work in a political system. So it's understanding the political ambitions and, as chief executive, helping to realise those ambitions, pulling the various levers across the organisation to make that happen. So, I have to look carefully at how my resources are deployed. And the organisational culture, the ways of working, how we embrace things like digital thinking,
customer-focused thinking, these need to be constantly evolving, so we're adapting the way we deliver our services. I always look at how the private sector does it. They never stand still, they are
always constantly adapting, innovating, improving their services, and we need to do exactly the same as local government. It isn't just about going and delivering a planning service or a social care package, it's about how that gets delivered, using different technology, working with different partners, working with a different resource constraint. Looking at ill-health and prevention, for example, how do I stop people having to go into hospital? How do I support them to live more independently at home, and more safely? How do you tackle things like homelessness? These are really complex, challenging agendas.
What about culture in the city? How do you encourage that?
I'm a firm believer that culture is important. It provides a real sense of identity, a sense of background history, which is really important. But I think the economy is the key area where we need to really focus. If I can get better- quality jobs, better investment into the city, it starts to feel different – and people notice it is happening, it's changing. It's not just about shiny buildings, it's about giving people the opportunities. The city needs to constantly embrace change, embrace new thinking and new ways of working – we need to be receptive to that as an organisation – and engage with the community we are here to serve.
Leave a Reply