High Flyer – Iain Crighton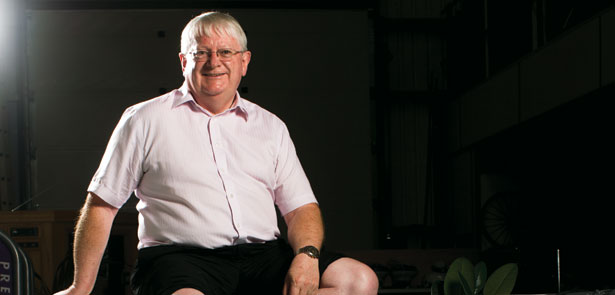 Iain Crighton – twice local rally champion – has spent three decades in the motor trade, finally taking over the family business, Crightons of Peterborough Ltd, 15 years ago. Since then he has become one of the city's most prominent and active businesspeople, setting up Greenwheel Cycles, Crightons Hydropool and Green City Marketing – all in Peterborough
He is also Chairman of Peterborough Chamber of Commerce, President of Cambridgeshire Chamber  of Commerce, Chairman of LIVING SPORT Cambridgeshire & Peterborough Sports Partnership, Chairman of Peterborough SportsAid and Chairman of the Peterborough City Centre Executive and the Adult Skills Sector. In 2009, Iain was the recipient of the Peterborough City Council sponsored Contribution to the Community Award, and in 2012 was invited to carry the Olympic Torch in Peterborough. The Business Moment talked to him about his career so far.
Was It A Natural Thing To Go Into The Family Business?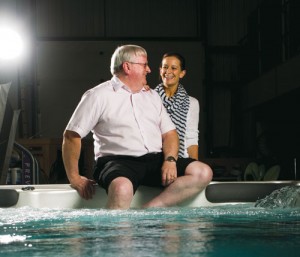 It was for me, yes – though I actually started my career working at Barclays bank for five years. At the time I was doing a lot of motor sport, spending most of my weekends repairing the car I'd damaged on a rally somewhere. Then I had one of those light-bulb moments, thinking "I've got to fix the car again this weekend… Actually, my dad's got a garage and he's got mechanics. If I worked in the garage perhaps I could get the mechanics to fix the car for me…" I used to help my parents out a bit at weekends anyway, selling and moving cars, but it suddenly seemed a logical place to work if I wanted to carry on doing motor sport. The irony was that within a few years life had become difficult in the motor industry and I ended up packing up rallying because I couldn't afford it! So it wasn't about always wanting to work in the motor trade, it was about a little bit of self interest – being able to go and enjoy my passion.
Is Passion Important In Business?
Absolutely. I've spent 30 odd years in the motor industry, and I love cars. For me, the only slightly disappointing thing was when somebody came and bought a car and was totally disinterested in it. I loved it when people were excited.
Crightons Has Always Been "…of Peterborough". Did You Ever Consider Expansion Into Other Cities?
When my parents retired, I did have a plan to expand into other cities. But the motor industry is a tough one to survive in, particularly if you're a small, privately-owned business. The big plcs dominate the game, and it gradually became apparent that if you weren't big enough, you were always going to struggle. That made me think about whether that was the right long-term decision for me. It ended up with me selling off the SAAB franchise and ultimately relinquishing the Mitsubishi franchise. But we did stay in the motor trade, and we still have the workshops with 13 bays. We currently do around 4,500 MOTs a year, so it's still quite a sizeable operation in terms of service and repairs.
Do You Feel Passionate About The City?
Very much so. I think it is a great city, but we don't tap the full potential. Part of my plan to expand the garage business was to go networking, and the best way to go networking, in my view, was through the Chamber of Commerce. Because of my involvement with the Chamber I suddenly found I was invited to join the board, and then ultimately became Chairman and President of Cambridgeshire Chamber of Commerce. But that insight into the wider picture has allowed me to do some project work that is aimed at helping the city.
You've Diversified Within The City, With Greenwheel Cycles And Crightons Hydropool – Were These A logical Progression?
There was a perverse sort of logic. As I moved out of car sales, I looked around at what I was going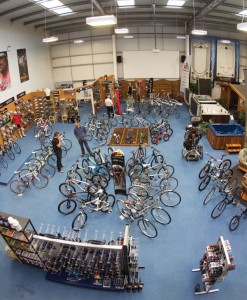 to do. I looked very closely at the world of motor bikes. I know the national sales director of Harley Davidson quite well, but their territorial programme meant that we couldn't have it in Peterborough. I spent the day with Triumph, and came very close to being a Triumph dealer, but I couldn't make it make sense economically. Because some of the work I do with the council and the Chamber of Commerce gives me an insight into what's going on in the city, I could see that bicycles were going to become a big element, with the development of the university, the Green Wheel cycle routes, sustainable transport, the environment capital status and the health agenda. And kind of convinced myself that it's still transport! So the cycling thing did have a logic. With Greenwheel Cycles I can also see the potential for expansion. I can see it being in other cities around the country, something we can develop and grow. It's taken off very quickly for us, which is nice, and, of course, the Olympics have helped this year.
The hot-tub business was a bit more of a stretch, and came about largely because the importer into the UK is a cousin on my mother's side. I ended up having a chat with him, and liking the idea of working in a lifestyle, leisure industry. It's a bit of a whim, almost. I'm developing it into a different kind of business, and am working with landscape gardeners, garden designers, wrought iron workers, so it's not just about plonking a hot tub in a corner of a garden, it's actually designing the whole environment and making sure it maximises customers' enjoyment. That, to me, is much more interesting.
There's A Lot Of Development Going On In The City At The Moment. Do You Have Your Own Vision For It?
One of the things that constantly frustrates and concerns me is the difficulty of getting people to work as a team – to develop one city, and one plan, so to speak. The problem is, nature abhors a vacuum and it will always fill it with something, so if some well-meaning group of people can see something's not right, they'll try and put it right. But I quite often come up against five groups of people all working on the same concept, all coming from a different angle, and you think "If you all worked together, you'd get the job done much quicker…" That's frustrating. But it's an awful lot better than it used to be. The city council and Marco Cereste – and this isn't a political statement, it's just about the ability to get things done – is a fairly dominant force, but he has a very good business background. He can see the bigger picture, and he's prepared to be seen to make a mistake occasionally, because he wants to see things happen and get things done. The person who says "I've never made a mistake" has probably never actually achieved anything, because every so often you're going to make a mistake if you're trying to make things better.
Can Business And Politics Mix Harmoniously?
Marco and I have known each other most of our lives – we knew each other as kids and our paths have criss-crossed all the way through – so that's always been a useful relationship – one of trust and understanding – and I think we work quite well together. He's much more the politician, whilst I wear the business hat. Politics and business can mix, but occasionally the best thing to do isn't something that's going to win you any votes. Marco is as passionate about the city as I am, and he's prepared to go down that route because he knows it's the best thing to do.
Do You Enjoy "Business" For Its Own Sake?
Absolutely. The routine day to day stuff I do tend to find boring, but the strategic longer-term planning, the opportunities that business creates – or that you can create through business – I find very exciting. I often think my ideal job in the world would be to be a millionaire on Dragons' Den, working with lots of different businesses! I do get huge stimulation from talking to other business people. I've been lucky enough to be selected as one of the judges for the Peterborough Evening Telegraph Business Awards, and they say "It must be a real drain on your energy and time going out and doing all this judging". But it's actually the opposite. I get a huge buzz out of meeting very good business people and seeing very good businesses. I'll always come away feeling motivated. I do love the whole concept of business, what it can do for the community, what it can do for people's lives. The business world is a fantastic power for good, on the whole.
Is It Hard To Balance That Entrepreneurial Spirit With The Necessary Stability Of Sound, Day-To-Day Management?
I would never profess to be a fantastic businessperson, because there are lots of things I do wrong. There are lots of opportunities I miss. But on the whole, to my mind, it's about having integrity. It's also about having really good people around you. I was always taught "recruit people who are better than you at the job". It keeps you on your toes, and it means the business is successful – despite yourself! – because you've got good people running it. I've never felt threatened by having people working for me who are brilliant. I just love to see success, and I don't have a problem sharing that success.
Did Those First Five Years At Barclays Stand You In Good Stead, Businesswise?
Yes, very much so. I had great good fortune to work with a couple of good bank managers who taught me a lot about the relationship between banks and business. That has really informed my ongoing financing of business, because I know what banks are expecting and what they're looking for. They're looking for people they can believe in and who have got integrity. I often used to sit in the bank and listen to people coming in and, not to put too fine a point on it, try to bullshit the bank manager. They soon know, and that destroys the relationship. So, integrity in your relationship with the bank is a critical part of being in business. That was something I picked up very early on.
Are There Things In Your Career You Would Have Done Differently?
I've always maintained that there's no point having regrets. What's past is past, and you can't change it, so there's no point sitting there thinking "If only I'd done this… If only I'd done that". Yes, there have been lots of times when I had an opportunity to do something and didn't do it, and in hindsight it might have been a good thing. I don't tend to dwell too much on the past – I tend to be thinking about today and tomorrow. And the next 5-10 years.
If You Could Meet Your 20 Year-Old Self, What Advice Would You Offer?
If you believe in something, make it happen. There are too many good ideas left on the table. I'm as guilty of that as anyone. I suppose if I were to categorise myself I'm more an ideas person than a doing person, and I quite often think of something that's a great idea, but am too busy to put it into play, and you quite often think afterwards "I wonder if that would have worked?" Occasionally you find someone else has done it, and you think "I wish I'd done that now!"
What Advice Would You Give To Someone Starting Out In Business Now?
One of the perpetual problems of business is cash flow, and I think if you're going to start out in business, work out how much money you think you need, and then double it. If you haven't got cash, you're spending all your time fire fighting – you're just focused on paying the bills, you're not thinking about how to grow the business. It's a big drain on entrepreneurial spirit. Just about everybody underestimates the amount of money they need to run a business. A huge number of people work through it, but it makes business more difficult than it needs to be. Even if that means waiting for another year before you start your business in order to get some more money behind you, that will be a good investment.
What Other Common Problems Do You Encounter?
I often sit down with businesspeople and say "What's your five year or ten year vision?" and very few people have got one. You've got to know what you're working for – why you are doing this. Ultimately you are in business to perhaps sell it at some point, and either put it in the bank to secure your future, or invest in another business. It's really about understanding why you're doing it, and if you want to grow things and become a millionaire in ten years time, then you need to work out what you've got to do to get there. I haven't entirely worked that one out myself yet!
Who Or What Are Your Inspirations?
I do tend to look at other successful businesspeople. And the interesting thing is that most of them aren't perfect characters. If you take Richard Branson, for example, I really admire his entrepreneurial spirit, but there are parts of Richard Branson that I don't like. You end up picking the best from different people. I love reading and listening to Duncan Bannatyne, but there are bits of him I wouldn't really want to be like. I think the businesspeople who have overcome great disadvantage or adversity are the ones I admire the most. Bannatyne came from a terrifically hard background, and yet he has been successful because of who he is. But he has also achieved that by, on occasion, doing something that I wouldn't have chosen to do.
What's Next On Your Career Agenda?
I'm chairman of the County Sport Partnership and I chair Sports Aid which helps raise money for youngsters in sport, so I'm very keen to see the sports environment in the city enhanced quite dramatically, and we are looking at the potential for a sports village in the city. It's been talked about for a while now, but we've now got a team working on it and have managed to raise some funding for some project work to look at the impact. One of the things I'm keen to see is whether we can create a sports environment which will allow everyone under the age of 18 in Peterborough to get free use of sports facilities. I think that would be quite an exciting thing for the city.
You Do A Lot For Local Sport – Was It A Surprise To Be Asked To Carry The Olympic Torch?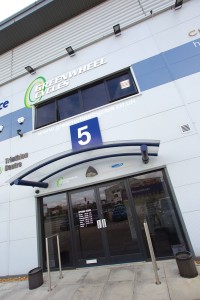 That was one of the things that I was absolutely stunned and honoured by – to be asked to carry the torch in Peterborough. And yes, I did buy the torch, because it's a tremendous memento. And it was interesting what a thing like the Olympic torch can do for a city. They reckon about 30,000 people came out to watch this piece of metal with a flame going through the streets… But the atmosphere, and excitement and the feelgood factor that it brought were astonishing. I was really honoured to be a part of that. People still ask me, if I'm going to a meeting, "Can you bring the torch..?"
Leave a Reply