Opportunity Peterborough Bondholders: in the spotlight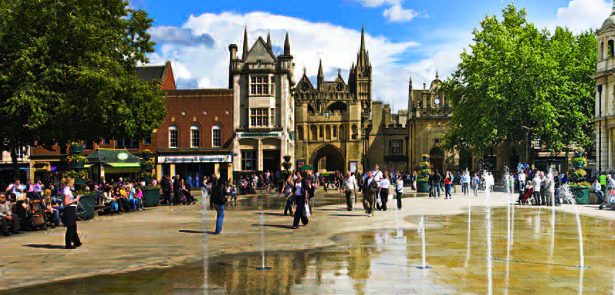 Peterborough has one of the most thriving business environments in the country, with more than 8,500 active companies shaping the city's success. Opportunity Peterborough's recent Bondholders' Dinner celebrated this success, helping local businesses to share their stories
More than 8,000 net new jobs have been created in Peterborough during the last six years and the city's net business creation is 43% above the UK average. GVA growth is up 8% on last year and Peterborough has retained its place as one of the most innovative cities in the UK based on patents registered. These are just a few of the many reasons Peterborough businesses had cause to celebrate as more than 460 business representatives and city dignitaries gathered at the annual Opportunity Peterborough Bondholders' Dinner in October.
The prestigious black-tie event was attended by hundreds of local companies, celebrating business confidence in the city and supporting business development. The dinner included the launch of Business Spotlight: Celebrating Peterborough's world-class companies, a new book featuring dozens of city businesses and stories of their success, growth, and why they chose to base their organisations in Peterborough.
Steve Bowyer, chief executive of economic development company Opportunity Peterborough, said: 'Our Bondholder Dinner is a wonderful celebration of Peterborough's businesses, which reflects the confidence and vibrancy in the local economy. It was a fitting event to launch our Business Spotlight book – a tribute to the fantastic work of our local companies and a showcase of the breadth and diversity of industries located in the city. Of course we were only able to feature a very small proportion of businesses in the book, so we'd love to hear from other companies who would like us to help tell their success stories through our other channels.
'The Business Spotlight book will be used by Opportunity Peterborough to raise awareness about the city's fantastic local companies – many of whom have a global reach – and as an inward investment tool to attract more investors to relocate to the area.'
Guests enjoyed a drinks and canape reception followed by a four-course dinner. A short speech by Steve Bowyer to unveil the book was followed by networking and a chance for business representatives to let their hair down for the evening in the beautiful surroundings of Peterborough Cathedral. Opportunity Peterborough would like to thank all of those who attended the event, in particular: Peterborough Investment Partnership, Barclays, Barker Storey Matthews, Barnack Estates, Buckles Solicitors, University Centre Peterborough and Weston Homes for their invaluable sponsorship.
An enterprising city
In further recognition of the city's economic success, Opportunity Peterborough was recently highly commended in the Enterprising Britain awards for its unique approach that has transformed the confidence of the city. The city's economic development company was singled out for combining traditional economic development mechanisms with innovative, integrated initiatives, which has seen the local business environment flourish. Judges were impressed by the breadth of Opportunity Peterborough's reach and its willingness to explore any area that may drive economic development, while providing a single point of contact to businesses.
Judge Derek Kozel, Director of Development at Investment In Young People, said: 'A key aspect of Opportunity Peterborough's work is the total wrap-around package of support it supplies, both in terms of client groups as well as the information and facilities provided, which with Opportunity Peterborough's entrepreneurial drive in identifying new opportunities and the willingness to take on board comments from past users to shape current activity, helped make it stand out.'
Business spotlight
Whether a start-up, SME or global giant, Peterborough companies are making a huge impact in their industries and their passion, innovation and expertise is celebrated in the Business Spotlight book. The book showcases just some of the companies that have made their home in the city. For Opportunity Peterborough it's the start of a story that shines the spotlight on what makes the city such a fantastic place to do business. Some of their stories will surprise you.
Take, for example, Baker Perkins, whose engineering and process expertise is behind some of the world's leading food brands. Many of these brands come to develop and trial new products at Baker Perkins' Peterborough factory. The company employs more than 300 people in the city, the vast majority of who are qualified engineers. This has helped Baker Perkins remain at the forefront of technology. For example, they recently designed a new technology that has helped cereal manufacturers reduce downtime from 24 hours to just 20 minutes – an improvement that benefits their customers' bottom line and sets them apart in their sectors.
Then there's Bauer Media Group, one of the world's largest privately owned multi-platform media businesses reaching millions of people around the world through its portfolio of digital, magazine media, radio, event and TV brands. Bauer's Peterborough people are openly passionate about the markets they serve. In the UK alone, more than 24 million customers purchase and interact with Bauer brands, including KISS, Grazia, Heat, Absolute Radio, Magic, Empire, Motor Cycle News and Parkers. Like Bauer, many of Peterborough's businesses have a global reach. Coloplast, an organisation delivering advanced medical technology, produces products sold in 136 countries, with 25,000 people in the UK alone contacting Coloplast every week for help, advice and guidance.
Or take MasterCard Prepaid Management Services, the Peterborough-based arm of MasterCard behind some of the world's biggest brand cards, including prepaid travel money cards for Qantas, Virgin, Tesco and Travelex, whose reach spans 23 countries. Peterborough is renowned for its engineering expertise, offering a home to respected manufacturers such as Perkins Engines, whose facilities in the city produce engines ranging in size from 0.5 to 7.1 litres, and Peter Brotherhood, a world leader in designing, manufacturing and servicing steam turbines and turbine generator sets up to 40 MW.
The region is also the home of many food and drink companies, including British Sugar, which partners with approximately 3,400 farmers in the UK, or Oakham Ales, a brewer that has received more than 200 awards and is on target to brew 8million pints this year! Business Spotlight shares the inspiring stories of 30 of the city's companies. Between them they offer a hint of the breadth of Peterborough's economic strength and talent. All of the featured companies share one thing: an appreciation of their employees as a major driving force behind their success.
● To download an electronic copy of the Business Spotlight book and to tell Opportunity Peterborough about your own business' success story, visit www.opportunitypeterborough.co.uk
Leave a Reply