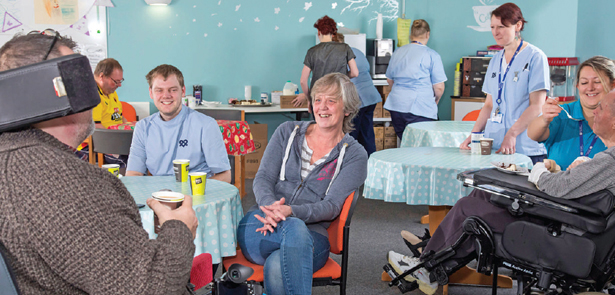 PJ Care's sector-based work academy offers opportunities for the longterm unemployed to get back into work and, as Recruitment and Retention Manager Jake Ronaldson explains, it's also yielding dividends for the specialist neurological care provider
Pioneered by Jobcentre Plus, sector-based work academies were developed to help people who are long-term unemployed return to work. Academies are run in partnership with potential employers and consist of three stages: preemployment training relevant to the needs of the business and sector, a guaranteed job interview, and a work experience placement. There has to be at least the potential of a job at the end of the process.
Specialist neurological care provider PJ Care has completed two academies, in Milton Keynes and Peterborough. Recruitment and Retention Manager Jake Ronaldson explains why: 'As a company we wanted to give back. The academy isn't just about getting people a job with us. Those taking part receive constant feedback throughout the process and they can take the qualifications and experience they gain with us to other potential employers if they aren't successful or don't wish to continue.'
Learning the ropes
Applicants to PJ Care's academy are briefed about what a job in care involves before initial screening, with anywhere between five and fifteen people put forward. 'From then on it's like a job, so for two weeks they'll go to an external site, such as a local college to learn about the company, the care sector and the conditions and people they may or may not come into contact with. Most importantly they learn key skills, from turning up to work on time – getting them back into the work mentality, to essentials like food hygiene and manual handling.'
During this time applicants gain valuable qualifications, such as health and safety, which will be useful wherever they go. They'll also learn about the history of PJ Care, what the company wants to achieve and gain valuable insights into complex healthcare roles. 'We're totally honest with them so, for example, we'll explain that they will be dealing with sometimes challenging behaviour. We lose a few people in the first few days, but we'd rather be upfront at this stage.' It's very much a hands-on process for PJ Care, with current members of staff on hand to answer questions, help with paperwork and explain their particular roles within the company. 'They get to meet different people, and potentially the people who will interview them. The emphasis is on creating a relaxed atmosphere so there's no worry or stress.'
On to interview
At the end of the two weeks comes the job interview. 'They aren't stereotypical interviews because we've already spent time with them for two weeks,' explains Jake. 'If you've met somebody and you've seen them work for what they want, there's none of that prejudgement. Then at the end of the interview we'll give them honest feedback, so even if they aren't successful they can go forward and interview elsewhere. And they'll have all that paperwork, experience, knowledge and qualifications to take with them, too.'
Successful interviewees are then offered a weeklong work trial, while all their final documentation is prepared. 'The work trial is effectively our induction. During the week they will complete a one-day shift on a unit, shadowing someone to see what it's really like. If they then step back and say 'this really isn't for me', it's no problem – it won't have affected their benefits and they will still be able to complete the induction to collect all those other bits of paperwork that will give them opportunities with another employer. 'Those who complete the work trial and have done well at what's been asked of them, they will then be offered a permanent, full-time job with PJ Care. They can then go into our mentoring scheme, undertake care certificate training and become a fullyfledged member of staff.'
Changing lives
The initial sector-based work academies have proved very successful for PJ Care, with three out of the five people taken on in Milton Keynes still working. The Peterborough academy resulted in the employment of one lady who had never had a job before. 'Companies were prejudging her. She doesn't learn at a very fast speed, so we created a mentor process and put her through our induction twice. Now she's one of our favourite carers on one of our really challenging units. She's never been late – she wants to be there! 'Of course this all takes time and resources. We're taking a chance with the long-term unemployed but they have a chance to flourish. Using this method we've effectively created a three-week interview, removing the stress of the traditional interview. And we are giving back to the community, by getting to those people who just need a chance. All you need is understanding and time.' The new intake is proving very hardworking. Jake and his team regularly check in to see how things are going and to offer support and encouragement.
'It comes down to PJ Care's core values: compassion, commitment and care. We deliver these three things not only to our residents but our staff and the people around us. It's the reason we are so successful and the reason people want to work here.'
PJ Care 0330 2020304, www.pjcare.co.uk
Leave a Reply