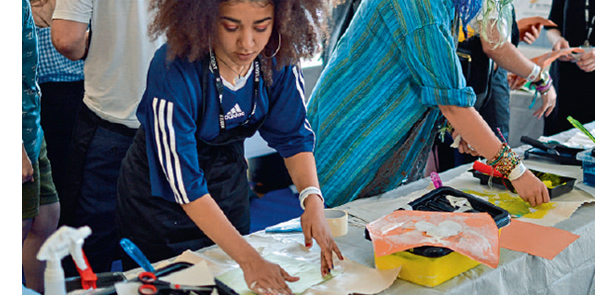 Last year the Mission Possible Careers Show attracted almost 6,000 people looking for careers advice and inspiration. This year's show will be even better and is the perfect chance to meet potential future employers, brush up your CV and gain a better understanding of the many opportunities available to you
Are you aged 14-24 and wondering what career to go into? Anything is possible and the East of England's biggest and most exciting skills and careers event is here to help you find out! Taking place on Thursday 21 June at the East of England Arena in Peterborough, the Mission Possible Careers Show showcases hundreds of opportunities available for young people in the local area. From current job vacancies to university places, you can expect to find advice on all different career paths under one roof.
In 2017, almost 6,000 young people attended the event from 38 schools across the region. This year, schools have been prebooking two-hour slots, with more than 4,500 students already signed up, to ensure that both visitors and exhibitors can get the most out of the experience. The Careers Show is also open to young people who want to visit either on their own or with parents, and is free to attend from 9:30am to 3:30pm. If this is you then all you need to do is pre-register your attendance at www.careersshow.co.uk
ANYTHING'S POSSIBLE
The Careers Show is organised by The Skills Service, an award-winning team within Opportunity Peterborough whose role is to facilitate partnership working between schools, training providers and businesses in order to develop the knowledge, aspirations and employability skills of young people.
The Careers Show is its biggest event and aims to: • Showcase the wide range of businesses, sectors and opportunities on offer, both locally and beyond • Improve the aspirations of young people • Help young people feel informed and inspired about different career paths • Help businesses to fill skills gaps with talented young people from their local area.
Steve Bowyer, Chief Executive of Opportunity Peterborough, is excited about the prospect of this year's show: 'This is the sixth time we have organised the Careers Show and its success continues to grow year on year. For me the event is about showing people what careers they might be passionate about and then how they can achieve it. 'For exhibitors, it's a unique opportunity to find people who might want to work for them in the future, a chance to engage with our young people and shape our economy of the future.'
Claire Smith is Marketing Manager for The Skills Service: 'The Careers Show is established as a key event in the calendar for schools from Peterborough and the surrounding areas, and we've got groups booked from as far afield as Bottisham, Hunstanton, St Neots and Bourne. 'With a huge range of businesses and training providers covering all sectors, it really is a one-stop-shop for careers inspiration and there's nothing else like it in the area.'
INDUSTRY INSIGHTS
To help guide the experience for visitors, exhibitors will be grouped in sector-specific 'Experience Zones' to provide a valuable insight into what it is like to work in different industries. The zones reflect the key employment sectors in our region and will showcase many of its employers. If you are seeking inspiration then you'll certainly find it here. No other event will give you the opportunity to talk to as many potential employers as this one. Discover what it's like to work in each industry industry and get the lowdown on the unique opportunities available to you.
THE 'EXPERIENCE ZONES' ARE
• AgriFood (sponsored by British Sugar) • Business and Finance • Careers and Enterprise (sponsored by CV Vid Careers) • Construction (sponsored by Anglian Water) • Creative (sponsored by the Peterborough Music Hub) • Health, Care and Public Services • Hospitality and Leisure • Logistics and Retail (sponsored by the Road • Haulage Association) • STEM – Science, Technology, Engineering and Maths (sponsored by Ford & Slater) • University (sponsored by Take Your Place)
All exhibitors will bring along activities to engage visitors and create an exciting and interactive environment, so expect everything from construction challenges to engineering competitions to hands-on beauty demonstrations.
SEE YOU THERE!
Interested? The Mission Possible Careers Show is free to attend if you pre-register your attendance at www.careersshow.co.uk There is ample free parking on site or bus numbers X4 and 24 stop on Oundle Road at the front of the venue. There will be refreshment areas serving food and drink throughout the day. This is a lively day with lots to experience and take in. Whatever stage you are at in your education or career, expect plenty of inspiration and genuinely helpful advice and leave feeling energised and ready to work towards a brighter future.
Top things to do at the Careers Show
FIND A JOB! Many exhibitors on the day will have current job and apprenticeship vacancies. Get chatting and see if one of them is right for you. IMPROVE YOUR PROSPECTS Drop-in to the Careers and Enterprise Zone to create a video CV, get tips on improving your CV and succeeding at interviews from business professionals. There will also be advisors on hand to signpost you to specific advice and support that's right for you. ENJOY THE SHOW Watch live music, drama and dance acts perform throughout the day in the Creative Zone and find out what goes on backstage. MAKE A CHOICE Considering your options for when you leave school? Want to continue your education and need some direction? Discover the right route for you to carry on learning through Further or Higher Education. TAKE CONTROL Take control of your future and be inspired by your career options! With so many ideas in one place – and so many professionals and educators to talk to – there really isn't anywhere better to do so.
The Mission Possible Careers Show
● For more information, contact The Skills Service on 01733 863696 or email info@theskillsservice. co.uk ● Keep up-to-date with plans for the Careers Show by visiting www.careersshow.co.uk, following @UK_Skills on Twitter or liking 'The Skills Service' on Facebook. ● You can also watch a video of the 2017 event to get a feel for what to expect: https://youtu. be/uzcoxFFYPRU
Leave a Reply