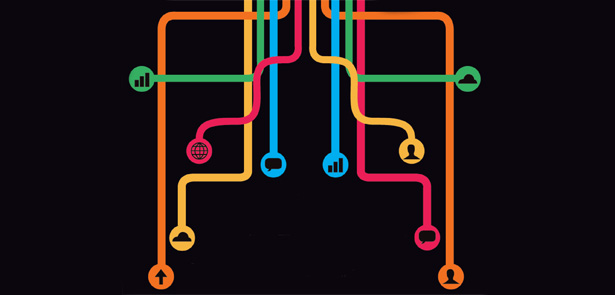 Peterborough's gigabit connectivity, courtesy of pure fibre broadband, is transforming the way the city does business
Peterborough businesses have been taking advantage of some of the fastest internet connectivity in the world via the Peterborough CORE and finding out what a difference it makes. Firms connected to the new state-ofthe- art network have discovered that gigabit speeds (1,000Mbps) can not only future-proof their businesses but also have a positive effect on their growth potential, client communications and customer service, as well as efficiency, flexibility and costs. CityFibre turned Peterborough into a Gigabit City earlier this year by installing 90km of pure fibre network.
In terms of connectivity, Peterborough now rivals cities like Stockholm and Seoul and has a network that will keep businesses one step ahead of competitors both in the UK and overseas. More than one hundred new business customers have already signed orders for services from CityFibre's service provider partners including Businesscoms, Rydal Communications, Hello Telecom, Consulting Networks and Cyberware. Andy Starnes, city development manager at CityFibre, says: 'Companies that are already connected are experiencing real improvements to their user experience and bottom line. You don't have to take our word for it – talk to them. It's great to be able to deliver on what we promised. For us, the next stage is bringing the benefits of gigabit speed connectivity to more and more businesses in the city.
'We cannot overstate the value of a gigabit speed digital infrastructure to our city,' adds Peterborough City Council's former leader Marco Cereste. 'As a Gigabit City we have a significant competitive advantage over other areas and are able to lead the way with an innovative and integrated digital strategy. Businesses are hungry for bandwidth and we recognise that because of this network, Peterborough is becoming an even more attractive place to build a business.'
Case study 1: Charging ahead of the competition
Background
The Bull Hotel is Peterborough's only four star city centre hotel. Comprising 118 bedrooms and 14 function rooms, it caters for a mix of both UK and overseas visitors. An adjoining conference suite has rooms for corporate events, functions and conferences. The internet has become an essential part of the service to guests.
The challenge
Despite multiple broadband connections, The Bull Hotel found demand for bandwidth fast outstripping supply. Business guests now expect efficient internet access, while many overseas guests prefer to stream TV programmes in their own language and to use Skype to keep in contact with colleagues and family back home. It is also important for the hotel to ensure all its function rooms are fully utilised. With video conferencing becoming ever more popular for business events, the need for an appropriate service to deliver the needs of businesses using these rooms was essential.
The solution
Service provider Businesscoms replaced The Bull Hotel's four broadband lines and multiple phone lines with a single pure fibre connection. Guests now have access to ultra-fast WiFi connectivity and the hotel's office staff is also fully supported. The guests are delighted, as hotel maintenance manager Howard Vacca explains: 'Usage has been astronomical. Guests have realised that the internet is so much more open to them and they're using it. Before this we were averaging about 400MB usage every month, but we've easily doubled that now.' Businesscoms has also upgraded the switchboard at The Bull Hotel, reducing costs by removing phone lines and installing a VoIP telephone system. 'The VoIP service has brought the cost of our telephone calls down. We've been able to pass the benefit onto the customer with a reduced phone usage tariff.'
Case study 2: Smooth, streamlined client communication
Background
i3MEDIA is a full service media agency working with major brands including the BBC, as well as SMEs and start-ups. When i3MEDIA moved to Flag Business Exchange in Fengate from Lynch Wood three years ago, the benefits of a large, open-plan single floor office – key to the business's creativity – was offset by the slow internet connection.
The challenge
i3MEDIA's success is reliant on the firm's digital capabilities and the ease with which it communicates with clients locally, nationally and internationally. Huge amounts of data are uploaded and downloaded daily and teams are constantly checking and updating websites Owner Azeem Yaqoob: 'We previously invested in a leased line internet service to help us meet the digital requirements of our clients, but despite costly monthly overheads, we were still seeing variations in speed at peak times. We were looking for an alternative service where we could see better value for money and higher quality service.'
The solution
i3MEDIA was one of the first businesses in Fengate to connect to the Peterborough CORE, replacing the leased line and all phone lines with a single pure fibre connection. With symmetrical upload and download speeds of up to 1Gbps i3MEDIA's internet experience is transformed. 'It's just so much faster,' says Mr Yaqoob. 'We are able to run a VoIP (online) service connecting our UK and international offices. We used to use Skype but now we can pick up the phone to someone who is several thousand miles away and it's like they're in the same building. 'With more and more clients and the requirements for instant exchange of files we've been able to streamline our cloud-based offering making exchanging communication between offices and clients a lot smoother. The clients love it and so do we.'
To register your business visit www.peterboroughcore.com or follow Peterborough CORE on Twitter @PboroCORE  
Leave a Reply