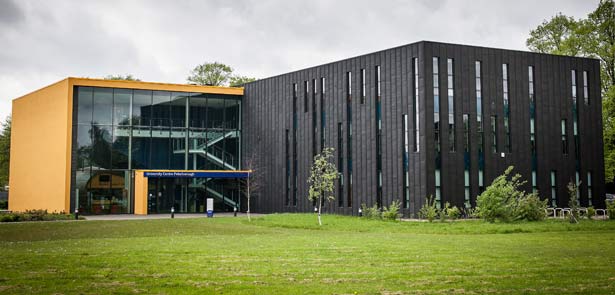 In the past, the world of business often regarded universities with some suspicion. But times have changed. Now, a new partnership of Peterborough's key providers of further and higher education has been launched to train the city's workforce and help the region grow
Think Peterborough is a new collaboration between Anglia Ruskin University, University Centre Peterborough and Peterborough Regional College to provide a range of accredited staff development courses. Clare Hickey, Business Sales Consultant at Anglia Ruskin University, explains how the impetus for the initiative came from businesses themeselves:
We had Anglia Ruskin University, Peterborough Regional College and the University Centre Peterborough all communicating with employers – often the same employers – and they were beginning to ask why three different organisations were going in offering similar services
It soon became clear that there was a need – and an opportunity – for a more integrated approach.
So, we all came together under a joint brand, which is how Think Peterborough came about. That means we can now offer an end-to- end solution, covering any skills development needs that your employees may have, from foundation level learning at level one, right through to Masters at level seven. It's really about efficiency for the businesses, having one point of contact, and listening to the comments we've been getting while we've been out there
Think Peterborough's courses have been designed to meet the requirements of a variety of organisations operating across the private, public and third sectors. Each can be delivered online, face-to- face, on campus in Peterborough or in the workplace, and span Peterborough and the surrounding region – including Huntingdon, Fenland and Stamford (although online delivery means the courses can effectively be delivered anywhere in the world).
We're focusing on five key areas, initially,based around Opportunity Peterborough's skills survey: business management – including marketing, finance and so on; hospitality and tourism; engineering and construction; care; and environmental. With the work that UKCEED are doing in the area at the moment, there's a lot going on with regard to environmental issues
It's early days for the initiative, which was launched at a bondholders breakfast on 7 February, but already the benefits are being felt.
It means, for each of us, that we go into a meeting knowing we have something to offer a business whatever their requirements are. There's just a much broader range of things that we are able to offer by working together. And while it's a service for business, it's relevant to the individual as well, so if an employee wishes to do some work-based learning, they know that they can come and talk to us at whatever level they're at, and they can progress
The smart businesses are catching on to the advantages, too.
We've aready had some really positive feedback with regard to what we were trying to achieve. Some may have reservations, initially, based around the time or cost. But we are always trying to make the point that this is an investment. Courses are work-based, so the application of the learning is relevant to the immediate work environment – and this training also helps businesses keep and maximise the talent they already have
To find out more about Think Peterborough, visit https://thinkpeterborough.anglia.ac.uk/ or call 0845 196 6709.
Leave a Reply