Steve Bowyer, Opportunity Peterborough: 'People mean business…'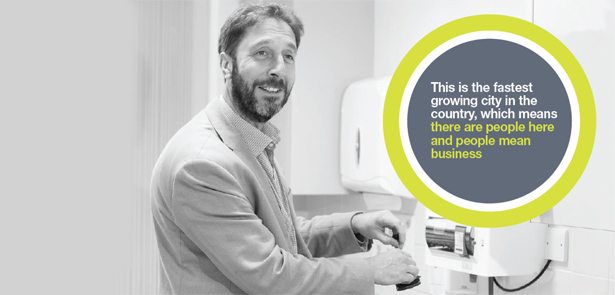 Whether you are starting out, looking to expand or even launch into overseas markets there's plenty of business support right here in Peterborough. The Business Moment catches up with Steve Bowyer, Acting Chief Executive at Opportunity Peterborough, to find out exactly what help is out there and the impact this is having on the city's economy
FOR THOSE WHO MAY NOT BE FAMILIAR WITH OPPORTUNITY PETERBOROUGH, CAN YOU START BY TELLING US WHAT IT'S ALL ABOUT?
Opportunity Peterborough is a private company that is owned and primarily funded by the city council, so effectively we sit between the public and the private sector but are very much focused on private sector businesses in the city. We want to help them grow but also attract new business into the city so that we create the economy of the future for Peterborough.
WHEN WAS OPPORTUNITY PETERBOROUGH SET UP?
It was set up in 2005 as an urban regeneration company. We were charged with bringing forward the physical redevelopment and regeneration of Peterborough, and we had some success with, for example, the Cathedral Square transformation. Then in 2010 we morphed into an economic development company, taking greater responsibility for economic growth, business engagement and support plus inward investment. Since then we've focused on supporting local businesses.
THE EVOLUTION INTO AN ECONOMIC DEVELOPMENT COMPANY MUST HAVE HELPED COUNTER SOME OF THE EFFECTS OF RECESSION AT THAT TIME.
To be honest the city has ridden out the recession remarkably well. We've still seen growth in the companies that are here and, of course, there's been fantastic new investment, whether that's from all the retail and restaurants flowing into the city centre or the businesses coming to the outskirts, such as Access Prepaid or Kelway IT Solutions. There's a good mix now, from both new investment and growth of those businesses already here.
DOES THE BUSINESS SUPPORT FROM OPPORTUNITY PETERBOROUGH AND ALL OF THE OTHER PROGRAMMES OFFERED MAKE PETERBOROUGH ONE OF THE BEST PLACES IN THE COUNTRY TO START A NEW ENTERPRISE? I APPRECIATE YOU MAY BE BIASED!
There's lots of great things happening in Peterborough, whether I'm biased or not! If I was looking at the city objectively, would I say it's a good place to setup a business? Definitely, yes. There are three main reasons for this. Number one, Peterborough has got all the infrastructure, connections and networks necessary for a business to flourish. The foundations are there. No matter how much support you have around you, you need this to make sure you can just get on and do business. You can do that here and the evidence backs this up. For example, we're second in the country for private sector job growth – that means businesses are flourishing here. Of course, we still need to do more and help these businesses to grow. Number two, this is the fastest growing city in the country, which means there are people here and people mean business. Whether you are a manufacturer or a retailer, you need people around. This is a growing and ambitious city; businesses should be here to ride that wave of growth. The third reason is the support that's available in Peterborough. A lot of this support isn't unique to the city but the difference here is that you have a dedicated economic development company looking after business interests. Opportunity Peterborough is very much that hub where it all comes together.
SUPPORT IS INVALUABLE WHEN YOU'RE THINKING ABOUT STARTING OR EXPANDING A BUSINESS. CAN YOU GIVE US AN OVERVIEW OF THE TYPES OF SUPPORT AVAILABLE?
I'd put the support available into the following categories: direct business support, creation of the right business environment, and enabling business to help themselves. When it comes to direct business support there's always someone to help, no matter where you are on your business journey. Ignite Peterborough, for instance, helps young entrepreneurs up to the age of 30 to start up their companies by offering direct help. Then there's NWES who will tackle and address issues for any company that's starting up. Funding also comes under the category of direct support. One example is the Growing Places Fund that is available through the Local Enterprise Partnership for any business looking to grow. Creating the environment for business success is taken care of by those organisations that influence, lobby and push and represent business interests. This includes… [cont]
Leave a Reply