Profile | Studio 24: web of knowledge
Profile | Studio 24: web of knowledge 1 2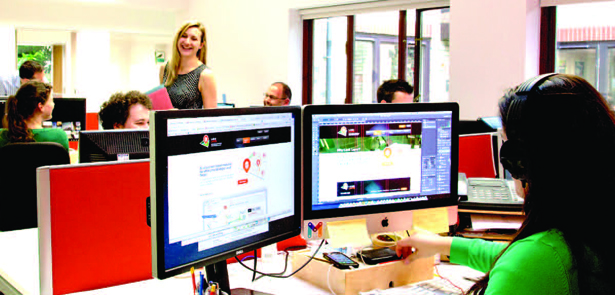 When it comes to technology, we've come a long way since the turn of the millennium. Back then, we were grappling with Y2K paranoia, still debating if e-commerce could be trusted, using dial-up modems to get connected and relied on phones that were actually attached to the wall! Web design agency Studio 24 has flourished since its 1999 launch, hitting £1 million in turnover for the first time last year. On the eve of the company's 15th anniversary, Shannon Denny grills managing director Jonathan Woods on its past, present and future success
FOR ANYONE WHO HASN'T COME ACROSS STUDIO 24, WHAT DOES YOUR BUSINESS DO?
We're a digital agency and our core services are web design and web development.
THERE SEEM TO BE A LOT OF DIGITAL AGENCIES NOW; WHAT SETS STUDIO 24 APART?
There are now, but there weren't so many in the past. Unfortunately the market is becoming a little bit commoditised at the moment, with everyone claiming they can do web design. We've been around 15 years now, so the key thing we're offering as a differentiator is the wealth of experience – actual skills and knowledge – that the team has built up over the years.
HOW DID IT ALL STAR T FOR YOU?
Simon Jones, my business partner, founded the business back in 1999. He was working at Anglia Ruskin University as Web Support Officer. He started doing freelance work and then in 2000 he wanted to make it a limited company, so he asked me to get involved as a co-director. I was just starting out in my career; it wasn't until 2004 that I joined in a full-time capacity.
FIFTEEN YEARS IS AN INCREDIBLY LONG TIME IN THE WORLD OF TECHNOLOGY. FROM YOUR PERSPECTIVE, IS IT A COMPLETELY DIFFERENT WORLD TODAY?
It is, and it's changing so quickly. You can't really be a Jack-of-all-trades these days because there are so many different components that are needed to focus on the whole digital atmosphere. You've got to have many different people with their own particular skillsets to piece it all together. That's the good thing about having a slightly bigger team. We're not enormous but we've got a range of different people's perspectives and skills.
WHAT DID YOU BOTH STUDY AT UNIVERSITY AND WHAT WERE YOU DOING BEFORE YOU JOINED THE AGENCY FULL-TIME? WAS THAT FORMER ROLE RELEVANT TO YOUR EVENTUAL CAREER WITH STUDIO 24?
Only in the sense that I was learning sales, marketing and business at someone else's expense! I worked in an international sales and marketing role for a publisher. At university, Simon did English Literature, believe it or not because there were no internet courses then. And I did business and German.
A HOST OF FAMOUS TECH GIANTS GOT THEIR START IN SILICON VALLEY GARAGES. CAN YOU SET THE SCENE FOR STUDIO 24'S EARLY WORKING ENVIRONMENTS?
It was Simon's flat in the early days. Then we got offered our first formal office in 2004. We laid the floor ourselves, decorated the whole thing – built the workstations, everything.
WHAT WAS THE BUSINESS FOCUS THEN?
The sites weren't as complex in those days, so we just tried to build our portfolio up. Then we started hiring staff so we could widen the offering
FAST-FORWARDING TO NOW, WHAT IS YOUR OFFICE LIKE?
About six years ago we bought our own building. It sounds a bit grand, but we rent out some of it and retain about three-quarters of the building with 15 employees at the moment.
YOU'VE ALWAYS BEEN IN CAMBRIDGE, SO WOULD YOU SAY YOUR GEOGRAPHICAL LOCATION HAS WORKED TO YOUR ADVANTAGE?
There's obviously a big digital environment in Cambridge. We're the Silicon Fen! In terms of technology and innovation Cambridge is the leader. It's a booming city that hasn't been affected by the recession.
HOW HAS THAT BEEN POSSIBLE? WHAT'S MADE THE CITY THIS RECESSION-FREE ZONE?
It' s because the city is growing so quickly. There's so much inward investment into Cambridge: Microsoft Research, a lot of biotech start-ups, a lot of innovation. The city is growing massively. And so are the house prices! It's virtually zero per cent unemployment. It's been good.
IS YOUR CLIENTELE LOCAL?
Probably about 80 per cent. As long as we're within meeting distance it's absolutely fine.
AS A DIGITAL COMPANY, DO YOU RELY ON VIDEO CAPABILITIES THROUGH FACETIME, SKYPE OR GOOGLE HANGOUTS TO CONDUCT REMOTE MEETINGS?
If I'm honest, I personally would never replace face-to-face. Whilst those tools are obviously great, I still think business is essentially done face-to-face. You see the whites of someone's eyes!
THE INTERNET HAS BEEN A HUGE DISRUPTOR IN THE BUSINESS LANDSCAPE. WHY DO YOU THINK STUDIO 24 HAS LASTED?
Even in its infancy, I think we started as a digital agency, whereas most of the competition tended to be traditional brand agencies. They were being asked to do websites, but these agencies had traditionally been set up by graphic design people. Then the graphic designers would be… [cont]
Profile | Studio 24: web of knowledge 1 2
Leave a Reply