Media Matters: Putting the PR into Peterborough!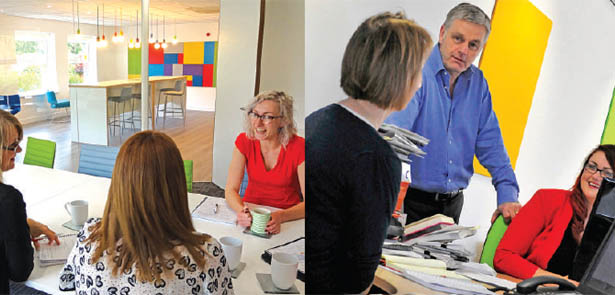 Media Matters is one of the city's longest established PR and marketing agencies. As it reaches its 20th anniversary in business, Managing Director Peter Corder reflects on how the company has responded to the huge changes in communications over the last two decades and what the future holds… 
How times have changed. It's difficult to believe that 20 years ago there were only 130 websites on the Internet, Google didn't exist and you had to pay to have an email account. Javascript programming was just emerging and Windows 95 was pretty revolutionary for its time, offering new features like the taskbar and start button!
This was the landscape on which Media Matters burst into life. Ironically, while the tools and channels at our disposal have changed radically, the essence of what we do as a business remains fundamentally the same. The growth of the Internet and everything digital has transformed the way we all do business; how we talk to our customers and stakeholders; and the way we manage reputations. But the same basic principles of communication apply, even if we are using a much more immediate and intuitive range of tools to deliver it. I worked for 15 years as a journalist for some of the UK's most successful local and regional newspaper groups as reporter, sports writer, sports editor, group editor and editorial director.
I chose to leave the corporate newspaper world to spend more time with my newly born son and to work for myself. Media Matters began life from a spare room at my home. I achieved the work/life balance. I attended all the school assemblies and plays; watched my son play sport as he grew up and also saw Media Matters establish itself as a respected regional communications agency. The company has come a very long way since those early days. The agency is now a team of 12, serving regional and national clients from its own offices in Lynch Wood Business Park. The business has embraced change, becoming one of the first agencies in the region to adopt digital services at the outset. It is Google accredited and regularly leads training and networking in this field to help others understand changes online which could impact their business.
We began life as a PR agency. Most staff backgrounds were journalism and we had received plenty of poor PR coming into the newsroom. We knew we could do much, much better. So we set out to deliver a more news-focused service. Our business has grown organically over the years. Clients have asked for more of our time and services as our portfolio has expanded. We made a conscious decision to fully embrace and maximise the benefits of the digital revolution and this has paid dividends. Clients have reaped the benefits and we have been able to bring specialist staff into the business to help grow this everchanging area.
Behind all of this growth has been the core service with which we began two decades ago – PR. It runs through everything we do and is more essential today than it has probably ever been. Creative content is now the most important element in all forms of modern communication. I don't think any of us could have envisaged where our industry would be today and who knows where it will be in another 20 years. It's the unknown which actually makes this such a challenging and exciting profession.
As Media Matters celebrates its 20th anniversary year, it is continuing to freshen up its own image to remain contemporary and relevant. While we may be 20 years old we are as energetic, enthusiastic and brimming with ideas and creativity as we were 20 years ago. We are currently building a new website which will go live soon and have refreshed our logo and branding. We have also just undergone a major refurbishment to our Lynch Wood offices to create a great working and meeting environment for both staff and clients alike. It has been a rewarding and exciting journey over the last 20 years but the future is brimming with new opportunities too. We are introducing new service packages; embracing the seemingly never-ending opportunities in the world of digital communications; and helping more businesses to meet their objectives in new and imaginative ways. Oh – and for the record, my baby son born almost at the same time as Media Matters, is now studying at university in Newcastle! How times have changed…
MEDIA MATTERS 42 Tyndall Court, Commerce Road, Lynch Wood, Peterborough PE2 6LR 01733 371363 www.mediamatters-pr.co.uk
Leave a Reply