New Look For Peterborough's Historic Thurston House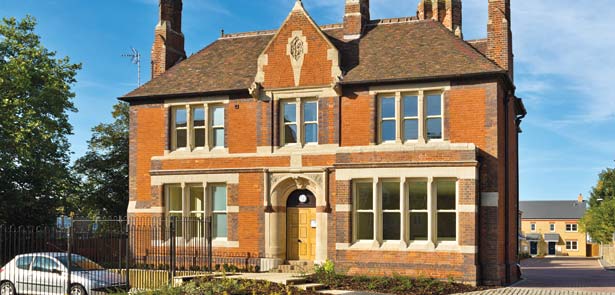 Steeped in a rich economic and social history, an eye-catching new Peterborough development is offering potential home-buyers the best of both worlds
In the height of the Victorian era an elegant building was constructed to house one of Peterborough's most influential businessmen, a man who was helping to shape the city's industrial outlook.
This building was called Gayhurst and was to be the family home for William Barford, an ambitious man who went into partnership with Stanley, of Stanley's Ironworks. This company became Barford and Perkins, from which Perkins Engines was to emerge. In 1884, 11 years after the house was built, William Barford was appointed Mayor of Peterborough. He was also one of the first shareholders
of the city's first newspaper, the Peterborough Standard.
From its initial birth as the residence of one of the city's most important industrial thinkers, Gayhurst maintained its stature throughout the 20th century before it was renamed Thurston House in the 1980s.
Used as serviced offices for the last 20 years, Thurston House has just undergone extensive redevelopment thanks to social housing provider Accent Nene and is now the focal point of an appealing collection of 25 houses and apartments in the newly named Townsend Close. The development will be officially opened by longstanding Peterborough City Councillor Charles Swift on Wednesday 12th December, but some residents have already moved in to Townsend Close, settling into a new life in the heart of the city centre.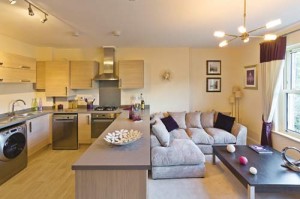 Managing director of Accent Nene, Andrew Williams, said he was looking forward to seeing another generation of families enjoy this historical home, a rare example of a building that illustrates the social and economic history of Peterborough.
It's a fantastic site in the middle of the city. It's one of the few housing sites in the centre of Peterborough. There are more than 9,500 people on Peterborough's housing register so there is no shortage of demand for social housing
The original façade of Thurston House remains.
We had to replace the roof and the external brick wall was all cleaned and repointed. We also knocked down the back extension of the building because it was in poor condition, added new windows, and new services and divided the house into four apartments
Chairman of Peterborough Civic Society, Peter Lee, is pleased the historic significance of Thurston House has been maintained.
We regard Thurston House as being of particular importance to Peterborough as the city doesn't have many buildings built by Victorian entrepreneurs. We were always strongly supportive of the building being retained. It housed three mayors of Peterborough, starting with William Barford who named the building Gayhurst, after the village, near modern day Milton Keynes, where he was born
When William Barford passed away, his son James inherited the house and took over the family business. He was appointed Mayor of Peterborough in 1913. In 1927 the house was purchased by John William Williamson, who had also been Mayor in 1915. Following his death the house was auctioned and at this point it was converted into five flats.
In 1936 Wadlow Brummitt purchased the house and in 1958 it was sold to the Soke of Peterborough County Council for use as their Civil Defence headquarters. In 1965 the building was taken over by Peterborough City Council where it remained as the Civil Defence headquarters until 1975. During this period the large grassed area that was originally in front of the house was enjoyed by many local people as one of the top bowling greens in the area.
Between 1975 and 1986 new buildings were constructed to the south side of the house (and were later demolished) to provide offices for the Peterborough City Architect and part of the City Engineer's department. It was during this time that the name of the house changed from Gayhurst to Thurston House. In 1986 Thurston House was sold to Nene Housing Society (the predecessor to Accent Nene) as a potential housing site.
Moving on 26 years, this housing site had now come to fruition and Andrew Williams is particularly excited by the shared ownership scheme at Townsend Close as it allows people to take their first step on the property ladder who can't afford an outright purchase.
Subject to criteria, it is possible to buy a 40 per cent share in a two-bedroom apartment in Thurston House from just £40,800. Shares of just 25 per cent are also available. On the remaining percentage rent is payable, along with a service charge, management and insurance charges.
Such has been local interest that the five shared ownership houses in Townsend Close have already been sold. The 16 rented properties on the scheme were let as soon as they were handed over from the contractor.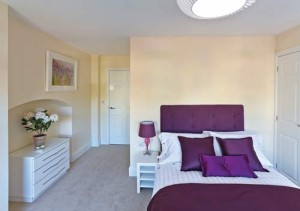 Thirty-year-old Oliver Hession has just moved into Townsend Close with his young daughter. He's lived in Peterborough since the age of nine, but he says this is fast shaping up to be his favourite home.
I've moved around a lot. I've lived in Orton, Hampton, Fengate and Fletton. Even though I've only lived here for two months I love it. My daughter likes it as well. It's great having a garden here
With a young family, mother-of-three Rania Ali is a big fan of the location of Townsend Close.
It's a nice, quiet area. It's close to the centre of town but you don't hear any of the noise. The office (Accent Nene) is just over the road as well, so they can come to see us and help if we need something. Because I come from Egypt I have always had an interest in history. I like Thurston House, I'm glad it has stayed. It's an old-fashioned building and it looks great from my window
The initial plans to develop homes on the site included the demolition of Thurston House. However, when campaigners including Peterborough MP Stewart Jackson caught wind of this proposal, and the full historic significance of the building was outlined to Accent Nene, the plans were revised. All the properties in Townsend Close have been constructed to compliment the local environment and a wide range of modern building techniques have been used with this in mind. Energy saving is at the forefront of the development and all properties include highly efficient boilers; photovoltaic (PV) cells on the roof to aid electricity generation and double-glazed PVCu windows. Other eco-friendly aspects of Townsend Close include internal light wells and an innovative underground household rubbish storage scheme.
Features of all the homes for sale include fitted kitchens with a stainless steel oven, hob and extractor and modern units, worktops and upstands. Bathrooms are fitted with chrome radiators and top quality flooring is included in the kitchens and bathrooms. Homes all benefit from gas central heating and high standards of insulation.
For all enquiries on the shared ownership scheme please call Accent Nene on 01733 295400 and ask to speak to a member of the sales & marketing team.
Leave a Reply