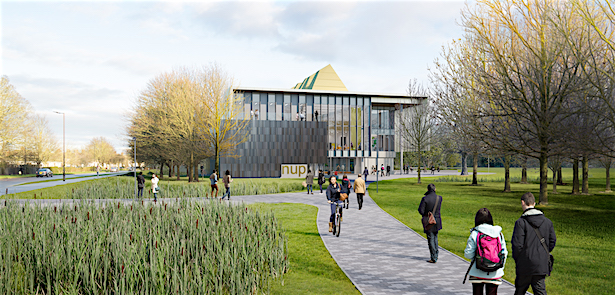 Peterborough's new university is happening, with building due to start before Christmas 2020 – and the Combined Authority have just announced that Anglia Ruskin University will be their partner in the creation of the new, fully independent university with its own degree-awarding powers. Toby Venables talks to Combined Authority Mayor James Palmer about the announcement and the future of the project.
The big announcement at the moment is the partnership with Anglia Ruskin University, who already have a historical connection with education in Peterborough, being the degree-awarding body for University Centre Peterborough (UCP). Anyway, tell me how this new partnership came about and why Anglia Ruskin…
Going back to when I was elected, we had, as you said, an agreement in place in principle with Peterborough Regional College and Anglia Ruskin, but there was no vision then of what the university could be or what it needed to be. We've looked around at universities across the entire country and we've seen that some are struggling, and just building another struggling university is not really in the interest of Peterborough or anywhere else. So we had the Cambridgeshire and Peterborough Independent Economic Review (CPIER) and that gave a very clear indication of exactly the kind of institution that we would need to create to successfully feed into our economy. We all know, obviously, Peterborough has got grand heritage and a great heritage in engineering and manufacturing. Of course, being on the edge of the Fens as it is, the links into agriculture and the agricultural economy are strong.
So, what our Independent Economic Review gave us was the clear evidence base of what kind of university to build in Peterborough, and that is an employment focused, 'hybrid' university that is a blend of the academic, the technical and the vocational – the kind of university that you go to to forge a career.
And of course, what we want is for those people to stay in Peterborough. We know that Peterborough has a lack of people with degree level qualifications in the employment areas that we are trying to fill. So that was the initial thinking.
Then we thought about who is the university with the kind of experience for what we're trying to achieve. Bear in mind, there isn't a 'hybrid' university of this kind in the UK, these are really more German style institutions, so we can't simply go out to another university like this one. But we had a number of expressions of interest – we spoke to about ten universities in total – and what was clear was that Anglia Ruskin not only have a passion for the eastern region, and a link to Peterborough through their own relationship with University Centre Peterborough (UCP) and Peterborough Regional College (PRC), they also are one of the most advanced when it comes to offering vocational, engineering and technical apprenticeship-style courses – hands-on courses. So it wasn't just that Anglia Ruskin are down the road and that it was handy – there are many universities close at hand, including Norwich – it's really their experience in delivering the kind of courses that the university is going to specialise in.
What you're saying is that this university needs to belong to Peterborough, not just in terms of location, but in terms of the type of university that it is…
I've said before, this is the kind of university you come to to get a career, and it has to be unique to Peterborough because Peterborough is unique. It's going to be the first university of its kind in the country and I think it's going to be absolutely fantastic. Peterborough is a fabulous city with masses to offer, and here we are building a brand new university investing tens of millions of pounds, which I think will become a catalyst for further investments. The most wonderful thing is that Peterborough has somewhere to build this university that's dead central. If you look at other new universities they don't tend to be right in the middle of cities, they tend to be right out in the sticks. This is more than just a statement of investment into the Peterborough economy, it's an investment into the very fabric of the centre of the city itself. That's not just about rebuilding of the city centre but also the really exciting, technologically advanced businesses that we know will come with that. I think Peterborough is going through such an exciting rebirth at the moment, and the university is a very significant part of that.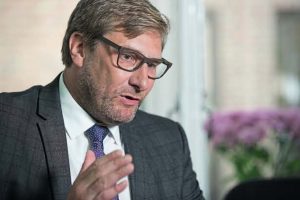 When it comes to Anglia Ruskin's involvement in practical terms, am I right in thinking that they are part of a process at the end of which the university becomes fully independent – so, no longer actually part of Anglia Ruskin?
Yeah, absolutely right. The rules are very clear. You can't just put a university with degree awarding powers down in a city, you have to have a partner that is already a degree awarding body hold your hand through the process. So Anglia Ruskin holds our hand and helps us until the university is ready to take that step to full independence. That will be around 2027/28, at which point it will be able to forge its own future.
Plans for the new university have been ongoing for a number of years, and really began to take off over the past year. But what no one saw coming was COVID-19… Has this impacted on the university plans?
Not negatively at all. I mean, one thing I'm very proud of is that the Combined Authority has worked all the way through COVID-19 and, has been able to forge deals during that time, Anglia Ruskin being one of those. There will be other exciting announcements on Peterborough University in the next few weeks and months as well; we're working very hard on phase two, which I can't say any more about just yet. In fact, the only delay that occurred in this whole university project since it came under the control of the Combined Authority is a planning one that came about because we got some extra money to put in so we're making the building a bit bigger. So, instead of starting in September we're probably going to be starting in October/November. That's the reality. But we are absolutely on target. Three years ago this project was nowhere, but is now flying with brilliant people working on it. Our relationship with Mason – who are putting together the design and have the experience of starting off universities and getting it right – is exceptional. So, our timeline is strong, and this university will open in 2022.
Recently, with regard to recovery after the pandemic, the Prime Minister has said 'Build, build, build…'. This would seem to be absolutely on message with that…
What I would say about the Prime Minister is that it's lovely that he's come on board behind exactly the policies the Combined Authority already has! The Prime Minister has had his full mandate as leader of the country since December of 2019, but we've been going since May of 2017. But I think it's not that remarkable that the policies of the Combined Authority are very similar to those of central government, investing heavily into infrastructure for future prosperity. 
Another effect of the pandemic is that it's shifted people's thinking about travel and how and where they interact – and even, in some circumstances, whether they need to at all. Do you think that as a result of this more people will be looking closer to home for higher education, and that the new university could benefit from that?
I think there's potential for that. But I also think it's too early to tell whether people generally will want to travel to universities or stay away. What's clear, going back to all the research that we've had done and the CPIER report, is that if we create a university with degree apprenticeships, we open up the opportunities for higher education to more people living in the Peterborough area, who a) don't want to travel, or b) can't afford to go and live somewhere else, or c) have families who don't want them to go and live somewhere else. And it is a deliberate policy that we're not putting in halls of residence from day one. We want this to be available to local people, first and foremost, and then as it grows and as it becomes more successful, then we will build in the extra accommodation as necessary. Whether COVID-19 will affect that mindset, I don't know – but we'll be ready if it does. 
The immediate benefits to education locally are obvious, but what are the knock-on effects – and how do your other responsibilities, housing and transport, fit with this new growth?
Well, first of all, we know that cities with central universities have vibrant city centres. All of us who know the city well and are open about it would say that the city centre is not a vibrant place to be in the evenings and that's something that we're working very hard to change. We are working very closely with the City Council on reopening the shops, restaurants and bars and there is certainly a drive from within to create more of a café culture, more of a leisure culture around the city centre, and I think the university will certainly help that. Added to that the massive investment into Station Quarter, North Westgate, the relocation of the market, £25 million city centre fund from government… The university is a catalyst for all of these.
When it comes to housing, Peterborough is actually quite rare in Cambridgeshire in that it does its bit for housing! It builds quite a lot and that's reflected in the cost of housing. I'm sure you're aware of our ambition to build £100k homes in every part of Cambridgeshire and that's a £100k home that you can get a 98% mortgage on, that's protected, and that gets you in the housing market at less than rate. That will feed brilliantly into university culture because when you come out of university and need somewhere to live, here's a place that will be cheaper than living in halls of residence.
Your other point on transport… We're very excited about what we're doing with Cam Metro initially in South Cambridgeshire but the technology that we're hoping to use is very much geared to a whole county solution and Cam Metro will reach the entirety of the region over the next 15-20 years. Added to that we've just been working with government and will get around £850,000 on walking and cycling improvements in the short term. We will be bidding into more and more pots for that, and of course, the university would be linked by cycle routes in the future. Peterborough already has pretty much the best cycle network of any city in the UK.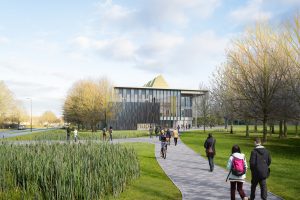 Will the university asset make it easier to attract other kinds of funding to the city?
If you're talking about government funding, this government will certainly fund where there are opportunities for growth – and let's be honest, we've borrowed a lot of money over the last four months, and the only way to pay that back is through business growth and wealth creation. So that will be where government look. My view is that what government investment can do is create private investment, and I think that's where we are. I'm not saying there won't be more opportunities for government funding – there absolutely will be and as you would expect, myself and the local MP will be all over every single opportunity that comes along. But I can say to the private sector that I believe so strongly in Peterborough I'm willing to put in tens of millions of pounds of investment into building an educational facility that will be part of the fabric of Peterborough not just for the next five years but, I hope, the next 500 years. That means an engineering heritage that isn't just based on what's gone but what's to come, plus everything I've already mentioned that is happening with the city centre. So we're saying to the private sector 'Why don't you come to the party?' That's exactly the leverage we will be using over the next few years.
How does this change the way Peterborough is perceived?
This is not just about Peterborough having a university. Lots of places have universities. Peterborough is going to have the first university of its kind in the UK. It's going to be standalone – different from every other university. The driving force behind this facility is to create an environment which will get you a career. I don't want to be disparaging to other universities, and we know university is about the experience as well, but I don't want people to come out after spending a fortune with a degree that doesn't get them any further. And it's going to be the gold standard. I think that Peterborough deserves the very best and that's exactly what we are putting forward. This university has been talked about since I was a boy and it's always seemed an impossible dream. But now it's not an impossible dream. Now it's reality. Now it's happening. And it's going to open its doors in 2022. Peterborough is going to have to get used to being a university city, because that's exactly what it is.
---
WHAT IS ARU PETERBOROUGH?
ARU Peterborough, a Cambridgeshire and Peterborough Combined Authority and Peterborough City Council initiative, is a new £30 million university set to open its doors to 2,000 students in 2022 with an ambition to offer courses for up to 12,500, by 2030
Driven by James Palmer, Mayor of Cambridgeshire and Peterborough and the Cambridgeshire and Peterborough Combined Authority, in collaboration with Peterborough City Council and Anglia Ruskin University, ARU Peterborough will provide transformational and inclusive higher education for the city and region.
ARU Peterborough will be at the cutting edge of industry with expertise, employment opportunities and course offerings across a range of faculties to meet business need.
The first four faculties of ARU Peterborough will be:
The Faculty of Business, Innovation and Entrepreneurship
The Faculty of Creative and Digital Arts and Sciences
The Faculty of Agriculture, Environment and Sustainability
The Faculty of Health and Education
Courses will be delivered through a mixture of on-campus lessons, in-work training, and apprenticeships, with distance learning and outreach programmes to improve accessibility and widen participation.
The vision
The Cambridgeshire and Peterborough Combined Authority have been working closely with partners and key stakeholders for the past 3 years in planning the new University, an ambition of the city for over 20 years.
ARU Peterborough will provide a practical solution to the problem of low employment and skills levels across Peterborough. It will aim to boost the skills and employability of students.
It has been created to address a higher education cold spot, widen participation by attracting a diverse student population from nontraditional backgrounds to improve social mobility and to redress the skills gaps within businesses and industries across Peterborough and the rest of the region.
Leave a Reply