Peterborough: bouncing back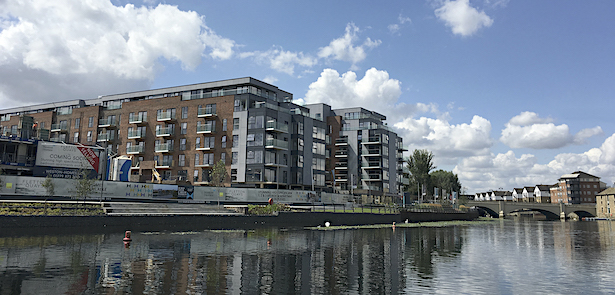 After lockdown, Peterborough's city centre and economy have recovered faster than most. The city's economic development company, Opportunity Peterborough, examines this bounce back, and how heritage, culture and lifestyle could influence future investments.
"There's definitely reason for Peterborough to feel confident about the future," explains Tom Hennessy, chief executive of Opportunity Peterborough. "Even towards the end of lockdown and going into August, Lidl, Amazon, URBN and AM Fresh created over 800 jobs alone. Chains like John Lewis and Pizza Express also chose to keep their Peterborough stores open amid national challenges. Under normal circumstances this would be solid growth – in the context of coronavirus it puts us ahead of most of the country.
"Peterborough has a very flexible, agile and resilient economy. Although that means it can feel the effects of global downturns quickly, the bounce backs can be just as fast." More positive news for Peterborough has been its city centre recovery. A study by the thinktank, Centre for Cities, showed that by the beginning of July, footfall peaked at 80% of pre-lockdown levels. Tracking overall activity during the week, weekend and evenings, and within workplaces, Peterborough city centre was recovering faster than the average.
"Most businesses we're speaking to feel much more confident than they did in May and they've responded very quickly to come up with different ways of working and getting their products and services to customers. The next few months are critical and we'll be supporting businesses to stay responsive and adapt their plans."
Jobs, jobs, jobs
One of the biggest challenges the country may face is in the jobs market as businesses begin putting new processes in place and may be on the lookout for entirely new skillsets in their teams. As part of wider work to support these changes, Opportunity Peterborough's Skills Service team worked on the Talent Portal launched by the Cambridgeshire& Peterborough Combined Authority over the summer. The portal was designed to offer bespoke matchmaking between job seekers and employers, particularly those looking to fill skills gaps as part of strategic changes. In partnership with local businesses and agencies like JobCentre Plus, hundreds of jobs were posted.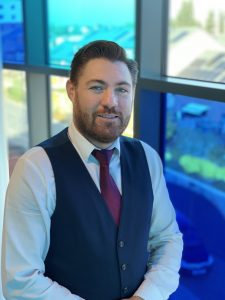 "The changes in employment levels with the end of the Job Retention Scheme will also be a big indicator of business confidence and success," adds Tom. "The scheme has safeguarded millions of jobs across the country, and there will be a large proportion of staff who are now back from furlough. At this stage, it's difficult to gauge how much employment will be affected. Businesses need to remain responsive, and hopefully the last few months have shown enough recovery that most organisations can keep on the majority of staff, if not all of them. What we will be looking for are sector specific challenges we can help overcome, connecting emerging industry leaders with residents looking for new opportunities.
"One trend we are sure of is that the under 30s have had their earning potential hardest hit – that's true at local and national levels. At the start of 2020, we'd already begun working with Youth Employment UK, local employers, support agencies and educators to create a better safety net for young people that helps them develop their skillset, find work, and stay in employment. Now, we're able to revive this project; the city has one of the highest proportions of young people in the country and we want to be pro-active in creating opportunities and boosting prosperity for the under 30s."
Building Back Better
As the Job Retention Scheme showed, government funding has been critical for keeping businesses alive. The latest scheme, Eat Out to Help Out, successfully packed out restaurants at the start of the week, and there's cautious optimism that footfall will continue to increase on the high street.
Although traffic levels and public transport use suggest people aren't travelling as much, there are still opportunities for local attractions, heritage sites and tourism hotspots to bring in customers.
According to the latest data from before lockdown, close to 10,000 jobs in Peterborough were related to the arts, heritage and tourism, equivalent to nearly 10% of all jobs.
A similar proportion of jobs were held in these industries nationally, with 2.6 million jobs generating £106 billion for the UK economy.
"In one way, Peterborough is at an advantage," says Tom. "Compared to cities like Cambridge, visitors tend to come from neighbouring districts and the wider region, rather than abroad.
"Heritage and culture are important for any city's economic health, and Peterborough's no different. It's not just a big employer but it brings visitors to the city, the more attractions there are, the longer people stay and the more money gets injected into our local economy.
"It's also a really powerful way to develop residents' connection to where they live. Just when you think you know what Peterborough has to offer, you often stumble upon another hidden gem. There aren't many places this size that can boast two Bronze Age sites, a cathedral, a Roman settlement, and then also host some of the UK's largest shows and festivals like TruckFest and the Beer Festival.
"Developing the visitor economy requires a place marketing strategy which we're in the very early stages of establishing. This would bring all of the promotional strands for Peterborough into one package so we can deliver more for the city, its businesses, and the economy. There's a lot of appetite for this locally and we want to use it to address new and long-standing challenges, especially as we all need to adapt to a new way of living and working.
"To an extent, lockdown sped up some of the high street's evolution. The challenges facing retail weren't new, but there's now a real drive towards offering experiences in city centres that can't be delivered online or remotely. The plans fora cultural hub in the TK Maxx building really play into this. It will create a vibrant new focal point, drastically improve curb appeal and offer much more potential for collaboration between cultural and support services and groups who will all be sharing space."
In fact, Peterborough is set to undergo a £600 million transformation across eight regeneration sites across the centre, spanning from the railway station and North Westgate, down to Fletton Quays and Rivergate. Most sites will have residential and commercial space, but one of the most important aspects will be how these sites enhance culture and retail so that people stay in the centre for longer.
"These regeneration sites are really compelling for companies looking for their next UK investment site. Regardless of their sector, they want to be somewhere that's growing and has some real ambition. These businesses are investing millions of pounds, so they'll do a lot of research before they choose somewhere. It's up to us to provide the evidence they need to understand our area's economic and sector strengths, and to work with partners like the Department for International Trade and property agencies to spread the word about what we have to offer.
"With so much disruption, a lot of industry data can only give an indication of what the economy is like. This is making investors, and investment bodies like ours, focus much more on culture and lifestyle to promote and evaluate investment locations. It's always been part of the mix – investors want to know their staff can enjoya good quality of life, access health services and education, and that they're investing somewhere with a lot to offer now and well into the future."
This change in focus may be recent, but it will be built into a new approach to inward investment which Opportunity Peterborough has tested over the last year in a contract with the Cambridgeshire & Peterborough Combined Authority.
The service delivered inward investment for the north of Cambridgeshire – combining the strengths of Peterborough, Huntingdonshire, Fenland and East Cambridgeshire, to attract more businesses to the area, and to create more jobs with local employers. Even with coronavirus taken into account, current projects could create over 2,800 jobs over the next 12-18 months.
Sustainable recovery
Peterborough's always been tipped for huge levels of growth in jobs and population, the city has long been committed to growing sustainably. Under lockdown, the human impact on the environment was brought into sharp focus. Wildlife thrived, and congestion, air pollution and waste drastically reduced, travel plans were cancelled and people, for the most part, stayed indoors.
At the same time, some businesses struggled to get hold of supplies, adding pressure when there was increased demand. With premises shut, and requirements for people to stay apart, many businesses also had to find alternative ways to distribute their goods and services, and even change how they work on site.
With businesses and local authorities assessing how to rebuild, sustainability could unlock previously untapped potential much more quickly and create competitive advantages. Peterborough itself had already begun a sustainable transformation with its ambitions to create the UK's environment capital, and to develop a circular economy by 2050 – in other words, zero waste. The city has been hailed an international leading light for its progress, and there will be a leap forward.
The city's circular economy programme, run by Opportunity Peterborough in partnership with Peterborough City Council, provides guiding principles based on seven Rs – rethink, redesign, repurpose, repair, remanufacture, recycle and recover.
Working directly with businesses, the team finds new uses for waste streams, and ways resources can be used for longer. Examples include recovering materials or parts from old machines for new ones, reusing plastic containers, even sharing and swapping skills.
Tom explains, "This is a huge opportunity to embed sustainability across our region as we rebuild the economy at nearly every level. Protecting the environment may be the end goal of sustainable practices but it can be so much more than a CSR tool. Concepts like the circular economy can increase business resilience and reduce outgoings. It forces you to look at local supply chains to reduce emissions and transit time, how you could recover and reuse materials instead of building or making everything from scratch, right down to finding use for your waste – even if it's donating old office furniture to a start-up so it doesn't go to landfill.
"We're working with partners like RECOUP and PECT so businesses can use sustainability to really underpin business development. We want to encourage sourcing alternative materials to plastic, improve waste management, and encourage collaboration within and across sectors.
"We are also championing sustainability in the city centre, working closely with Peterborough City Council, the city centre BID team Peterborough Positive, Queensgate and the Combined Authority to make sure recovery plans and the café culture use sustainable materials and energy sources for things like outdoor furniture, lighting and heating. It'sa really important factor in helping businesses look after enough customers to generate the revenue they need.
"The city has plenty of positive changes lined up, and a real opportunity to use upcoming projects like the University of Peterborough, grants from the Towns Fund, and further support from the Cambridgeshire & Peterborough Combined Authority to boost recovery efforts and address challenges in the economy."
To read more about Opportunity Peterborough visit: www.opportunitypeterborough.co.uk 
Twitter: @OP_Peterborough
Leave a Reply