Accountancy firm Rawlinsons lands a hatful of awards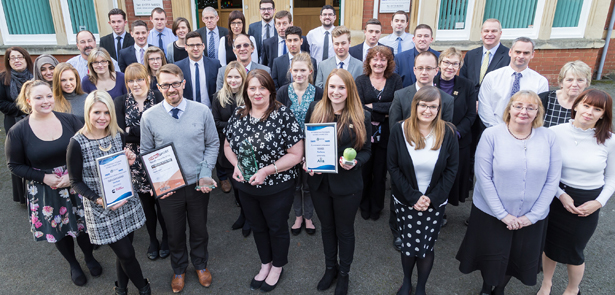 The trophy cupboard at city accountancy firm Rawlinsons is well and truly bursting at the seams following an amazing few weeks – the flow of 'gongs' has included recognition for their environmental activity, corporate social responsibility, and workplace excellence
The flood of prizes began when they won Workplace of the Year at the Living Sport Awards 2016.  The award, sponsored by Everyone Health, focused on companies providing a healthy workplace environment for their staff and Rawlinsons beat off Cambridge John Lewis and Cambridge Building Society to claim the prize.
The company's environmental credentials were further enhanced when they were voted National Silver Winner at the UK Green Apple Awards 2016 and then picked up a similar prize in the recent Peterborough Telegraph Business Awards.
Rawlinsons' charitable work has also been acknowledged.  They received a Special Merit certificate from the NSPCC for their work with the Peterborough Business Support Group and their wider support for voluntary groups and charities also earned them a highly recommended certificate for Corporate Social Responsibility at the Peterborough Telegraph Business Awards.
"It's been an amazing few weeks for us.  As a company we are very committed to supporting the communities in which we operate and are very conscious of our environmental responsibilities.  All our staff have contributed to our success in both areas," said Rawlinsons managing partner Colin Crowley.
"We have always been committed to providing a positive and healthy working environment for our team here in Peterborough which is why the Workplace Award is particularly pleasing.
"It is perhaps fitting that we should be rewarded for our efforts in our 75th anniversary year – a year in which we delivered 75 charitable acts in 75 days to raise £9,000," he added.
Leave a Reply