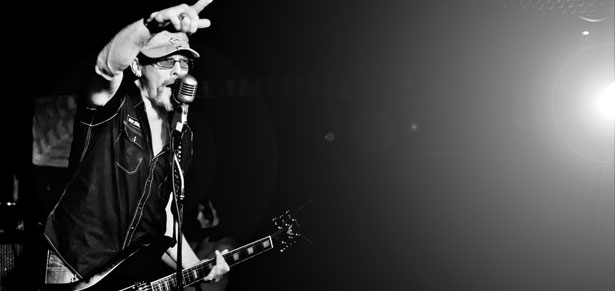 I was slightly scared when I first met King Kool's Dan Donovan. Black-clad, shaven-headed and shod in New Rock boots...
He was as cool and inscrutable as a Derbyshire incarnation of Lee Van Cleef – except I don't remember Lee Van Cleef having a silver moose hanging from his ear. In retrospect, that moose should have been a clue. But during those first exchanges, I wasn't entirely sure whether he was going to crack a smile or pull my head off.
That was a few years ago now. But if on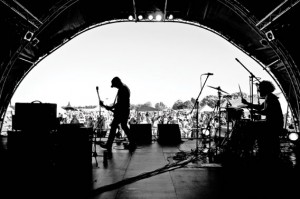 e were to judge by the latest reviews of King Kool – Donovan is singer, guitarist and songwriter, alongside drummer and vocalist Pas Struthers – the latter might seem more likely. Subba-Cultcha dubbed their 2010 album Vampin' "dirty, balls out hard rock with a huge rockabilly edge and full of venom, bile and greasy sex'. Music Maker wrote that it was:
the album that fans of The Stooges could only have hoped for… [a] tsunami of edgy, snarling, garage rock and punk, spewing forth with all its greasy invective of fear and loathing.
Art & Soul went even further, describing the album as:
like a musical reinterpretation of Vanishing Point, starring Lemmy and directed by a pilled-up Steve Albini from the cab of an out of control eighteen-wheeler carrying a shipment of burning tires.
With a fourth album due for release later this year – the second to feature Pas on drums – Fen-based King Kool (AKA KK) have built up an awesome live reputation, with a sound that could strip flesh from bone and a stage presence that does nothing to dispel the frenzied press. Pas thrashes at the skins as if swept up in a demonically-possessed ecstasy of sacrificial destruction, while Donovan looms like some zombie cowboy preacher, his low-slung guitar an instrument of apocalypse. Clearly these are the most dangerous of men.
'That's just my alter ego,' says Donovan, the familiar growl more like kindly uncle than rock'n'roll animal. 'I don't really wear a cowboy hat…' The mischievous smile is as late coming as it was on that first meeting. But I already know the truth. Donovan is one of the nicest men you could hope to meet. Quiet, thoughtful – a gentleman and a gentle man, albeit one with a sly, bone-dry sense of humour. So what about all that 'venom, bile and greasy sex'?
My music is total therapy. When I look back at what I've produced and created as a musician, I can totally see that I am cataloguing parts of me that wouldn't be seen. And therapy is a good thing.
It certainly seems to have worked. While KK have been 'making a hell of a noise' since 2005, Donovan has nearly a dozen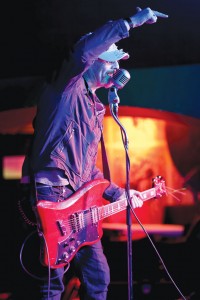 albums to his credit through a variety of bands, collaborations and solo projects. KK now count among their fans a loyal core of die-hards who have followed his music from the early days.
Son of a Welsh preacher, Donovan left school at 16 with few qualifications and worked in the stone quarries at his home town – Matlock, in Derbyshire. His lack of academic success was only fully explained a couple of years ago, when Donovan took a test for dyslexia. 'The only test I passed in my life!' Though undoubtedly an obstacle, it was perhaps this that pushed him towards more immediate, non-verbal forms of expression – and ultimate success.
Always visually creative, he earned a living as a cartoonist, designer and photographer, while simultaneously honing his musical skills in various local bands. Then, at the end of the 80s, his band Tribe of Dan started to make a real impression. They got a BBC session, getting airplay on Radio 1's Rock Show, and their live act and first album Shook Up Shook Up (1992) acquired a cult following that reached across the Atlantic. 'The first ToD album was licensed to an American label, Blonde Vinyl,' explains Donovan. 'They shifted about 7,000 units and then went bust – which meant I never got anything for it – but there are still people who get in touch with me from there who are tracking down Dan Donovan from ToD, from all those years ago.'
In fact, one of the early fans was none other than aspiring Glaswegian drummer Pas Struthers. He saw ToD playing at Greenbelt and immediately became a 'mooseketeer' (the moose was the adopted mascot of ToD, and has been part of the Donovan mythology ever since). 'Pas was living in Glasgow at the time, so for years I never met him, but he followed what ToD was doing'. Finally, they met up at a festival at which Pas's band Auntie Rose and ToD were both playing. 'They were doing a cover of Sympathy For The Devil and they asked me to stand up and sing it with them.' Dan smiles at the memory. 'I blagged my way through it… And that was my first encounter with Pas.'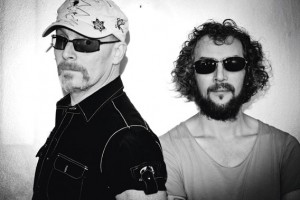 The two became firm friends, but it would be some time before they truly got together musically. Pas joined Disraeli Gears – later known as The Ghears – replacing Jonny Quinn, who went to join Snow Patrol. For a time, The Ghears were also based in the Fens, literally a stone's throw from Donovan. 'They were good friends, and occasionally we would do stuff together. The Ghears were the band on one of my solo albums The Hex The Ghears.' That was in 2000. By 2005, looking for a more raw, stripped down approach with a big sound, Donovan formed King Kool with drummer Matt Middleton. But even then Pas was on the reserve bench, happy to fill in whenever Matt, or KK's second drummer Joe Mason couldn't do a gig, and contributing to the first two albums, Roken (2005) and Yeah Yeah Liberté (2007).
Then, when the Ghears disbanded and Donovan found himself in need of a like-minded drummer, the solution was clear.
Over a half bottle of Jameson's, we did the deal, and it immediately gelled.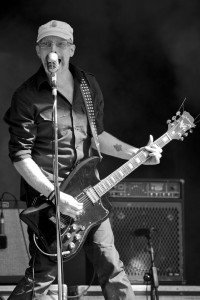 Pas soon put his own unique stamp on the band, especially when it came to performing live. 'Matt, who founded KK with me, was very much part of the original vision, then when he moved on I recruited Joe, and that was a really cool period. But what's different about Pas is that he's also a front man. Ideally, a stage set would be drums at the front and me at the front, and we both share the front! He's such a visual, integral part of the show. For me, that's what I always wanted. I didn't want me stood in front of a drummer. I wanted it to be two people who were part of this thing.' Dan is first to admit there are times when he inevitably takes the lead. 'I mostly write the songs and do the album artwork and so forth. But at the end of the day, he's a totally awesome drummer, and I can't do that, and KK wouldn't be KK if he wasn't drumming.' On stage, all things are equal.
Donovan, of course, has played in many different modes over the years, from full bands to solo acoustic and describes himself as 'flitting between Dylan, Tom Waits, and early Stooges… lots of Iggy… Queens of the Stone Age… Pixies…'. But what is it about the 'stripped down' approach of KK that makes it so appealing?
'The problem with bands is that there's too many people involved. KK was the first time I could embrace the big electric, full-on sound with minimal personnel. That's why it works for me – because I found a guitar sound that meant I didn't need a bass player or another guitarist. [Art & Soul referred to that sound as 'jet engine guitar'] To then introduce a drummer into that scenario is totally liberating, because I can make this big sound and yet feel totally in control. Pas is playing along with me and he is totally sensitive and understands the whole thing. That's why I've stuck with it.' Stylistically Donovan likens it to some of Jack White's solo projects – in particular Dead Weather. But It's also a very practical project.
If we're out gigging there's not a million pickups of people. We just meet up and go. That's good for my head because it's not cluttered.
For Donovan, that lack of clutter is critical, in life and in his art. He ran a busy design company for several years, but as in his music has since moved back towards the smaller scale, the personal, and the hands-on. In all things, he favours direct connection. And if music is his therapy, his therapy couch is the Fens – the uniquely uncluttered landscape that he calls home, and which finds its way into so many of his songs and videos (Fen Kool, I Love, My Fine Fen). It could hardly be more different from the landscape of his home in Derbyshire. But maybe that's partly the point.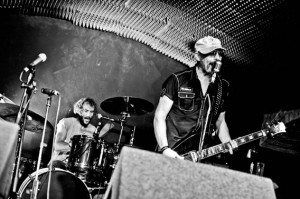 'When I first encountered the Fens, there was lots of emotional stuff going on,' he says. 'It was towards the end of my first marriage, I was tying the knot on the end of my relationship with the church, Tribe of Dan had peaked and musically I was starting to feel unfulfilled. We'd had a little boy who died just before we moved here. So there was a lot of stuff that I was coming to the end of. And then the Fens was this kind of bleak, wide open space. They say if you have mental health issues and you move to the Fens, it's a really good place to be. They also say if you grow up in the Fens and never leave you're more likely to end up with mental health issues…' He laughs.
It's a space where you can strip everything away, and just focus. There are people who hate the Fens. They struggle with that space. But I love it.
Curiously, it seems King Kool have a big following in the similarly flat landscapes of Holland and Belgium, where they regularly tour. Is that more than a coincidence?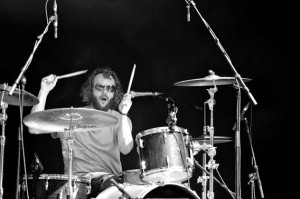 'Who knows? It really goes back to ToD. There was a Dutch promoter who was just starting out and booked us as his first band, and we went back two or three times a year until he folded, and there's been a fanbase there ever since.' Of course, there are pockets of fans all over the UK, and in 2012 KK are hoping to add Germany to their tour destinations. But when it comes to bands disseminating their music, geographical boundaries are mattering less and less. In spite of the band's retro image ('We would cite 60s counter-culture…') Donovan has eagerly embraced the digital, making music available as downloads, promoting albums and gigs via Facebook and posting videos on YouTube. It all chimes perfectly with Dan's ethos of keeping things small, controllable, uncluttered. 'If I'd had Facebook and YouTube in the early 90s I'd certainly have used them.'
Technology has opened up entirely new areas for Donovan and KK. Search on YouTube and you'll find a plethora of home grown videos, from live 'bootlegs' and tour diaries to full music videos, often making use of Fen locations (most notably the Blair Witch-esque I Love, shot in a reputedly haunted shack). For Donovan, this brings his two great loves together.
'Without harping on about my dyslexia, my world is visual. Film is something I love and a natural progression. And it's
accessible to me now – the ability to make high-quality stuff without having to engage with cameramen, producers and so on. I can set it all up myself and do it on my computer.' This doesn't mean Dan is entirely averse to farming out tasks – but he likes to keep that in the family. Daughters Phebe and Fern have appeared in his videos, and Phebe shot the video footage for Missing a Bone, a song from the forthcoming album which deals wryly with Donovan's dyslexia. If that sounds maudlin or self-pitying, think again; it has a storming singalong chorus and the coolest, most fun music video I've seen in years. 'Humour is important,' says Donovan. 'If people are smiling, they'll take on anything.'
On the face of it, humour may sound somewhat at odds with the tone of those reviews. In fact, it's one of the many subtleties that raises KK above other, less mature bands for whom cynicism and anger is merely a kind of cool stance. Donovan himself is uncomfortable with the label 'angry', and while KK is certainly lean and self-contained, it is far from insular or passive in its views. In fact, over recent years the lyrics have become increasingly political. The second album Yeah, Yeah Liberté, written under Blair with the Iraq war in full swing, features a scathing attack on the attitudes of government in the song Nanny Town. 'I'm not a rebel – not someone who just wants to make a fuss,' explains Donovan. 'But I am anti-hypocrisy, and I hate the way that we as a society absorb what is sold to us through the media. I'm totally anti the way people disengage with making their own decisions and judgements. Of course, the trick is to make people think they are in control. People say living in England isn't like living under a dictator who'd lock us up for speaking out. But we're animals in a zoo. The zookeepers give us food and security and we ignore the bars. That's the whole concept of Nanny Town.'
Vampin' takes up the cudgel with songs such as I Am the Sheriff – a sparse, haunting track that questions the blind following of authority figures – and Gas Gasoline, an oblique reference to Bush and the idea of going to war for oil: 'He ain't so clean / dirty gasoline…' Donovan calls it 'kind of that Mad Max 2 idea'. Like so many of KK's songs, it takes current political truths and reworks them as a kind of future legend, played out in a broken, dirty, dysfunctional world – a world with more than a hint of apocalypse.
For me it's a fine line between being poetic and having something that is tangible and makes sense,' says Donovan of his current lyric style. 'If you're too literal, people shut off, and if you go too abstract, there aren't any handles for people to hang on to.
While many fans love his work for the poetry of it, he acknowledges that over the last couple of years he's consciously tried to bring it more towards the literal, and the political. 'There's a lot of personal stuff on Vampin' too,' he adds, 'like Big Cash Crash Time.' This was about the trauma of personal bankruptcy he was going through at the time – but it just so happens that half the world was going through similar convulsions. It's a perfect example of King Kool's delicate balance of the personal and the universal, the abstract and the literal.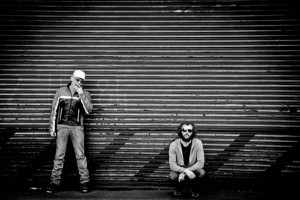 That Donovan has maintained such determination and focus in his music – and in fact seems only to have increased those qualities – speaks volumes.
A lot of people in my position, at the age I am, would have hung up their guitars or would now be in a covers band. I don't think there are many who are still determined to do their own stuff. I know people who are in cover bands because it makes them money – I was asked to get involved with one last week – but it just doesn't interest me.
It's at this point I feel compelled to point out that Vampin' features a cover of a Stooges song – I Wanna Be Your Dog... He cackles with laughter. 'I'd read that if you put an album out on iTunes and do a cover, there's a chance that someone searching for it might get an introduction to your band. And I love the song. It suited KK and I think we do it well. When BBC Ulster wanted to play a track off Vampin' they chose that one, so I dug my own grave in a way…'
The song has now become a regular part of the live act: 'When we do Shook Up, we drop down and go into a couple of verses of I Wanna Be Your Dog. People expect it there now.' Shook Up, one of Donovan's oldest songs and a key one from the ToD days, is itself an unexpected addition to the Vampin' album.
When I started KK I wanted to wipe the slate clean and just do new stuff. No old songs whatsoever. Then we were playing at the Trucker in Holland, and they said "We'd like you to play on the condition that you do Shook Up". So we did. And the new people who hadn't heard the old stuff were loving it. So that's why it's there. It crept back in and people liked it. It's like coming full circle.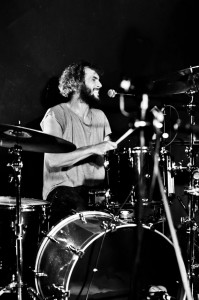 And what of the new album? 'We've got seven songs written, three recorded, one of which is a reworking of an old song Shiny King. Plus new stuff such as Missing A Bone. Tick Boom is about the tension and unrest around the globe and whether at some point it's gonna give. Then there's a song about the London riots called City Burnout: "Who we gonna shoot / a hoodie pup or a city suit?" And Skin Teeth is about my whole life and the way I manage to just catch that train on time without understanding the timetable or anything… Somehow. That's my life!
The new album also reunites Donovan with producer Gavin Monaghan, who has worked with Editors, The Twang, Scott Matthews, Ocean Colour Scene and Robert Plant. There are gigs planned in Belgium, Holland the UK and hopefully Germany, and a short film Bubbly due out this year, on which Donovan was director of photography. With all that's going on, Donovan's enthusiasm for the future seems greater than ever.
I've gone way beyond that point of hanging my guitar on the wall. I'm pretty sure that my amp will be on and humming in the kitchen the day that I die…
 
For more info on King Kool, go to:
www.facebook.com/pages/King-Kool/149903891360?sk=app_2405167945
Leave a Reply