Empire: The Windrush Betrayal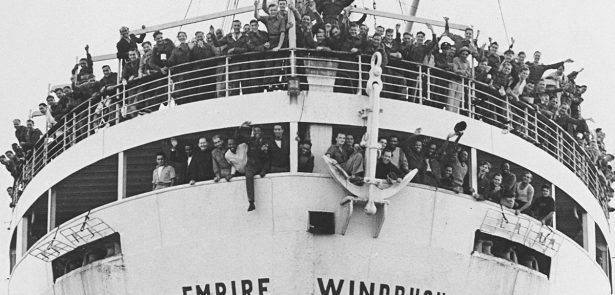 Peterborough Museum is staging a special exhibition to celebrate the lives and contributions made by the Windrush generation to the local community, despite the despicable treatment they suffered at the hands of the British Government
In the years following World War II, Britain was desperate for workers to help rebuild the shattered country and economy – so long as they were white. Even Europeans who had fought against the Allies were made welcome, but when the ship, Empire Windrush, sailed into Tilbury Docks in 1948 carrying 1,027 passengers from Jamaica, there was no welcoming party. Despite being British subjects with a legal right to live and work in the UK, they met with fierce opposition almost every step of the way.
Between 1948 and 1970, almost half a million people from the Caribbean came to the UK to work and begin new lives, contributing to almost every sector of life and society. But in 2018, under the Government's Hostile Environment Policy, many members of what had come to be known as the Windrush Generation were wrongly detained, denied legal rights, and threatened with deportation – in some cases after they had been legally living and working in Britain for over fifty years.
It was a shocking betrayal and a political scandal that led to the resignation of then Home Secretary Amber Rudd. Promises of compensation were made, but as of the end of 2021, only some 5% of the Windrush Generation had actually received any, and 23 of those eligible had died before they could be compensated.
Peterborough Museum is now hosting an exhibition to tell the stories of those members of the Windrush Generation who made their homes in the area. Sheena Carman (Gallery Curator and Arts Development and Community Engagement Manager at the museum) is working with the Millennium Centre to bring the exhibition together. 'The Windrush project celebrates and creates awareness of the Windrush Generation and how they have contributed to the city in so many ways' she says. 'It tells the story of the Peterborough Windrush Generation and their families.'
One of those who made the area his home is Cliff Walker. He was born in Antigua in 1941 when it was still a British Colony, so he had a British passport as a birthright. His mother had worked for the British in Antigua and moved to London to work in 1954, sending for Cliff and his sister the following year.
Cliff served in the RAF for almost 30 years before moving to Peterborough in 1982 to work for the Ministry of Defence at RAF Cottesmore. 'I learned about the Government's plans to send the Windrush Generation back to the Caribbean when I was working in the mental health sector – travelling the country and assessing mental patients for release from confinement' Cliff explains. 'I'd taken that job after I left RAF Cottesmore, and that's when I met some people who had been told they had to go back to the Caribbean. Some of those people weren't even born in the West Indies – they were born in the UK. But, for some unknown reason, the Government had decreed that they had to go. I started working with others to bring their plight to the attention of the Government, and to let them know that, in my opinion, it was wrong.'
Cliff's immediate concern were the servicemen who had risked their lives in defence of Great Britain, only to be told they were no longer welcome. 'I was particularly concerned about the ex-servicemen who were told they did not have the right to remain in the UK' he says. 'Some of them had served in some very dangerous places with me, and I thought it wasn't right to send them back. That's where my fight was initially focused – on the ex-servicemen. I then helped those in civilian life who had fallen into the same trap.'
After being awarded a BEM (British Empire Medal) for his work in the RAF, Cliff was later awarded an MBE for his work in the Peterborough community. 'When I came out of the Air Force, I started working within the community, trying to bring the Black Caribbean community more to the forefront and to help it move forward. I managed to get a community centre built – which we still have today – and also did a lot of work for race relations and became chairman of the Peterborough Race Equality Council. I helped with initiatives at Christmas for those in need, so I was awarded an MBE for this community work.'
Handing his MBE back in disgust might have been entirely understandable, but Walker was never tempted. 'Some of my more radical friends suggested I hand my MBE back as a protest, but I didn't think that a gesture like that was going to help matters.'
Despite the support from many ordinary British people who were disgusted by the Government's Windrush policy, Cliff says there are still some who object to their remaining here. 'You still get people who ask us why we're still here, but there are others who seem to understand' he says. 'I continue to give talks about the Windrush Generation, and the reasons why we are here.
We are here because of an invitation which was issued by the British Government to come over and help rebuild the "Mother Country", as Britain was known in the West Indies. I explain that there's a very good reason why we're here, and that there are still very good reasons why we're here. My mother, my sister, my cousins, and my wife all worked, or still work, in the NHS. I was with the Peterborough Hospital and Primary Care Trust as a non-executive for 15 years and worked in the Mental Health Trust for 20 years.'
While the Government promised compensation to the Windrush Generation, very little of it has materialised, but Cliff is not entirely convinced that compensation is the way forward. 'There are some people from the Black community who are seeking compensation, not only for the Windrush issue, but also for historical slavery. But, for me, there are a lot of questions to be asked if we're going to go down that path. To whom is restitution going to be paid? And by whom? I'm not too certain that I would want taxes to be used to pay someone sitting somewhere who has not suffered the indignities that my poor parents suffered, or that I have suffered, or that my children continue to suffer. But I can understand people wanting to gain something from being belittled, or being abused, or being used.'
The whole issue has forced Cliff Walker, and many of his generation, to question the very nature of what it is to be British. 'Yes, it does make me think about it' he admits. 'But I'm sure there are going to be others who do not have the same opinion as me – but then, everybody doesn't need to have the same opinion. But I was born in the British Colony of Antigua, and I was born British. I have a British passport as a birth- right, and so, at 14 years old I was able to come here on a British passport. I spent a lot of time as deputy to the Lord-Lieutenant of Huntingdon and Peterborough, acting on his behalf, handing British citizenships to people who arrived after me, and who had to apply. I am an Antiguan but, at the time I lived there, it was British, so a British passport was my birthright.'
Being forcibly sent back to the West Indies thankfully no longer seems to be a threat. But there will always be a concern that this situation could change, as Cliff explains. 'For now, at least, the threat of deportation does seem to have subsided. But one cannot ever be certain of anything because the policies of the present Government do not tie the hands of the next Government. So, anything could still happen. But it would be a brave person who would try to bring back an issue that has already caused so much hurt and pain.'
Peterborough Windrush 2022
Peterborough Museum and Art Gallery
September 3 to October 16
Tuesday to Saturday 10-4pm
Sunday 12-4pm
Peterborough Museum opens its new exhibition as part of the city's 'Windrush' celebrations on September 3. Funded by the Department of Levelling up, Housing and Communities, Peterborough Windrush 2022 will bring together the memories of our city's Windrush Generation who arrived in Britain between 1948 and the early 70's. They were invited by the Government to come and help rebuild the country after WW11. The exhibition recognises the contribution they have made to the city.
The Windrush pioneers were the first of half a million Commonwealth citizens who had settled in this country by 1970, the first group arriving at Tilbury onboard the Empire Windrush, on June 22, 1948. Many of those who came over joined the NHS as nurses, others became engineers, train and bus drivers. Told through photographs, film, and audio recordings, the exhibition will endeavour to preserve these valuable stories as part of the city's archives. Peterborough Museum has been working with the Millennium Centre to bring this unique exhibition together. The Millennium Centre is home to the Caribbean community in the city.
Words: Stuart Barker
Leave a Reply