Haunted Peterborough by Stuart Orme | History Press LTD £9.99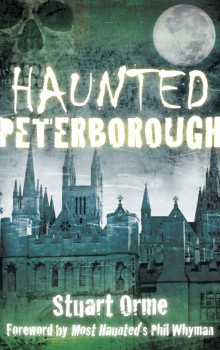 Stuart Orme is the Interpretation Manager for Peterborough Museum but most locals will know him best as the man behind many of the guided tours around the city, most notably the ghost walk. Anyone who has ever been on one of those will testify that he is a masterful and interesting narrative-teller, with a wealth of spooky tales to tell in a way that both captivates and chills.
Now these spectral stories, along with many others, have been gathered together in Stuart's first book Haunted Peterborough. Despite the perception of Peterborough as something of a new town, its expansion only being kick-started by the coming of the railways in the 19th century and the Peterborough Development Corporation, its history stretches back to Roman times and beyond. Small wonder then that there are many legends of ghostly goings on around the district; it's more surprising that they haven't been haven't been collected together before, for this is the first compendium to tackle the subject comprehensively. That's one reason why this publication is so welcome for those of us with a fascination for the more ethereal side of Peterborough.
Another reason to like it a lot is that it's such an entertaining and informative read. Stuart is probably the city's foremost heritage expert, so the book is as almost as much a historical record as much as a chronicle of ghostly goings-on. Where background information is known, he explains the possible reasons for hauntings and places accounts within the context of the era they occurred. His writing style is knowledgeable yet also friendly and easy-going with nice streaks of humour where appropriate. And, quite importantly, it is never sensationalist. The reader is left to make up his or her own mind as to how true – or otherwise – the stories might be, although given that some of them happened to Stuart himself, it's difficult not to believe many of them.
Peterborough's most haunted building – the museum, where Stuart spends much of his working time – merits a chapter to itself because of how much has occurred there. The gothic cathedral – a religious site for over 1350 years – also merits its own section, with materialising monks unsurprisingly featuring quite prominently. Elsewhere, the book also looks at military and railway-related apparitions as well as city centre sightings and those in outlying areas. And it's not just older locations that the tales revolve around, even suburban modern houses and Queensgate Shopping Centre pop up too.
From phantom lorries at Ferry Meadows to the black hellhound that inspired The Hound of the Baskervilles, from Roman cavalry riding around Helpston to the museum's most infamous afterlife resident, the lonely ANZAC soldier, this is a compelling excursion into the city's darker side. And even if you think it's all poppycock, a few pages of Haunted Peterborough might just convince you otherwise. You'll find it on sale, priced £9.99, at the local Waterstone's in Bridge Street as well as the museum gift shop and other Vivacity-run sites around the area.