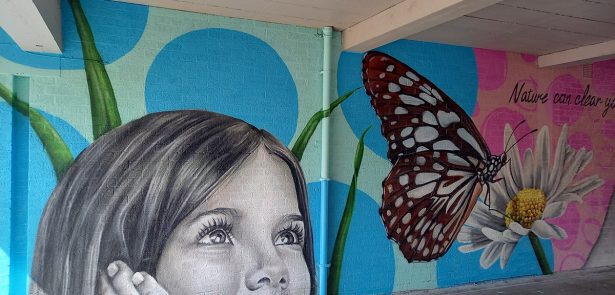 Peterborough Presents is an arts organisation that works with communities and artists to create great art across the city. By great, we mean creative activity that is fun, diverse, unlocks stories, is sometimes challenging – but most importantly: is relevant to local people.
Over the last few years we have worked closely with communities in Peterborough to create festivals, virtual reality games, film-making courses and screenings, performances, cabaret nights, music workshops, den-building and murals. We have presented alternate histories, through theatre, reimagined green spaces, restored the Millfield Link Road mural, filmed magical history tours with Del Singh and celebrated kindness and generosity of local people by drawing portraits of Peterborough's own Royalty.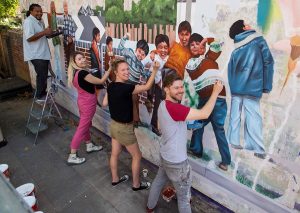 We focus our work in areas of the city where people aren't engaging in the arts events. This is often not because people aren't interested in the arts, but people aren't taking part due to confidence, it not being accessible to them or people not seeing what is on offer as being relevant to them. In each of the localities we work with local people to create new work specific to that area. This means that communities actively shape the programme and make sure that what is created is relevant to their neighbourhood. We work in areas for 2-3 years at a time, getting to know the locals, finding out what skills they have and what they would like to do. Only then do we start to develop new creative projects together. We are currently working in Millfield, the Ortons, Westwood and Eye. Here's just a snippet of what we're up to….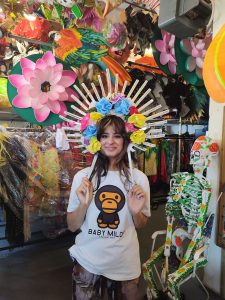 Millfield
In Millfield we work with the local community to deliver Millfield Festival, an annual event of dance, music, craft workshops and food on the first Saturday in August. This year we're working with Mandinga Arts to create our first mini carnival as part of the festival. In July we took a group of people to Mandinga's London stores to pick out carnival costumes (lions, lotus flowers, strawberries) and have been running carnival workshops where we shared different cultural dances. With such a fabulous community involved, if all goes well on the 6th August, then who knows where this could lead.
Westwood
In Westwood, residents asked for our support in replacing a local mural by Hampton Shops. Residents chose Peterborough-born artist Katie Scott to create something new and inspiring about the neighbourhood. Katie worked with young people from Highlees school and visitors to Westraven Community Garden to gather ideas for the design. Her amazing new 24m mural has received rave reviews from visitors to the shops. People have really appreciated the area being given a bit of life and love. Next up is a series of pop-up events that take over other public spaces in Westwood, giving them the same care and attention.
Eye
In Eye, we initially hosted a number of photography walks to get to know the village. We gave the images to the local watercolour group who created some beautiful artworks which we exhibited at the Leeds Hall in July.
"This morning we went to look at the art exhibition organised by Peterborough Presents as part of their project about the beautiful Eye Village. Dan and I have been lucky enough to take part in the two photography walks, one at Eye Green Nature Reserve and the other along Eye High Street. Today there were lots of beautiful pieces of art and Daniel found a few of his photos were used to inspire some lovely watercolour works of art. Dan said how he was shocked and surprised that people liked his photos enough to want to paint them. He felt happy and proud and was smiling from ear to ear. Thank you for giving this 11-year- old such a special feeling, and validity of his hard work and talent."
We've also been inspired by Drakes Farm in Eye, a house that used to be decorated from top to toe in Christmas lights each year. Until a few years ago it was a bit of a local legend that families used to travel to see. Rather than re-create the house the community have chosen to work with La Septima, a French/UK performance company, on a brand new lantern parade. We've already started lantern- making workshops in the village, having great fun working with residents aged 5-80+. Workshops will continue throughout the autumn with the parade taking place in November.
You can find out more about the programme at www.peterboroughpresents.org or by following us on social media. To get involved email
Peterborough Presents is part of the Creative People and Places programme which is funded by Arts Council England. Our programme is hosted by Nene Park Trust and managed by a consortium of organisations including Metal, Peterborough City Council, PCVS, Eastern Angles Theatre Company and Creative Lives.
Leave a Reply