John Godber: "I do think social divisions are getting wider…"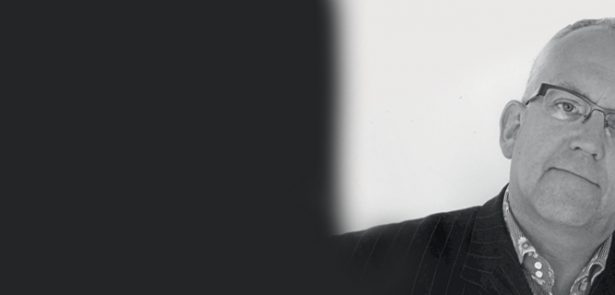 John Godber is one of the UK's greatest living playwrights – the third most performed after Shakespeare and Alan Ayckbourn, with plays that appear on the GCSE syllabus. This spring three Godber plays – the Olivier Award-winning Up'n'Under, the classic hit Teechers and a brand new play starring Godber himself, Scary Bikers – are coming to Vivacity's Key Theatre. We talked to John Godber about his life, approach and influences – and also asked the directors of the other productions what it is that makes Godber great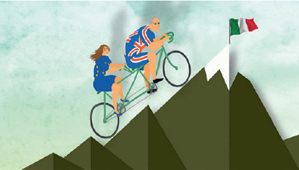 Let's start with Scary Bikers – it's a new play, but also quite a personal one in which you appear onstage opposite your real-life wife, actress Jane Thornton…
Well, it is yeah! The idea is 'Where are we with Brexit?' That's kind of the subtext to the play. It's about two people who have found love in later life, but they are at opposing ends of the Brexit spectrum – so they're not only coming to terms with a new relationship, they're also coming to terms with where we'll be when we eventually leave – or don't leave – Europe. So the whole thing is a metaphor, and is set on this bike ride from York to Florence, and the two characters have to learn to live with each other's differences. They're on a tandem so they have to work together even if they may be going in completely different directions! Obviously the tandem is a great comedy vehicle, but also someone has to be leading and someone bringing up the rear, so there's all sorts of scope with it.
One of the key features of your work seems to be that you never lose sight of the need to entertain…
Well, if you think of Up 'n' Under (1984) and Teechers (1987), they had to attract an audience in Hull. That's not to decry Hull, because I live there, but years and years ago I took my dad to see a play about mining which I thought would do him good, but he came out of the play and said 'I know more about mining than those actors will ever know…' And I thought, of course – here's me doing a PhD on German theatre, dragging my dad to see a play about the closing of a pit, and he's been down a pit every day of his life. So there is a need to entertain, too. The good lessons in school were the lessons that were amusing, because you remember them. And the dry lessons, you come away wondering what they were all about.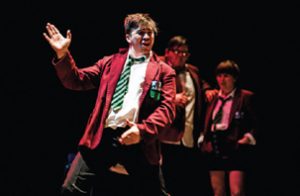 So that goes right back to your early experiences as a teacher?
Without any question, yes. I taught in a pretty rough comprehensive, and if you went in there doing the Iliad, the kids would just close up on you. But if you went in talking about going to the youth club, well, they get that. And if it's amusing then they also understand that literature doesn't have to be dry – and the fact it's comedy doesn't mean it's not got depth. Jonson said that comedy can exaggerate but it can't lie. That's definitely there in Teechers. Teechers is quite autobiographical – a lot of it is very funny, but it's also the truth!
Teechers is perhaps your most well-known play – did that change things for you?
Up 'n' Under changed things more, because it won the Olivier Award, so that put me on the map. Teechers really was a cry from where my heart is, which is the arts in the curriculum. It's a play that is done a lot because it's cheap to do – there's only three characters and you don't need a set – and Adrian McDougall's production (Vivacity's Key Theatre, 5 March), I know, is a fine piece of work. But the arts are being more and more marginalised in education, so even though the play was written 30 years ago, it could have been written last week. When I have done talks to drama teachers, it's certainly a play that students relate to – although lots of 16-year-old kids relate more closely to Bouncers. And when teachers come along to see Teechers, most of them say 'That is the truth of that situation…' Certainly drama in a lot of state schools doesn't really get the focus it deserves.
What made you decide to act in the play opposite your wife Jane?
Two years ago Jane and I did a play called Shafted, which was about what happened after the miners' strike. We did a limited run in Wakefield and it did very well – but even worse, we got very good reviews! So someone then suggested that we toured it. Well, I hadn't been on stage for 25 years – certainly not with my wife… Then someone asked us to be in a movie, which we've just released, called The Last Laugh, which I enjoyed. So I said 'Why don't we act in this play about a couple stuck on a tandem?' That's how the casting came about. I can only play one character. I'm never going to be James Bond, but I can happily play a redundant miner because my dad's one…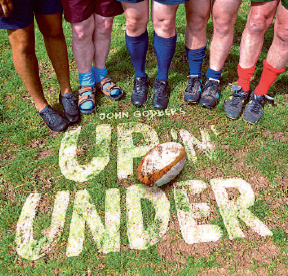 When we spoke to Jeni Draper, director of Fingersmiths' production of Up 'n' Under (Key Theatre, 12-14 Feb) she said the issues seemed more relevant now than ever…
I honestly don't think things have changed. I think we've had a lot of hot air. And some people have got very wealthy, but the majority of people are exactly where they were 30 years ago. And I do think the social divisions are getting wider. What you see on the street is that we have at least as much of a 'them and us' society as we had back in 1984. But I wrote Up 'n' Under particularly to get non-theatregoing members of our community to go to the theatre – and in this version at Vivacity's Key Theatre there are levels of disability in the production, with deaf cast members. It's fantastic – but what a challenging play to do that way! If that can break barriers that way, though, that's wonderful, because that's what it did in Hull in 1984, turning the light on for people who previously thought: 'I don't go to the theatre because it's not got anything to do with my life…' Playwrights, I think, have to address what's happening on the street. Scary Bikers, Teechers and Up'n'Under are all aiming to do that.
As the son of a miner, drama wasn't a natural part of your early life, so what first got you switched on to it?
I had a good drama teacher. At the school I went to, everybody did drama and music. A truly comprehensive education. I wanted to be an actor, but my parents put me off that. I was big, so then there was a notion of being a PE teacher – but we settled as a kind of compromise on me training to be a drama teacher. Through that I found an ability to write, went into teaching, went to run Hull Truck Theatre, wrote Up 'n' Under and the rest is history… But the whole thrust was to make work that my neighbours wouldn't feel was alien to them.
In that, I was very much influenced by the German writer Bertolt Brecht. When I trained as a teacher I did my masters degree at Leeds University and met a fellow there called Professor Mike Patterson who is an expert on world theatre and in particular German theatre, so I was exposed to that there. At the same I also saw a lot of 7:84 Theatre, Welfare State, Leeds Playhouse… And then radical theatre productions like Red Ladder. But I just wanted to make plays, I guess, for the kind of kids I grew up with.
Alan Ayckbourn has never been lured to write for film and TV, but you've done it a lot – including stints on Grange Hill and Brookside early in your career. Is it a very different animal?
Well, Brecht's work, and the work of early 70s German writers, were very cinematic in their structure. But I know Alan well enough to call him a friend and once said to him: 'Why don't you write any films?' And he said 'There's too many people getting out of cars…' That has almost ruined film watching for me – being aware of all those people getting out of cars, which they also never lock! In Shakespeare, no one gets out of a car…or off a horse. In theatre, scenes are far more compressed together to create the drama.
The other great thing with theatre is to do with control; you're able to say what you want to say. You may be saying it to fewer people, but there's an honesty and integrity there. That's the pleasure of doing Scary Bikers and writing, directing and acting – being able to control the vision. As you get older, you realise that authenticity is everything. It has to feel as if it's walked in from the street, because if we don't have authenticity on the stage, what's the point in going out?
TEECHERS
Adrian McDougall, director of Blackeyed Theatre's production, which comes to Vivacity Key Theatre on 5 March
'I think Teechers is significant because of what it says about education – or lack of education; the lack of progress we've made, in terms of giving each young person the same opportunity in life. The quality of the teaching you have when you're young is essentially a postcode lottery, or dependent upon how much money your parents have. So it's important in what it says about the state of education generally, but also, more specifically, about the arts, and the lack of importance often attached to them.
'Teechers is a bit of a rollercoaster, emotionally. You're sat there laughing, recognising all these weird and wonderful characters who we all knew at school, then it suddenly takes you somewhere else, and you realise that these kids are not going to have the opportunities in life that many others have. But it is comedy first and foremost. The nice thing that I've experienced with Teechers – because I've produced and directed it a couple of times before – is that you get an awful lot of young people and school groups coming to see it, and often it's people who have never been to the theatre before, because they're from backgrounds where theatre isn't really a big thing. So, you have an opportunity to make their first experience a really great one.
'In the play we see things through the lens of these three 15 year-olds playing lots of different characters, performing for their mates… Things tend to get exaggerated and over the top, and we've found young audiences really go for that. Godber creates characters that are very easy to relate to. His plays are very accessible, and you can laugh and have fun with them, but that's also why they're powerful: he grabs you and takes you on this journey then BANG – he delivers the social message and you can't help but be affected by it. That's why he's one of the best.'
UP 'N' UNDER
Jeni Draper, director of Fingersmiths whose production of Godber's Up'n'Under – adapted for a cast of deaf actors – comes to Vivacity's Key Theatre 12-14 February
'I like to meet the playwright if I can – because I work with deaf actors I don't want the playwright to think that the work is being altered in some radical way, so I met with John very briefly, and he just asked 'How's that going to work, then?' I told him, and he said 'Great, go for it!' He's not a man who is precious about his work at all.
'The reason I wanted to do a John Godber play is that it is great, physical storytelling. As a young actress I loved the fact that all the actors told the story through words but also through their bodies, and when I was looking at plays for Fingersmiths it was a natural choice, because that style of storytelling translates beautifully into sign language. The four deaf actors in the production are incredibly skilled storytellers, and will be using some sign language, a bit of mime and some theatrical sign language as well. It will be completely accessible to a hearing, non-signing audience, and every show will be performed in sign language and spoken English, and we also have captions within the show, so, anyone can understand it.
'We're also partnering with EDRU – England Deaf Rugby Union – who share the same mission as Fingersmiths, promoting the skills and abilities of deaf people. Obviously they hope to encourage more deaf people to play rugby, but also I hope some deaf people will come and feel inspired to try some acting, or work backstage, or write, or direct. We want to get more people into the theatre – as well as just having a raucous good night!
'Godber's plays have a poetry to them. I was auditioning yesterday and we were looking at the opening speech in Up'n'Under, and it's almost Shakespearean. For actors, that's a complete joy. And then it goes into real, everyday banter. It works on so many levels – and it's rooted in real people. He has that mix of humour and warmth of characters with stories that people can relate to. There's always a message, too, but you never feel you're being preached at. I think it's genius, I really do.'
Up 'n' Under
Fingersmiths, in co-production with The New Wolsey Theatre
● Vivacity's Key Theatre Studio
● Mon 12 Feb-Wed 14 Feb, 7.45pm
The Scary Bikers Written and directed by John Godber
● Vivacity's Key Theatre
● Mon 19 Feb-Tue 20 February, 7.30pm (plus Tue 2.30pm matinee)
Teechers
Blackeyed Theatre, in association South Hill Park
● Vivacity's Key Theatre
● Mon 5 March, 7.30pm
Book your tickets online at www.vivacity-peterborough.com or call the Box Office on 01733 207239  
Leave a Reply