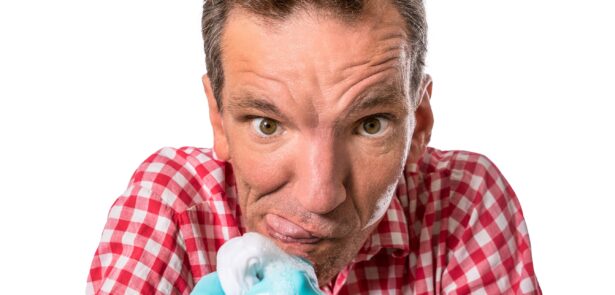 In 2003, a Buckinghamshire marketing manager stepped up onto the stage at a comedy open mic night to show everyone there how it was done. The punchline? He was German. Since that day, Henning Wehn – self-appointed German Comedy Ambassador to the UK – has defied all expectation by building a massive following on the UK comedy circuit and establishing himself as a regular on panel shows such as Have I Got News For You, 8 Out of 10 Cats, QI and Would I Lie To You. Now, as live dates make their tentative return, he's out on tour with a new show It'll All Come Out In The Wash, which hits The Cresset on 31 October. Toby Venables talked to him.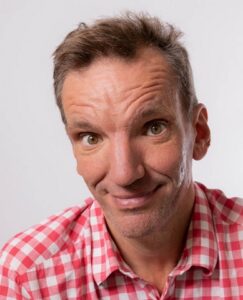 I realised today this is the first time I've interviewed a visiting comedian for 18 months. It's been a strange time… How's it been for you, and what are you most looking forward to about going back on tour?
Definitely going back to live performance. But I've got to be honest with you, as long as the pubs, restaurants and coffee shops and everything are open, I wouldn't mind another few months of lockdown. So in other words, as long as everyone else does their work, I don't mind. I volunteer not to work!
That's somewhat contrary to the hard-working German stereotype…
Well, obviously it's a different story if, say, you live in a big city, one bedroom flat, with three children, two of them with learning difficulties and you don't get on with your partner… Then you'd be telling a different lockdown story compared to someone who was free to ride his bicycle whenever and wherever he wanted. But even in my line of work if this had happened 10 years previously, I would not have been as relaxed about it. I'm in a very fortunate position where I essentially could sit a year out.
Back when you started, one of your first big gigs was doing warm up for Stuart Lee, who is a comedian massively admired by other comedians. Did working with and observing him influence your comedy?
Well, he's so good you can watch the same show, night after night after night, and it's still entertaining. He would quickly bring me on and I'd do the first half and then after that, I was off for the evening. I could have done anything. But I still stuck around and watched it, because whatever else I would have done would have been less entertaining than watching Stu being funny for the 78th time. And Stu was – still is – an absolute master of work ethic. He worked so much harder than I ever could! Like when we'd go to a place, when we arrived I would go sightseeing or go to a yoga class or whatever. So I would essentially treat it the same as now: a combination of work and holiday. But Stu would go up to his room to tackle some other writing commitment that he'd taken on alongside the show. I mean, if ever you wanted to see an example of work ethic in comedy, have a look at him. And that's something I've managed to avoid taking on board. But it's always good to be in close contact with people who are good at what they're doing.
There's always something to take away – like with Sean Lock, who I worked with on panel shows such as 8 Out Of 10 Cats. He would edit the show in his head as he was going on, and when he reckoned there was enough to edit the show he was just like 'OK, I don't need to say anything now…' That was proper team captain style; he knew how many laughs were required, and how to optimise the whole process.
When you look at the history of British comedy, quite a significant chunk of that seems to involve making jokes about the Second World War, which probably isn't quite so funny for a German. Is that tough to take?
You just have to accept it as a bit of panto really. There is no malice in it. I don't get outraged or anything. It's just the way it is. I can't say it overly annoys me – I find it more hilarious, that whole culture of looking back.
You're an EU citizen living in London. Has Brexit changed things for you?
That has affected me personally far less than the past 18 months, with COVID. I mean, it's neither here nor there. I don't see the upsides to Brexit, but downsides are limited too. All that will eventually come out in the wash. There's fewer HGV drivers available and there will be logistical challenges and, as I say, there is no real upside to it. But at the end of the day it doesn't really matter. It's a very different story compared to publicans not being allowed to trade for 18 months –  building up businesses for 15-20 years and then through no fault of their own being told that they're not allowed to trade. That is hard. That is having an impact on people's lives. So, my last show was an unbiased look at Brexit, and this one is an unbiased look at the COVID crisis.
Well, funnily enough, I found it harder to be even-handed about this one than about Brexit. With Brexit, the folklore is a bit of a nonsense, but COVID has actually destroyed stuff that people have built up over a long, long time.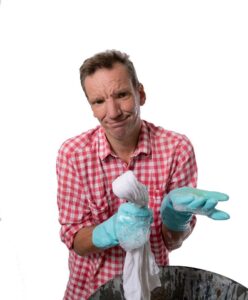 There's a lot about COVID that isn't inherently funny… Tell me about negotiating that topic.
Well, in a nutshell, COVID has proven there are more idiots in the country than were previously thought. We can all agree on that. What we can't agree on is who the idiots are – the people who follow the guidelines or the ones who don't follow the guidelines. So, that's essentially the premise of the show. And so the only way out of this is a referendum… That will solve it once and for all! But on an emotional level, what is hard about it is people being stopped from trading. And rules have been introduced that some people think are sensible, while other people think it's giving in to madness. With Brexit it was largely an academic discussion, unless you're one of the few people that are actually affected by it in a meaningful way – and I don't mean that you might need to fill in a form, like I did with the Right to Remain paperwork which took 10 minutes, if you're a Brit wanting to travel abroad, where you might have to fill in an extra form which you have to do anyway if you go to the States, for example. Hardcore remainers were saying 'If there's a no deal Brexit, there will never ever be another plane taking off on British soil…'
But suddenly there wasn't a plane taking off on British soil, and it had nothing to do with Brexit. So in a meaningful way, COVID has definitely, obviously had a much bigger impact on people, with them not being allowed outside, creating mental health issues, you name it. And then on the other side, some people feel that their relatives might otherwise still be alive and kicking.
So yeah, that actually has had a more real impact on people's lives. That is essentially the challenge of the show, and that makes the show so enjoyable – that you have got some people walking out in tears, and others wanting to kiss you, saying 'We so needed to hear this and it's so good to know we're not on our own'.
Do you mention football or do you prefer not to do that these days?
[laughs loudly] Well… we've got a new manager and a big match against Liechtenstein, so I'm hugely optimistic! I mention the Euros very briefly, and, er… I think that's all I have to say really on that matter. At the end of the day England didn't win the Euros, Germany didn't win the Euros, so we might as well all forget about it. Oh, well, you say that now… Well, you know, either you win a tournament or you don't – and if you're second or go home after the group stage it makes no odds really. It comes down to seven binge-shrinking sessions for England compared to only four in Germany.
Funnily enough, if England had won the Euros that would have had a far bigger impact on my life than Brexit! No one's ever shouted at me because of Brexit.
Talking of football, I was intrigued to learn that your first job in the UK was working as marketing manager for a football club, Wycombe Wanderers. Do you think they felt that having a German on board was like having some sort of magic footballing mascot?
They must have. I was like, the attractor from the continent – because they didn't have any players from overseas at the time. That was my role. I was very, very lucky to get that job. The company I was working for back home was about to go under. My CV looked all right but I didn't speak English, other than basic school English. So I thought, let's do something about that. So I applied to the 92 Football League clubs, arranged a few interviews and then ended up with a job at Wycombe.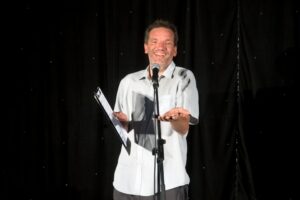 And do you ever yearn to leave the humdrum world of comedy to return to the glamorous world of marketing?
Well, I'm still in marketing, aren't I? The challenges are the same. You have to find customers and retain them so it's not really all that different if you're selling a bar of soap or comedy shows. The basic principles still all apply. Funnily enough, it is easier marketing a football club because it's like no matter how awful the soap is people still feel like they have to buy it. The brand loyalty that football clubs have is actually far stronger than the loyalty towards either soap or comedians.
Well, good luck with the brand loyalty during the tour, and thank you for taking the time to chat.
Thank you. And I just want to say you've done ever so well after 18 months off.
HENNING WEHN: IT'LL ALL COME OUT IN THE WASH
Sun 31 Oct | The Cresset, Peterborough
01733 265705 | www.cresset.co.uk
Leave a Reply